Lululemon's expansion into sneakers and men's athleticwear is driving growth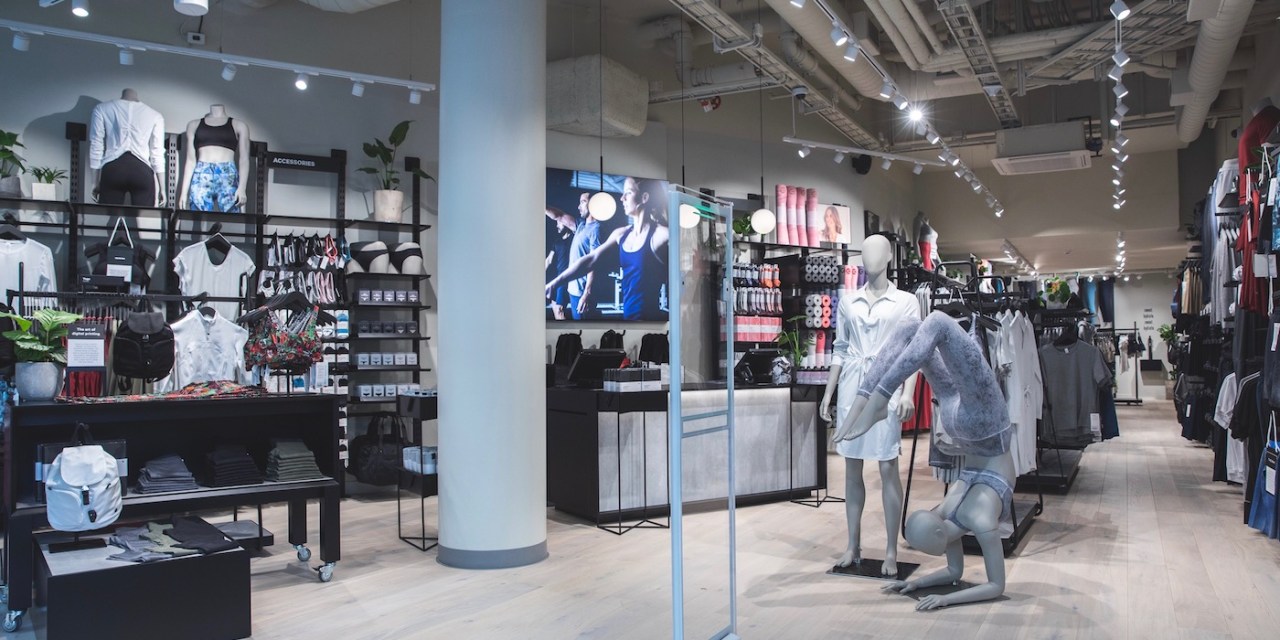 Image via Lululemon
After topping record sales in 2021, Lululemon is ready to grow its expanded product categories. 
On Tuesday, the company reported its 2021 fourth quarter and full-year earnings — which saw Lululemon "exceeding total revenue target," as well as doubling its e-commerce business and men's business during 2021 over the previous year. The company said that it plans to continue growing these categories, as well as newer revenue streams such as international sales and women's footwear.
"[We're] very excited with the introduction of footwear, and we're taking a very disciplined long-term approach to building that category," said chief executive officer Calvin McDonald during the earnings conference call. 
Specifically, McDonald said that the Blissfeel line, the company's new women's sneaker collection, "has dramatically exceeded our expectations." Since launching in early March, analysts have noted some of the line has received positive reviews from early shoppers, and already sold out in popular sizes and colors. However, the company is "not putting a number" on 2022 sales of its new footwear line yet, according to McDonald. 
In 2021, Lululemon also made headway in another new area: men's workout apparel and accessories. The brand's men athleticwear products grew by 28% on a two-year basis. During the call, CEO McDonald said "[men's] really is a completely open space and opportunity for us," which will continue to be a big focus for Lululemon in 2022.
For its 2021 full year earnings, the company's revenue increased by 42.1% compared to 2020, hitting a record of $6.26 billion. Meanwhile, Lululemon increased profit by 65.6% year-over-year, to $975.3 million.
Company executives didn't disclose details about how Mirror, another new product category for the company, has been performing. McDonald said the device's sales will be discussed further during Lululemon's investors day in April. However, for the fourth quarter, he noted that "Mirror performed in line with our revised expectations and for the year both revenue and dilution were consistent with the guidance we provided." 
Much of this growth happened amid a backdrop of supply chain woes. Lululemon CFO Meghan Frank said that the company "delivered a solid performance in Q4 while navigating supply chain challenges and the impacts of Covid-19." The supply chain challenges the company encountered included delays on ocean freight, which resulted in Lululemon becoming more reliant on air freight. Frank also reiterated that the brand and its stores "are positioned well for spring" despite challenges retailers continue to face amid the volatile supply chain environment.
Camilo Lyon, lifestyle and wellness analyst at BTIG, said in a note that Lululemon is "well-positioned" to weather the current coronavirus crisis despite supply chain disruptions.
"The company continues to introduce innovative products in its legacy categories as well as expand into new product offerings, which should allow Lululemon to continue on a path of growth post-pandemic," Lyon wrote. 
Lyon also noted that the company's overall trajectory appears strong coming out of the pandemic, with goals to double its men's and e-commerce sales, quadruple international sales, as well as continue double-digit growth in its flagship women's segment.
Matthew Jacob, equity research analyst at M Science, said that Lululemon's performance is likely to continue to improve as its supply chain issues get worked out. Jacobs also pointed to Lululemon's minimal discounting, as well as announced plans to increase prices, as factors that will continue to increase its revenue.
CEO McDonald said, "we plan to take some selective price increases over the course of the year on a small portion of our styles." However, Lululemon executives did not specify how much they would raise prices by during the earnings call.
Some parts of the business that were lagging are now beginning to pick up. "Men's was a drag against Lululemon's performance during much of the pandemic," said Jacobs. That was due to the fact that "most men prefer to visit stores when shopping for Lululemon products," according to Jacobs. However, he said that the dollar share in the men's business grew significantly quarter-over-quarter during the past year, "and actually accelerated from the strength we saw in [the fiscal second quarter]." 
"With the stores being fully opened in 2021, we are seeing some real strength in the men's products of late," Jacobs said.