How 'zero-waste' brands like Seadrop cut new production pathways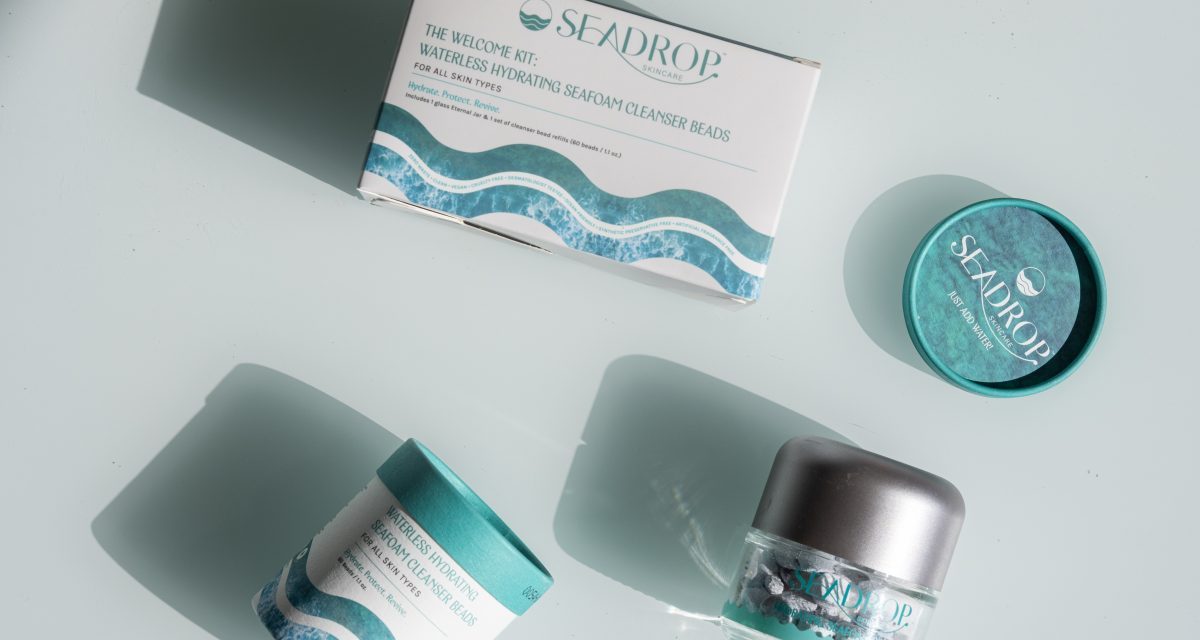 Seadrop
When Serena Advani set out to launch a "zero-waste" skincare brand, she knew it would mean having to create a package that could easily be recycled. Single-use plastic, though light and cheap, wasn't an option. Glass sometimes doesn't get recycled if it's tinted or contains remnants of product. Aluminum recycles well, but Advani found that fewer than one in five beauty consumers in practice actually recycle their empty products.
"The material that is and has the lowest contamination in recycling facilities is paper," she said. "And if there's a way to bring paper in a way that feels luxurious and actually preserves the product, then I thought 'I want to go with that.'"
After a few rounds of trial and error, Advani came up with Seadrop, a cleanser product that starts out as a small, crushable bead of powder that turns into a foamy wash when mixed with water. The initial purchase comes with a refillable glass jar that can hold up to 60 beads, which come in a recyclable paper cup labeled with soy-based ink. The idea is that shoppers will order a new refill every couple of months to pour into their glass jar.
Advani is one of a growing number of entrepreneurs seeking to find new ways to formulate products and packaging that contribute "zero-waste." Though the term can have multiple meanings — from not generating any waste during production, to entirely recyclable products — it's become a catchy way for a brand like Seadrop to market itself as a cleaner alternative. A McKinsey and NielsenIQ study from earlier this year found that products with ESG-related claims had a 6.4% CAGR from 2018 through 2019, compared to 4.7% for products without them.
Being able to back up as absolutist a claim as "zero-waste," though, means having to forge a new supply chain in the process.
Seadrop isn't the first powder-based cleanser on the market. Refillable cleaning products brand Blueland last year launched into skincare products. The model offers customers a powder tablet to put into a reusable bottle, sparing the environmental cost of shipping around water. Meanwhile, Clinique has a powder-based vitamin C wash that comes in single-use packets, though the launch was marketed as a way to have freshly activated ingredients and doesn't have any refillable components.
As a startup, Advani found that she had to hunt high and low for packaging companies that could do things differently. That includes a cosmetics formulator that wouldn't use any microplastics, to a recyclable desiccant to help preserve the beads.
"We had to go hunt for a biodegradable desiccant that was made with FSC-certified paper. That's not readily available in any skincare, beauty or pharmaceutical manufacturing facility," she said. "It's things like that, finding suppliers that are willing to get creative with you. And then also doing your own research and not just thinking, 'Oh, we only have silica packaged in this plastic.' Like that can't be the only solution."
The "zero-waste" path also meant increased costs — the paper cups cost three times as much as virgin plastic.
"Often when we're looking at these problems, from a pure business perspective — you're supposed to just pick the cheapest one. But that makes zero sense to me because you're not looking at that negative externality your product has on the world," Advani said.
Crystal Dreisbach, CEO at Upstream, a nonprofit that looks to eliminate single-use plastics and encourage reusable products, said that it's often startups and DTC brands that are doing innovative work in this space because of the ability to start from scratch. She pointed to Klean Kanteen, which launched about 20 years ago with the first BPA-free stainless steel reusable water bottle. Now, such items are commonplace at major retailers like Amazon and Walmart.
"Major brands are slower on the uptake," she said. "The brands that are doing very well have been the pioneers, and continue to help scale reuse in consumer packaged goods."
But to make a true difference in the amount of waste generated by products, it will take buy-in from mass companies and retailers who can make changes at scale, Dreisbach said.
"One of the things we're encountering is this false perception that the switch to reuse must be driven by consumer demand," she said. "Brands need to take the lead and provide the supply. That's just the fastest way to the solution."
Enter a cottage industry of suppliers, manufacturers and designers that are coming up with ways to make zero-waste packaging, plastic-free products and eliminate excess inventory. Hilos, for example, is a Portland-based company that uses 3D printing technology to manufacture footwear. It also has production partners in Michigan, California, Germany and Mexico in order to produce made-to-order, fully recyclable footwear as close to consumers as possible.
Hilos, which raised $5 million earlier this year, is looking to use its technology to give brands an "on-ramp" toward zero-waste practices, CEO and cofounder Elias Stahl said. Its first brand collaboration was with men's footwear company Helm, launched in late 2021. Since then it has also debuted several DTC women's styles and has several partnerships in the works to launch this winter.
"If you're brand new, you can lead with that change and start thinking about being an early adopter of what's out there," Stahl said. "But I think every brand has a decision about how seriously they want to incorporate changing technology into their business model."