How Unilever developed an exclusive hair care brand for Dollar General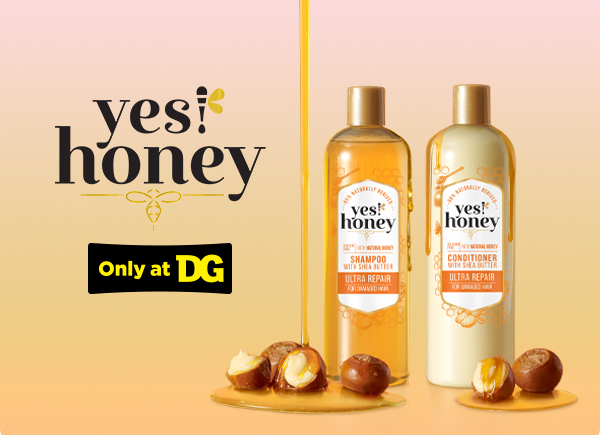 Dollar General
A new hair care brand by Unilever has quietly hit Dollar General shelves over the past couple of months.
Yes! Honey, which launched in March, was exclusively developed for Dollar General by Unilever, which the company says is meant to fill a gap in Dollar General's beauty assortment by offering affordable clean beauty lines.
According to Unilever, the new brand offers natural ingredients without the premium clean beauty prices found at retailers like Sephora. Yes! Honey arrives at a time when people continue to search for dupes and more budget-friendly products, which have been made popular by beauty influencers and savvy social media users. At the same time, the Yes! Honey launch is also part of Dollar General's mission to grow its beauty offering.
In February, Dollar General announced its "Beauty Reinvention" initiative at 300 locations, featuring new in-store department layouts ad plans to add over 1,000 beauty, skin and hair care. As part of these enhancements, Dollar General planned to increase the skincare section by 50% and soap and shower assortments by 30% at these stores. 
In a statement regarding the beauty expansion strategy, Amanda Wilson, senior beauty buyer at Dollar General, said "we have been purposeful in our expansion, balancing new, fresh and trendy items with value. Beauty Reinvention creates a beauty destination at DG." 
Jessica Grigoriou, salon & masstige hair portfolio director and head of beauty marketing at Unilever, said the CPG giant "wanted to develop a brand that's high quality but accessible" to today's budget-conscious shoppers. "We're always looking for white spaces in the market to fill, and Yes! Honey is a great example of that," she said.
"Dollar General is one of our largest retail partners," Grigoriou explained. "We immersed ourselves in research to get to know what the Dollar General customer is looking for." That criteria turned out to be familiarity with natural ingredients that are also effective, and within a drugstore price range. In turn, Unilever settled on honey as the main ingredient. 
The Yes! Honey hair care brand was formulated with 95% naturally-derived honey, and was developed in collaboration with the Dollar General team. Yes! Honey features SKUs for various hair types, and meets a variety of other criteria, such as organic and cruelty-free.
The Unilever R&D team made several product design decisions specific to Dollar General shelves, like choosing a transparent bottle and designing the bottle to evoke the look on honey,
Beth Labrecque, R&D lead at Unilever, said the ongoing economic pressures on Americans were heavily considered when developing Yes! Honey. "Having to stick to a price point actually makes our job a little bit easier," she said. The line's items cost around $6; despite Dollar General's name, only around 20% of its inventory costs around $1. 
Indeed, dollar chains like Dollar General have been attracting wealthier families looking to trade down to more affordable groceries and personal care products. In 2022, the company noted that its shoppers' income range now includes households with incomes over $100,000. With all these trends dovetailing, Dollar General and Unilever see an opportunity in courting shoppers interested in personal care products.
In turn, Dollar General has been rolling out more exclusive lines, in addition to the Yes! Honey line. These include Joy Works skincare, made by Kao USA and Curl Rhythm — which are all available nationwide at over 19,000 Dollar General locations. These brands follow the 2021 launch of Believe Beauty, developed exclusively for Dollar General by Maesa, the cosmetics company behind Target's Kristin Ess hair care and Walmart's Flower by Drew Barrymore.
For Yes! Honey, the Unilever team was able to keep costs down by choosing affordable ingredients and omitting more expensive ones. "For example silicon is usually an expensive ingredient, so we looked at alternatives to deliver smoothness which also helped keep the cost down," Labrecque said, such as coconut oil, shea butter and rice water. "It was a fun challenge for us."
"We've had positive feedback since launch, and creators are sharing how pleasantly surprised they are by the quality," Grigoriou said. She added that the new brand's launch also "lines up with the latest dupes and de-influencing trend," in which beauty creators help followers compare affordable options to high end products. And so, the collaboration features several joint efforts on promotions by Dollar General and Unilever, including display fixtures and their influencer marketing. One of the brand's launch partners is hairstylist Cynthia Alvarez, whose tips include mix and matching the Yes! Honey line based on hair texture.
This isn't the first brand Unilever has developed exclusively for a retailer. In 2020, the company partnered with Walmart to launch personal care line Find Your Happy Place, which features self-care products like bath soaps and candles. 
David Schneidman, senior director in Alvarez & Marsal's consumer and retail group, said that "big CPGs try to pitch these collaborations a lot, but it's a question of whether the retailers' goals align with it." Schneidman added that a retailer-exclusive brand "is a step above a private label," because it usually has more marketing dollars behind it to help drive sell-throughs. 
"A partnership like this works well when the retailer sees a gap in their existing assortment," he explained. Meanwhile, the brand's developer is awarded a bigger distribution and a strengthened relationship with the retailer, Schneidman said.
Unilever is looking for more opportunities to grow its portfolio through these types of retail partnerships, said Grigoriou. "So far, we're meeting expectations of Yes! Honey sales and the brand performing at the top in the category," she said.