How indoor farming startups are working their way into grocery stores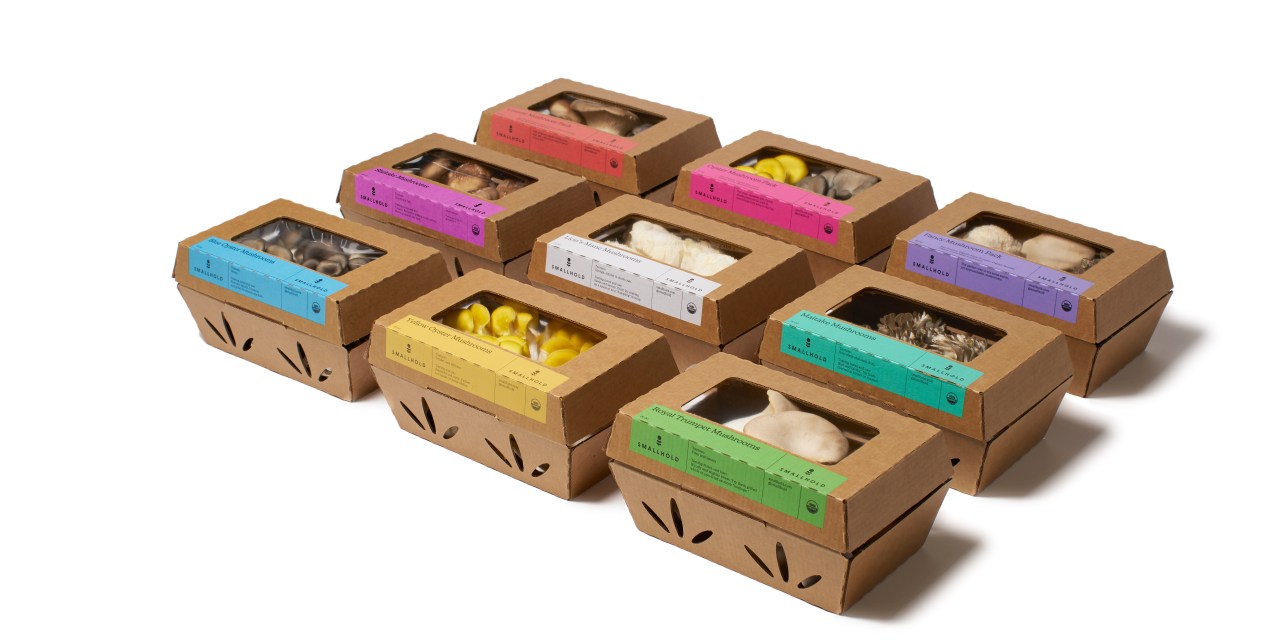 Smallhold
After getting their start in coastal hubs, indoor farming startups are seeking to build name recognition nationwide. 
Last week, vertical farming company Kalera announced it will start selling its greens at 40 Trader Joe's locations. Meanwhile, Bowery Greens has surpassed servicing 1,000 stores nationwide, thanks to its latest funding and a new facility.
Indoor farming startups get their name from the fact that they often refashion warehouses, old steel mills, or other facilities into greenhouses, where crops are sometimes stacked on top of each other to maximize space. These startups often tout energy efficiency and limitless scaling opportunities. But as these indoor farming brands start to more closely resemble traditional food companies, they have to expand and open new facilities to service retailers. In order for these startups to truly become household names, they are dependent upon national grocery chains to reach the majority of American shoppers. 
A grocery boost 
Indoor farming startups say they're trying to rethink the way food is grown, and often place their greenhouses in busy urban areas. Their pledge to take a more high-tech and cutting-edge approach to farming attracted lots of venture capital and media attention. After getting their foothold in natural and organic food markets, a number of these early entrants in the indoor farming space have started to work with more mainstream grocery chains.
Viraj Puri, co-founder and CEO of Gotham Greens, told Modern Retail the company's sales are currently growing by double digits, thanks in part to wider distribution. Gotham Greens has raised $125 million to date.
The company's trajectory fits within the overall category growth. The global vertical farming market hit about $4.34 billion in 2021, and is expected to reach $5.37 billion by the end of this year, according to Grand View Research. 
In turn, Brooklyn-based Gotham Greens — founded back in 2009 — is plotting its next phase in an effort to reach 90% of American consumers, said Puri. He noted that currently, demand for its leafy greens has exceeded that of the beginning of Covid, when people were stocking up on groceries. 
To keep up with the ongoing demand, the company accelerated new greenhouse developments and expansion projects, Puri said. By the end of 2022, Gotham Greens will double its greenhouse capacity, from 600,000 to over 1.2 million square feet. The company currently has nine greenhouses across six states, including the latest one that opened near the University of California-Davis campus last year.
In the coming year, Gotham Greens is set to have 12 greenhouses across eight states, with development currently underway for new facilities in Texas, Georgia and Colorado. "The new greenhouses will enable us to significantly increase store count while continuing to serve several of the country's largest grocery retailers on a national and regional scale," Puri said. These include chains like Whole Foods Market, Kroger, Albertsons and Sprouts, among others. 
Puri also partly credited the past year's supply chain delays, which saw many retailers awaiting inventory, to Gotham Green's spike in demand. The company's ability to scale nationally has " made us a valuable partner for retailers, food service and nonprofits across the country, particularly during the pandemic," Puri said.
Gotham Greens is also rapidly expanding into other grocery categories. The company now has a line of dressing and dips for example "In addition to our greenhouse expansion, we're also excited to continue innovating in the fresh foods space with products that celebrate plant-based ingredients." 
An opportunity to scale nationally 
Despite their growing popularity, scaling an indoor farming startup is no easy feat. In order to serve more retail partners locally, these companies have to continually build more greenhouses, which requires more funding. Luxury fruit growers, like berry brand Oishii, raised $50 million to support its launch at national retailers like Whole Foods. While demand is present, Puri said that the rising labor and logistics costs are the biggest hurdles for successfully operating a commercial greenhouse farming brand. "Growers must balance growth with proper infrastructure and industry support to ensure success," he said.
Smallhold, a New York-based startup that grows mushrooms indoors, gained a small but steady following among restaurants and farmers markets in its first few years of operations. Smallhold co-founder and CEO Andrew Carter said that the brand's organically-grown mushrooms — which include unique and colorful varieties like Blue Oyster and Lion's Mane — "were most popular among chefs and cooking enthusiasts."
In 2020, Smallhold was only sold in a handful of local shops. But in the past two years, more grocery buyers are looking for wider varieties of mushroom to stock their shelves, Carter said. "We've had retailers come out of the woodwork," he said. With the pandemic's cooking boom, Carter said "retailers wanted to offer their customers more unique varieties than just the mainstream button mushrooms."
Last November, the company closed a $25 million Series A funding round to scale its production across the country. Smallhold now has four facilities: one in New York, two in Texas and one in Los Angeles, which opened in May. "We're also exploring new regions because we want to build a national brand," Carter said. 
Today, Smallhold's packed mushrooms are sold at over 500 doors, and account for the majority of its business. Smallhold's distributor network consists of natural foods grocers like Erewhon, delivery services like FreshDirect and Imperfect Foods and a selection of regional stores and national chains like Mom's Organic Market and Whole Foods.
Currently, the indoor farming industry is seeing strong and growing demand, Gotham Greens' Puri said. But like the overall economy, it is also facing challenges related to inflation, he explained. "Costs are up across the board and labor availability can be an issue in various markets," he said.
With all the demand for their products, these companies are trying to expand operations within the indoor farming model's limitations and costs. 
"While the technology we utilize is a means to an end, the crops don't grow themselves," Puri said. "We rely on a team of highly skilled personnel, efficient business operations and customer service."