How handmade decor brand Mo's Crib is scaling production to meet demand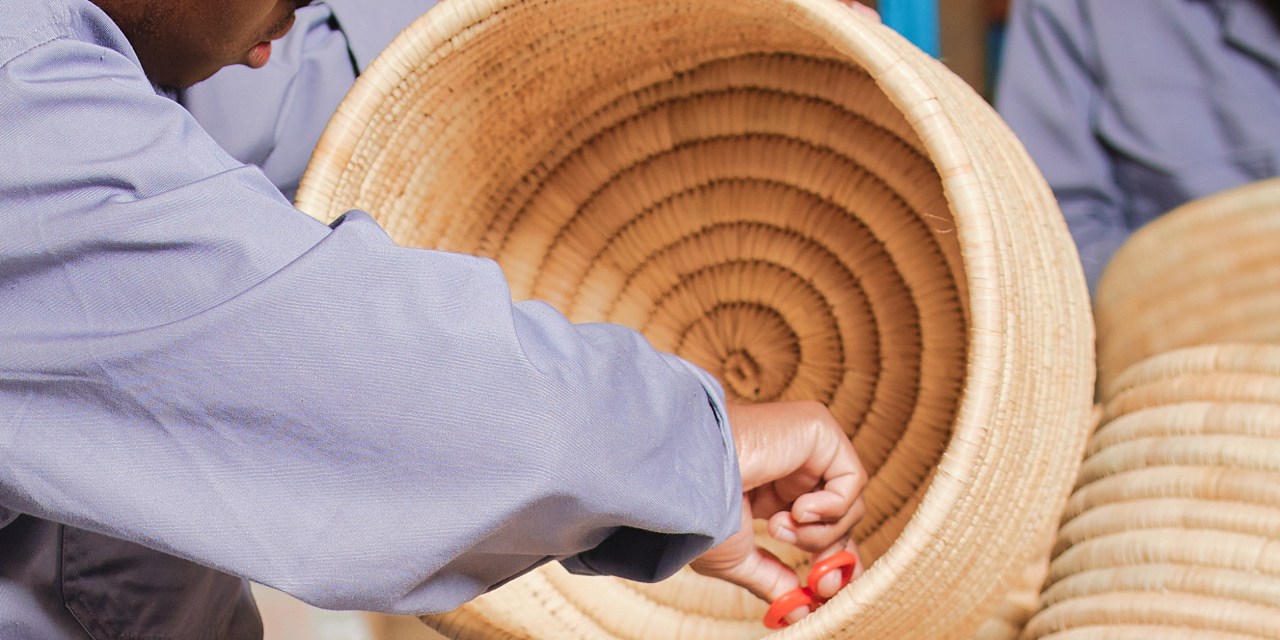 Mo's Crib
South African home decor brand Mo's Crib's business model, known for its hand-woven baskets made of recycled plastic water pipes, highlights the pros and cons of growing an artisans-focused business.
One of the company's core tenants is employing local artisans across Africa who receive robust benefits for producing the brand's growing product lines. But while handmade production remains one of the brand's selling points, it also comes with challenges as Mo's Crib scales internationally.
In January, the brand launched a new collection in collaboration with Target, which follows a launch at Crate & Barrel. The new partnership, while a great opportunity for the overseas company, also means hiring dozens of more artisans and securing U.S. fulfillment solutions, among other decisions. As the company receives more demand from overseas buyers, Mo's Crib is trying to strike a balance between scaling operations back home and growing brand awareness internationally. By the end of last year, Mo's Crib also experienced 50% year-over-year sales growth, and this year expects a 100% year-over-year increase. 
Co-founder and CEO Mo Mokone told Modern Retail that Mo's Crib began in 2016 as an origami sculpture hobby with her sister Michelle Mokone. For the first few years, the items were sold in small batches at local markets. 
It wasn't until 2020 — amid spiking demand from international retailers — that the sisters and co-founders decided to make the bootstrapped operation a full-time business. "That was when we started hiring artisans on the outskirts of big cities during lockdowns," Mokone said. At that point, the founders left their corporate jobs and started the company with their own savings.
Today, the company employs people across the corporate office, its main distribution warehouse and independent field artisans who recycle plastic and then hand-weave it into products. All together, Mo's Crib now has about 100 full-time employees and more than a dozen part-time employees. Mokone said Mo's Crib remains mostly self-funded today, with supplementary grants from local government organizations.
The first attempt to scale to big-box retailers came as the co-founders reached out to Crate & Barrel about carrying Mo's Crib baskets during lockdowns. By then, the company was already preparing to launch at the U.K.'s Woolworths.
At the time, the company was employing a few dozen workers that helped fulfill orders. The collection launched in summer 2021 and continues to be sold at the retailer; the most recent Crate & Barrel release was a holiday-themed collection that debuted last fall.
Mokone said that, so far, the company's structure of in-house production by local artisans has helped get retailers' attention. "Buyers have shown interest in our production process and the benefits we offer, which have had a big impact on local communities," she said. "We also have concrete examples of sustainable manufacturing, an aspect many buyers are looking for."
Mokone did not disclose artisans' hourly wages, but said the rates are currently higher than local average manufacturing pay. Mo's Crib also provides other benefits for employees, like "transportation and education incentives, offer breakfast and lunch, and employ an in-house paid nurse for treating ailments," Mokone said. The company also recently added a library at its headquarters for employees to use. "We know all of the people's names who make our products," Mokone said. 
Last month, Mo's Crib officially launched at Target. The Target-exclusive collection comes at a lower price point than Mo's Crib's core collection — ranging from $28 to $97, compared to $22 to $180 for the standard collection. The line is currently only available through Target's website, and may launch in stores as production challenges ease.
This mass market range presented the opportunity to create more jobs and partner with a big-box retailer in the U.S., a market the company is focused on this year. However, the launch also meant added challenges for Mo's Crib, as the final product is often labor intensive.
The Target deal prompted Mo's Crib to hire outside of South Africa. "We now have different offices and production hubs around Africa," Mokone said. The company now has artisans producing collections across Malawi, Zimbabwe and Kenya.
"We started talking to Target about a collaboration back in 2020, but at the time we couldn't meet the orders' turnaround time," Mokone said. "Some of the products take about seven hours to make," she said, so more employees were needed to meet Target's volume at the agreed upon price point.
Mokone said that the company faces ongoing issues that most venture-backed startups don't deal with.
"We have everything from water shortages to internet connectivity lags — not to mention, financing is also a big challenge," Mokone said. "I've had to drive to a hotspot to take a meeting." Other issues include shipment delays due to border blockage or customs control. "At one point, we received government grants to be able to keep the lights on," Mokone added.
Still, the brand experienced major growth over the past two years — doing so without paid digital advertising. The company's U.S. PR agency has helped land its products in Architecture Digest and Oprah, which Mokone said contributed to organic revenue growth.
Other channels, like direct-to-consumer, are currently on the back burner until the company is able to smooth out the aforementioned hiccups. "The website was created by me, and we haven't been able to prioritize DTC but plan to soon," Mokone said, adding that the website currently generates about $100,000 annually.
Jonah Ellin, chief product officer at retail data analytics firm 1010data, said that for many retail startups, fast growth is a "nice problem to have." "But the reality of rapid growth is that it can change everything about your business if you let it," Ellin said.
As more retailers are added, so do obstacles across production, distribution and marketing. Aside from maintaining value pillars of sustainability and a workplace with substantial wages and benefits, Ellin said a robust supply chain and production model are integral to the handmade model's success.
"Continuing to leverage the capabilities of their retail partners, [Mo's Crib] should be able to overcome many aspects of their own lack of scale," he said, explaining that major retailers can supplement marketing, distribution and customer reach.
Indeed, Mo's Crib is launching at another big retailer in the coming year. The company also has plans for new collaborations next year, along with new products that will hit the direct-to-consumer site and retailers.
"Now that the mission is creating an impact beyond our initial goals, we're ready to engage investors – which is not easy," Mokone said. "The end goal is to secure an investor who understands our mission and growth trajectory in the long run."