DTC Briefing: What Pop Up Grocer's expansion says about the evolution of grocery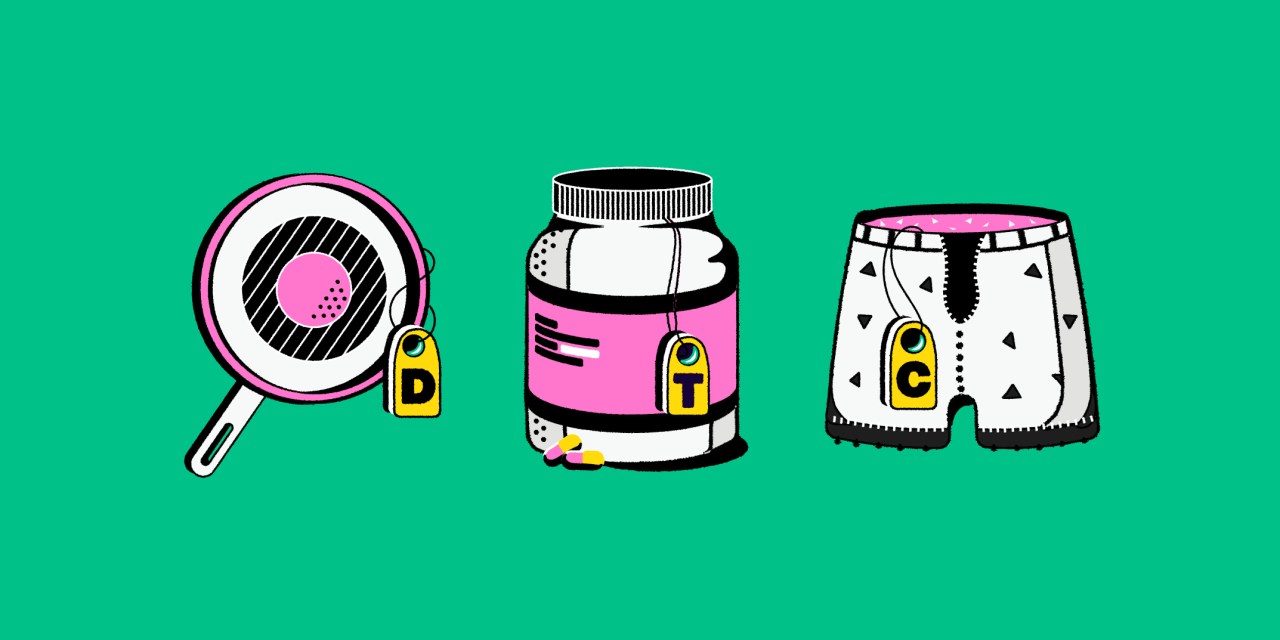 Illustration by Ivy Liu
This is the latest installment of the DTC Briefing, a weekly Modern Retail+ column about the biggest challenges and trends facing the volatile direct-to-consumer startup world. More from the series →
This is the latest installment of the DTC Briefing, a weekly Modern Retail column about the biggest challenges and trends facing the volatile direct-to-consumer startup world. To receive it in your inbox every week, sign up here.
When Emily Schildt launched her traveling grocery store concept Pop Up Grocer in 2019, she said that she wasn't really intending to start a company. 
Rather, similar to many startups, Pop Up Grocer started out as an experiment. In Schildt's previous life, she had worked on marketing and communications for Chobani, and then became a consultant for many food and beverage startups. The way she saw it, there was a two-fold problem: it was both too difficult for food and beverage startups to get on the shelves of mass retailers, and for shoppers to discover these new snacks. 
Three years and eight pop-ups later, Pop Up Grocer is starting to take steps to become more than just a buzzy pop-up, but rather, a permanent fixture in the food and beverage space. Last week, Pop Up Grocer launched a new website that features a directory, where shoppers can browse through the more than 600 brands the company has featured in its pop-ups to date. This fall, it will add the ability for people to buy products from these brands through the Pop Up Grocer website. And in the coming months, Pop Up Grocer will launch its first permanent store in New York. 
Pop Up Grocer is still a small player in the food and beverage space — it's not so much a volume play, but rather a space for emerging food and beverage brands to "raise awareness," as Schildt puts it. But Pop Up Grocer's evolution is indicative of just how much the food and beverage space has evolved over the years. Even though there's more food and beverage startups than ever before — and more of them are breaking onto the shelves of national chains like Albertsons, Krogers and Publix — the brands that make it into these stores are still the exception, not the rule.
There remains a steady stream of demand for spaces like Pop Up Grocer, as food and beverage startups are clamoring for smaller retail spaces that will take a chance on them. In turn, startups look to spaces like Pop Up Grocer to give them a data point or two that they can then use to prove to bigger buyers that they deserve a place on their retail shelves. 
Schildt said that, for a variety of reasons, "grocery very specifically is such a unique, complex and pretty unjust landscape." For one, it's cost prohibitive: "In grocery, there's slotting fees, and they can be thousands of dollars per SKU per store. And then [there]'s marketing resources that you have to commit to the store once you're on the shelf, to stay on the shelf."

Some food and beverage brands started to bypass grocers altogether by launching a direct-to-consumer site initially, but that created more of a financial burden for shoppers. In order to make the economics work, DTC brands had to set high minimum order values. In turn, Schildt argued, that made it more difficult for shoppers who wanted to sample a new gluten-free chip brand or adaptogenic beverage without committing to buying a whole case first. 
Pop Up Grocer, then, has provided a space where shoppers could easily sample new products, while startups could test out retail in a low-risk way. Pop Up Grocer's pop-ups often last around a month or two, and have taken place in multiple cities across the U.S. including Miami, Austin and Washington, D.C. 
In order to get displayed on Pop Up Grocer's shelves, brands apply and pay a one-time, flat "showcasing" fee. The fee varies depending by brand, with startups that are "under-resourced and underrepresented" getting a discount, according to Schildt. Product is on consignment and sold at the price at which the brand chooses.
Schildt argues it's only gotten harder for emerging food and beverage brands to gain traction in the three years since she started Pop Up Grocer. During the pandemic, she said that many grocers responded to a challenging period by "leaning on their long-standing relationships with big suppliers."
"That's kept a lot of heritage brands on shelf where there may have been an opportunity for more newcomers," Schildt added. "I do think in terms of [grocers'] interest, it's strengthened, I just think there kind of is a tension between those two things that needs to be resolved."
What's more, she said increasing customer acquisition costs have made it more difficult for brands to go the DTC-first route. That's evidenced by startups like Ugly Drinks and Haus shuttering operations in recent months. 
In turn, she said that the brands that are able to break into mass retail within their first few years in business are the ones that have received a decent amount of outside funding, and have a strong point of view, citing Fly by Jing as one such example. 
Selva Ventures co-founder Kiva Dickinson agreed that the wholesale process has always been a little bit of a "Catch-22" for food and beverage brands. Grocers often want to see that food and beverage brands have succeeded on another retailers' shelves before agreeing to carry them. 
But he said that what has become more important for some grocers when evaluating emerging food and beverage startups is not just how many existing stores they sell through, but how many stores they sell through that have a similar demographic to the grocer they are trying to court.
He cited Erewhon as some such example. For food and beverage startups, success in Erewhon has come to be viewed as a coveted stamp of approval if they are trying to court other natural or organic grocers. Meanwhile, he said "there are other retailers who view the Erewhon customer as far too bleeding edge and far too price insensitive." 
Those are the unique data points that Pop Up Grocer, with its traveling model, hopes to provide to emerging brands as it gets bigger. "We're a testing ground for emerging brands to see where they perform well across the country," Schildt said. It's a pitch that other curation-focused retail startups like Showfields and Neighborhood Goods have provided in the past.
In order to provide more insights for emerging brands, Pop Up Grocer is focused on giving more people more ways to shop. Pop Up Grocer's first permanent store will open in New York City either later this winter or early next year. 
Schildt said the company hopes to open more permanent stores eventually, but has no immediate plans for any more. Pop Up Grocer will also continue hosting pop-ups around the country, with its next one slated to open in Denver in October. And when it enables online shopping later this year, it will give customers the option to buy from a variety of curated boxes. 
When she first started Pop Up Grocer, "I wanted to create a place where I could highlight everything that I had the privy of seeing in my profession, for consumers like me," Schildt said. "To my delight, there were other people who felt the need for a narrower selection and a point of view." 
Three questions with Lively's new CEO Kristin DiCunzolo
Roughly three years after being acquired by lingerie conglomerate Wacoal for $85 million, DTC brand Lively has made a significant change in its leadership ranks.
Founder Michelle Cordeiro Grant announced earlier this month that she was stepping down as CEO. Kristin DiCunzolo, formerly vice president of marketing and direct at Wacoal America, Inc. is taking over as Lively's top executive. 
Since Wacoal first acquired Lively, there's been a big shift in what it takes for digitally-native brands to stand out. In turn, Lively is relying more on wholesale partnerships with retailers like Target, as well as reassessing its marketing spending, to fuel its next phase of growth. DiCunzolo spoke with Modern Retail reporter Maria Monteros about how she plans to grow the Lively brand going forward. This interview has been edited for clarity and length. 
What are some of your biggest priorities this year as the new CEO?
We want to take a look at everything that's going on in terms of the changing climate and make sure that we're adjusting appropriately for our customers. 
We're evaluating how we're spending our media dollars. We're assessing customer acquisition tactics, retention, making sure that we are capturing her at every part of her purchase journey. That will be a big piece of what we're looking at because it's changed. It's changed since Lively started seven years ago, it changed during Covid, and it's changing again. 
The customer path to purchase is different than it once was. And we want to make sure that we're focusing on what's resonating with her and optimizing that as well.
You said you planned on putting Lively's community at the center of the company's decision-making? Can you expand on what you mean by that?
We want to make sure that we're creating relevant products for [the customer], getting that feedback from her on what's working, what's not working, [and] what she needs.
When Lively started, it was pre-Covid. There were certain trends that were happening, so certain undergarments were in fashion then. Then Covid happened, and everyone wanted to be a little bit more comfortable. Everyone was definitely more into loungewear. Our loungewear business was doing really well. Post-Covid she's getting out a little bit more. She's also aged as well.
A big part of why Lively is as successful as it is, is due to our thriving community and our ambassador program that we engage with all the time to gain feedback on product, marketing, social, etc so that we know what's best in those communities.
Any other initiatives that you're currently focusing on?
Distribution will be something that we're focusing on. So I can't really speak too much to it now, but we're definitely looking to expand globally and there'll be more to come on that soon.
We still have a very strong partnership with Target. We've launched into more doors than we were last year, which is a growth channel for us as well. And then we're going to look to have our fifth store coming later this summer [or] early fall.
What I'm reading
What we've covered
Peloton

is selling on Amazon.

Casper

is calling itself a mattress brand rather than the Nike of sleep. DTC brands are getting a

reality check

amid inflation, and are abandoning the tech-driven, pure-play DTC approach. 

Inside pet care brand

Bark's

pricing strategy

, and why the company says it will never raise prices on customers for as long as they maintain an active subscription. 

How indoor farming startups like

Gotham Greens

and

Bowery Farming

are trying to get more

national grocery chains

to carry their products.