DTC Briefing: More startups are reconsidering free returns as they've become a 'profit killer'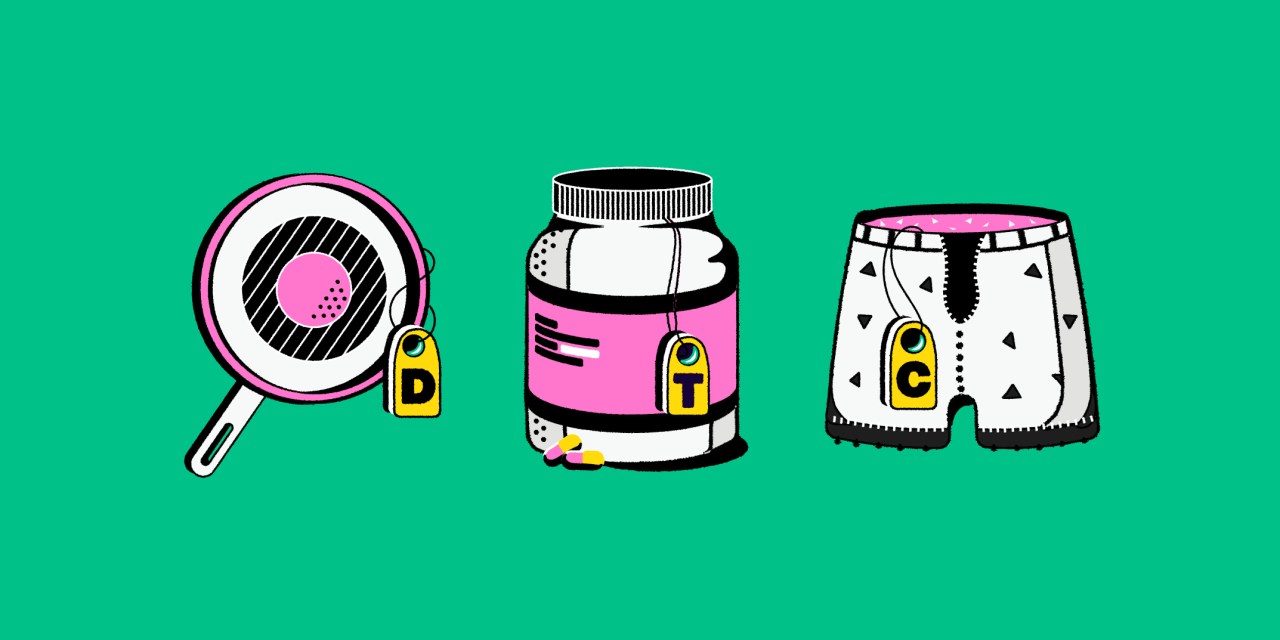 Illustration by Ivy Liu
This is the latest installment of the DTC Briefing, a weekly Modern Retail+ column about the biggest challenges and trends facing the volatile direct-to-consumer startup world. More from the series →
As startups get squeezed by rising logistics costs, more of them are doing away with a policy that had previously been a staple of the direct-to-consumer era: free returns policies with few limitations.
Home goods brand Brooklinen, for example, is now deducting a fee of $9.95 from the refund amount for products purchased on or after April 1, to cover the cost of shipping. "To be completely transparent, returns are expensive, and they have only gotten more expensive post-pandemic," Brooklinen CEO Rich Fulop said in an email. "By adding this restocking fee, we are able to continue to bring our customers top-quality products while still running our business effectively."
Other companies are making similar changes. DTC collagen brand Obvi also charges a 20% restocking fee, while other companies are looking for subtle ways to coax customers to instead return products in-store, or opt for store credit. Meanwhile, there's a steady stream of vendors entering the fray with new solutions that they purport will help brands cut down on returns. One new tech vendor, ReKeepIt, is going so far as offering customers a discount if they pledge not to return a product.
It all speaks to a bigger problem plaguing DTC brands right now: returns have become an expensive issue to deal with, and many brands can no longer afford to offer endlessly generous return policies. Particularly, as more brands start to prioritize profitability over growth.
"Returns are a huge profit killer, frankly," Ryan Babenzien, CEO of showerhead startup Jolie, told me.
Many of the early digitally-native disruptors made free return policies one of their big selling points at a time when people were still hesitant about buying certain products online. Casper, for example, offered a 120-day return window when it first launched (that has since shrunk to 100 days).
But as the rate of online shopping has grown, so too has the rate of returns. According to a survey from the National Retail Federation, retailers now expect, on average, that 16.6% of their merchandise will get returned, compared to 10.6% in 2020. In turn, many DTC brands find they can no longer to afford to offer the same return policies they have for years.
Made In, for example, made a change to its return policy on February 1: Customers who return their products for a refund will now see a $9.99 fee deducted from their refund. But, they won't be subject to that fee if they exchange their items for something else, or opt for store credit.
"For us, during an inflationary period where a lot of brands are raising prices to offset costs, we saw this as a nice opportunity to offset some of the costs we specifically incur on certain types of orders," Made In's senior vice president of operations Chad Brinton said. Specifically, he pointed to UPS and FedEx's recent rate increases as the driving factor behind MadeIn's decision to charge for refunds.
A month in, Brinton said that the change has been positive. Made In has only received about 23 customer service inquiries related to the change, indicating that customers aren't too upset about it. He also said that Made In hasn't seen any impact to its conversion rate so far.
Returns have become such a thorn in the side of e-commerce companies that some founders are heavily considering the rate of returns when considering new categories to enter. Babenzien, for example, previously started sneaker brand Greats before launching Jolie. Babenzien said that his experience at Greats convinced him that the next product he sold should be one that is universal in size, in order to cut down on returns.
Jolie, which launched in December 2021, does offer free returns within 60 days. But it has a return rate of less than 5%.
New vendors enter the fray
The other shift that is taking place in the returns space is an influx of new vendors. Over the past decade, vendors like Narvar and Happy Returns have predominantly tried to make it easier for customers of online-only brands to return items in person, which is more cost-effective for both the customer and the vendor. But as DTC brands found those solutions don't fully cut it, other vendors are trying to tackle the returns problem in different ways.
One of the more intriguing examples is ReKeepIt. ReKeepIt's founder Adam Schoenbaum was also an investor in a formalwear brand called Dress the Population, which he took over ownership of in 2018.
Schoenbaum has been testing ReKeepIt on Dress the Population for the past year. In February, e-commerce marketplace Verishop announced that it was taking a 25% stake in ReKeepIt, and with that, ReKeepIt now plans to bring its solution to other brands.
Specifically, how ReKeepIt is trying to address the returns problem is by offering customers a discount on an item if they pledge not to return it. Schoenbaum said brands can decide how steep they want the discount to be — Dress the Population typically offers a 15% discount to customers who pledge they won't return the item.
Schoenbaum said the thinking behind ReKeepIt was figuring out a way to reward repeat customers, who are less likely to return something by virtue of knowing their size.
"I thought, if I can create something that can get repeat customers back, they should have some incentive for not returning something," Schoenbaum said.
After a year of testing, Schoenbaum said that Dress the Population saw a 50% reduction in returns on gross sales per transaction.

Another new vendor tackling the returns issue is Two Boxes, which just launched publicly last week with $4.5 million in funding. Two Boxes is a software provider that integrates with both the tech stack of existing brands, as well as the tech stack of 3PLs.
Two Boxes Co-founder Kyle Bertin said that, fundamentally, one of the biggest issues in the return space is that many of the companies that work with e-commerce brands — including 3PLs — weren't fundamentally built to deal with such a high rate of returns. And, to accommodate the different tech stacks of various startups.
"Some of them run on Shopify, others run on BigCommerce. Some of them run on Loop Returns, others run on Happy Returns," Bertin said. "So, 3PLs are in this position where they have to figure out — how do I receive, inspect and disposition all of this inventory."
The way that 3PLs historically have done this, Bertin said – is by PDF, with each brand sending along instructions to their chosen 3PL about how to inspect and deal with returned inventory. Now, Two Boxes' software solution aims to help 3PLs more easily pull up and sort through each of their clients' return policies, while also giving brands more granular data about their returns. Two Boxes is only working with two 3PLs right now, but hopes to increase that to five to ten by the end of the year.
All of this speaks to the fact that returns continue to be a systemic issue that plagues DTC brands, and one that is requiring a wide variety of operators in the space to reconsider how they deal with returns. Particularly, as venture capital becomes harder to come by, and more DTC brands have to prioritize profitability.
As Babenzien puts it, he believes that many e-commerce brands price themselves improperly from the beginning, and don't bake enough into their margins to account for returns from the get go.
"You are paying for acquisition, you are paying for shipping, you are paying for return shipping – and all of a sudden you are losing money," he said.
What I'm reading
Chewy

is

closing two fulfillment centers

as it invests more in newer facilities that have more automated capabilities.

Walmart

is testing out a new incentive to get people to sign up for its Walmart+ membership program – promising members

early access

to a new Oreo flavor.

Retail Brew looks at

what the future holds

for DTC brands.
What we've covered
Some

ThredUp

sellers report it is taking

six months

to get paid for their Clean Out Kits. The company's chief operating officer said there's an inventory backlog, and it should be cleared up by the summer – but will that be enough to appease frustrated sellers?

Frozen food brands including

Nuggs

and

Sweet Nothing

are

turning off their DTC sales channels

to focus on retail.

DTC vitamin brand

Ritual is expanding to Target.
Want to discuss this with our editors and members? Join here, or log in here if you're already a member.