DTC Briefing: As the holidays approach, playbooks for profitable growth are put to the test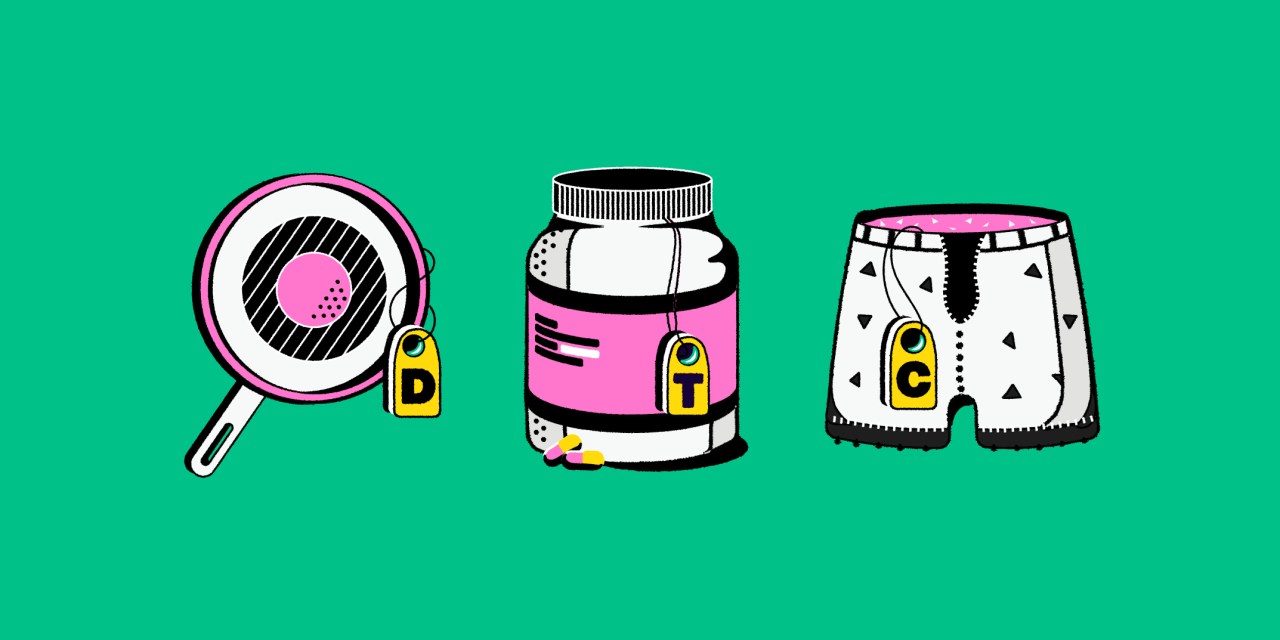 Illustration by Ivy Liu
This is the latest installment of the DTC Briefing, a weekly Modern Retail+ column about the biggest challenges and trends facing the volatile direct-to-consumer startup world. More from the series →
With summer now firmly in the rearview mirror, DTC startups have turned their attention to the all-important holiday season.
Of course, brands have been planning for the holidays for months. Some aspects, like inventory buys, were solidified over the summer. Other parts of holiday strategies, like promotional calendars and marketing strategies for new products, are still being finalized.
At the beginning of 2023, the big question mark for startups was exactly how much people would be willing to spend amid inflation, and whether or not a recession would hit. As such, the big focus this year has been on how to grow more sustainably and profitably in a tough economic environment. Startups tried to be more conservative with inventory buys, and find more efficient marketing channels beyond paid social. They may have experimented with more sales throughout the year, and tested a a lot of marketing messaging to see what items sold best when their customers have less discretionary income.
Now, the holidays are when startups put all of these learnings to the test — with the hope that they have forecasted inventory correctly as well as figured out the right marketing mix to not have an overly promotional holiday season.
Across the e-commerce industry, "there is a bigger pressure on having a stronger bottom line," Jordan Nathan, founder and CEO of cookware brand Caraway said.
Nathan said that coming into this year, the company was betting on new distribution and new products to drive more growth, given that people may have been less hesitant to spend. While Caraway has added new wholesale partners nearly every year since launching in 2018, this year Caraway struck deals with more big-box retailers including Costco, Macy's and Home Depot. A few weeks ago, Caraway launched cutting boards, and has more new product launches planned.
Nathan did say that Caraway has hosted more sales this year — but that it paid off as "those events have over-indexed" compared to sales in prior years.
"When there are discounts and sales in a tough environment, I think people spend more," Nathan said.
As such, the trick for brands heading into the holiday season is figuring out what the right promotion is that will drive higher sales volume but not eat too much into their margins.
Eric Osman, founder of four-year-old stroller startup Mockingbird, said that he has viewed 2023 primarily as a "year of learning." For example, this year his company is running its first-ever Black Friday sale.
"Even if we get it wrong, it would be helpful for us to better understand what we could see in terms of growth and profitability from leaning into the Black Friday period in a way that we haven't before," Osman said.
It has been difficult — especially for younger startups like Mockingbird — to develop a holiday playbook over the last few years because the past holiday seasons have come with extremely unprecedented challenges. The pandemic was still in full force during the 2020 holiday season, while the Omicron variant scared some people away from stores in 2021. In 2022, shoppers flocked to larger retailers in search of deals, many of whom were heavily discounting products in order to get rid of excess inventory.
As my colleague Gabriela Barkho previously reported, many startup founders are preparing for a more normal holiday season this year. "If you think back 12-18 months ago, things like freight prices were skyrocketing. And now they're back to normal." Pattern Brands CEO and co-founder Nick Ling told me.
Ling said that one of the challenges this year that Pattern Brands — which owns a variety of companies in the home goods space including GIR, Yield Design Co and Poketo — has had to contend with is the fact that "some wholesalers have [still] been kind of overstocked with inventory," which "has taken a while to work its way through the system."
But still, "we have seen that consumers are still valuing the things that really people have always valued, which has been like, a new product at a really fair price," he said.
Forecasting the right level of inventory to have on hand this year has been one of the most difficult challenges for DTC brands. Startups had become used to essentially three years of elevated consumer demand, thanks to the pandemic and related stimulus checks.
But this year, startups prepared for a more tepid year. Early on, they predict that inflation would wreak havoc on consumer spending. And largely, that hasn't borne out yet. While spending has declined in some categories like electronics and furniture, it hasn't completely cratered. 
Nathan said, for example, that Caraway has been "happily surprised" with how strong spending has stayed in the cookware category. What the company has seen this year, however, is less splurging on multi-item cookware sets. Instead, shoppers are more likely to pick up individual pieces.
Still, startups approached this year by being more conservative with newer inventory buy — a trend that will continue into the holiday season. It's more critical than ever that brands now how to correctly buy for their best sellers. Matt Mullenax, co-founder and CEO of Huron said that at this point, the five-year-old men's body care brands has been able to "identify the kind of our core set of SKUs that we play slightly bigger bets on." 
Lindsey Johnson, co-founder and CEO of Weezie, said in an email that her company was "more strategic" when buying inventory for the holidays "in order to avoid the inventory glut we felt going into Q4 of last year." Johnson's company sells monogrammed bath robes, towels, and other bath accessories.
"This will allow us to be less promotional than last year, with the goal of margin preservation," Johnson said.
Johnson said that Weezie went into this year with a "more conservative outlook" and was "less focused on aggressive growth targets and more focused on increasing profitability."
As such, some of the big areas of focus for Weezie this year was to expand its embroidery capabilities, and is "investing in process improvements and infrastructure in the fulfillment center to maximize capacity." The company also just rolled out a newly revamped loyalty program.
In turn "we have consistently beat our forecast this year, both in terms of top and bottom line, and are hopeful to do the same in Q4," Johnson wrote.
There always could be some curveball. No one knows exactly, for example how the return of student loan payments in October could impact holiday spending. But, today's startups have grown accustomed to a new economic challenge potentially being around the corner – and not letting that disrupt their plans too much.
"We try to preach internally, 'just control what you can,'" Mullenax said.
What I'm reading
Peloton's director of marketing discusses the at-home fitness company's brand refresh in an interview with Marketing Dive.
A review of "Glossy," a new book from Marisa Meltzer detailing the rise of Glossier.
Goodles, the better-for-you mac and cheese brand from actress Gal Gadot, has raised $13 million.
What we've covered
After a week of executive upheaval, Flexport has unveiled a new tool called Revolution, designed to woo smaller merchants in the U.S. and help them with last mile shipping.
How Everlane used customer feedback to redesign its best-selling men's tee.
Some CPG brands are puzzled by Instacart's new integration with Shopify, which makes it easier for startups to run ads through Instacart's retail network.