Flexport unveils a new tool designed to tackle the last mile of fulfillment after a week of executive upheaval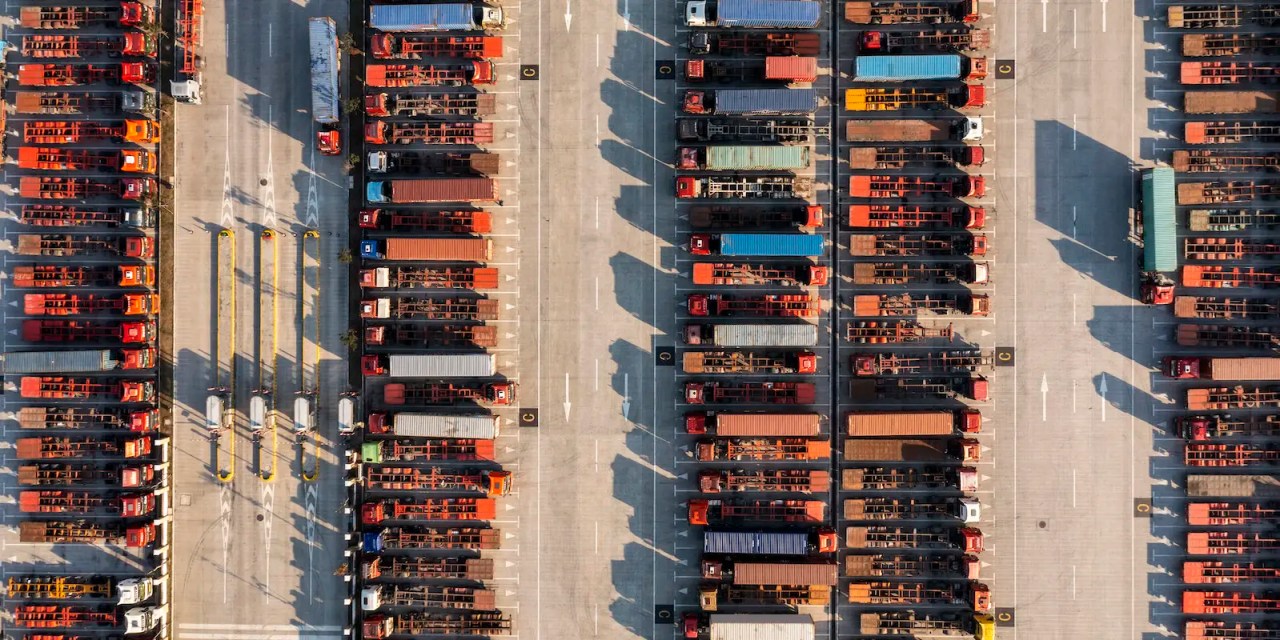 Flexport
After a week of executive upheaval, Flexport is unveiling a new tool that hints at the future of the company. Rather than focusing just on freight, Flexport now wants to be the layer of infrastructure that helps merchants sell anywhere they want, and get product to the final customer.
Last week, Flexport founder Ryan Petersen returned as CEO to lead the company with a focus to make global trade easy for its customers. One way Flexport is doing that is by adding a tool called Revolution, which the company released on Tuesday. The tool is meant to woo smaller merchants in the U.S. and help them with last mile shipping. With this tool, Flexport can offer clients a single pool of inventory in one spot which makes moving both international freight and domestic freight easier. The tool was built by a team led by former Flexport CEO Dave Clark and Flexport executive vice president SMB product and technology Parisa Sadrzadeh.
According to Petersen, Revolution helps Flexport tap into the "last mile piece" of fulfillment. It is something that historically, Flexport hasn't had access to. But that started to change when Flexport acquired Shopify's logistics arm in the spring. Now, according to Petersen, Flexport is focused on "connecting the global trade with domestic e-commerce and retail distribution." But what exactly Flexport's vision is has been called into question over the last week, as the board unexpectedly ousted Clark, a former Amazon executive who was recruited last year to become the CEO of Flexport. Now, Petersen said he is focused on "rekindling" the customer-obsessed culture at Flexport, while also looking to cut costs in unnecessary areas.
Going beyond freight forwarding
Founded in 2013, Flexport quickly became one of the fastest-growing logistics startups, modernizing the ways in which large companies moved ocean and air freight. The company grew to a valuation of $8 billion thanks to funding from Softbank and Andreessen Horowitz. The company generated $3.3 billion of gross revenue in 2021 according a report by Freight Waves.
But the company saw a much bigger opportunity to do more than just manage freight, and instead work with companies throughout the entire process of getting their products to the end customer. And that's where Revolution comes in.
The new tool creates instant, one-click access to more than 20 supply chain services on a single page, enabling merchants to seamlessly sell in more places and automate the movement of their products from factory floor to customer door. Revolution's AI capabilities recommends the best services to meet merchant needs and also optimizes for cost and for speed. The tool also translates that into a per unit price, freeing up time and resources for merchants to focus on their customers.
Revolution is a result of the Shopify Logistics acquisition that helped Flexport with this integration to visualize and "move our movement from freight forwarding to actually be able to manage the full supply chain," Sadrzadeh told Modern Retail in an interview conducted last week, before the C-suite shuffle at Flexport.
Also offered through Revolution is Flexport+ a new $149 membership program offering merchants exclusive access to supply chain financing and priority shipping services among other benefits. The program is free for the first three months.
Matthew Hertz, founder of logistics consulting firm Second Marathon, works with many brands who use Flexport's freight forwarding service and said he is "bullish" of Flexport's core freight forwarding service. He added "they do a fabulous job with ocean and air freight, they have the best technology, good performance, fair pricing." But, he said he was skeptical of Flexport's efforts to become a last mile fulfillment provider. "It's just not practical."
Hertz said, for example, that ocean and air freight are very different and very disparate functions of the supply chain compared to warehousing or fulfillment which is different from delivery. "And to believe that you can do everything is just naive," he added.
A week of executive turmoil
Flexport actually teased that it would be launching a big new product last week, at a joint event hosted by Petersen and Clark. But that all changed on September 6, when former Flexport CEO Dave Clark announced his departure from the company.
Clark initially posted about the departure in amicable terms, posting on X (formerly known as Twitter) that "founders have the right to change their mind." In a post announcing his return as CEO, Petersen said "it's clear that important changes are needed to sustain our growth and return to profitability." A report by FreightWaves later revealed that Clark was fired by the board, which includes Petersen.
Then, a day later, Petersen posted that he was rescinding the job offers of people who were set to start as soon as Monday. "It's messed up," Petersen wrote. "We have had a hiring freeze for months I have no ideas why more than 75 people were signed to join. Or why we had over 200 open roles are on our web site."
One of the core challenges that Flexport has had to contend with is that freight volumes around the world have decreased. Clark was hired during a more bullish period, when he was tasked with essentially recreating an end-to-end service that could rival Amazon's sprawling fulfillment business. But as growth slowed, Petersen and Flexport's board took issue with how much money Clark was spending, according to the Information.
As to what ultimately led to Clark's departure, Petersen said in an interview with Modern Retail that "it's not enough to have the best tech, which we do, and the most reliable operations, which we do. You often have to go to their [customer's offices] in-person, show up, show them you care, listen to them, build relationships with them and build trust," said Peterson.
"The leadership team, starting with Dave and others, was not spending time with our own people. Not going to Flexport's offices; listening to their feedback, because these are the people that talk to [our] customers every single day," Petersen further added.
Petersen said one of his top priorities right now is to "rekindle" the customer-obsessed corporate culture that originally defined Flexport.
As far as what led him to rescind offers that had gone out to prospective employees — and why he wasn't aware that these offers had gone out — Petersen said that "as the board you spend a lot of time on the business." He added that "on the specific details of how many employees are joining next week or next month — I didn't have that visibility."
"On my first day on the job, I told employees that we're going to have to make some difficult choices," Petersen said. "That we're going to have to cut back on some number of people who can't show exactly how they're creating customer value…[and] symbolically and financially, that we not go add to the problem and hire more people."
Petrersen said Flexport did end up approving about 10 out of the 50 jobs that were rescinded, particularly to ensure that people who were joining Flexport from overseas didn't have their immigration plans messed up.
As to why Petersen chose to communicate the news about rescinding jobs offers on social media, he felt posting the news on X might help these people find other jobs. "I actually knew I have a very powerful following on Twitter. And I knew that we would be able to help these people," he added.
The plan for the future
Flexport's Revolution was soft launched last week, and is already live. The company is also hosting a launch event for the new service in Seattle on Tuesday.
But despite the splashy launch event, more cost cutting is in the works. Petersen said that Flexport is going to cut costs in areas that don't provide value to the customer — like empty real estate. Last week, Petersen posted on X that Flexport wants to sublease office space in Dallas, New York , San Francisco and Los Angeles.
"We simply in this environment have to be very cautious about where we spend money and make sure all the money goes towards serving our customers," Petersen said.
Over time, Petersen said a big part of Flexport's vision is to help brands that are using its end-to-end services to expand globally by integrating with e-commerce companies like Rakuten in Japan or Coupang in Korea or Flipkart in India. "We don't today have the capability to integrate with Flipkart and make fulfillment and last mile services in India. But it's obvious that it would be a wonderful pitch to the customer to go — 'Hey, didn't you know I can increase your revenue by unlocking market sales in India' as just one example. You can do the same with Rakuten in Japan or Coupang in Korea."
"Over the next decade we're just going to go market by market and then go to our amazing customer base that we have and say hey, let us help you grow your revenue by taking you global," Petersen added.