Crate & Barrel rolls out new strategic plan to improve inventory forecasting and make its supply chain more efficient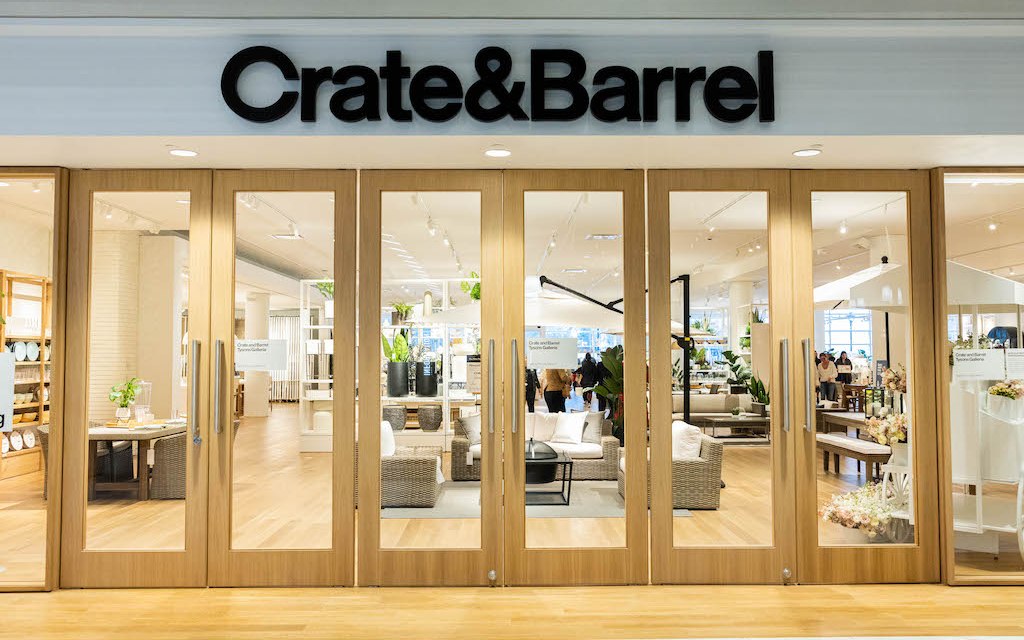 Crate & Barrel
After experiencing the rapid growth that led to supply chain strains in the past couple of years, Crate & Barrel is applying lessons from the pandemic to upcoming investments in its internal operations.
Like many home goods retailers, Crate & Barrel Holdings — which operates its namsake brand, CB2, and Hudson Grace — was faced with supply chain challenges brought on by up-and-down customer demand. Now that people are back to slower purchasing rates and the housing market has slowed down, Crate & Barrel is using learnings from the Covid era to make investments in its infrastructure.
The company's new multi-year plan, called Bring it Home, will involve creating supply chain efficiencies, adopting automation, adding new talent and improving customer experience. Over the next two to three years, the goal of Bring It Home is to improve forecasting, shorten delivery times and reduce carbon footprint – while also offering a more customizable customer experience based on preferences, such as in-store shopping or consultations.
In a statement, CEO Janet Hayes said that "We have learned so much over the past three years as we have navigated through both a global pandemic and a supply chain crisis." She added that the retailer "experienced unprecedented growth during these times of tremendous pressure and these investments will help us maintain that momentum."
These plans kicked off earlier this year when the company brought on Mike Brewer, Crate & Barrel Holding's newest COO, who came on board from Nike in February. "One of the things we realized was that the technology and structure the company had pre-Covid was operating really well," Brewer told Modern Retail. But, he said, it placed stress on operations "to a point where we're now having to invest in the future."
With furniture orders in particular, Crate & Barrel experienced prolonged lead times that led to bottlenecks during 2021 and 2022. Brewer said now the retailer is back to its pre-pandemic delivery flow, which is about six weeks. "But we're working to improve the lead times further with some of the inventory work we're doing with our suppliers," Brewer said. The company, he added, wants to eventually bridge the gap between traditional made-to-order and ready-to-ship delivery windows that companies like Wayfair and Amazon offer.
First, the company is looking to double its existing team in areas like tech and supply chain management to help create better demand forecasting. "We want to supplement our talent with folks that have more experience or knowledge of the new technologies out there, like AI and ML," he said.
The company is also building out machine learning capabilities – both internally and through third-party vendors – to identify spiking demand for items in certain regions or store locations. "Forecast accuracy used to be that, if you can get to 70% accuracy you were world class," Brewer said. "But that's led to a lot of mismatched inventory at the locations."
As such, Brewer said the on-the-ground merchandise will also be managed on the new platforms, which will help reduce delivery times and carbon emissions. For instance, streamlining the process of bringing together several components of a furniture item that are then assembled for the customer's order. This will also help more make in-store merchandising management more accurate. The company currently operates a total of 126 stores under its brands, including 76 Crate & Barrel locations, 24 CB2 stores and 16 outlets.
Crate & Barrel is one of the many retailers turning its attention from the near-term goals to laying a stronger foundation for the future.
Michael Brown, partner and Americas retail leader at Kearney, said that even with slowed demand, supply chain management is still an issue for many retailers.
"There is no doubt that the challenges of the industry have left many retailers, besides the big ones like Amazon and Walmart, behind the eight ball," Brown explained. He added that one of the key areas mid-sized retailers like Crate & Barrel can work toward is real-time demand forecasting. "Retailers have to have the ability to make rapid decisions to pivot in new directions and adjust when there is a change," Brown explained.
With this new direction, Crate & Barrel is trying to digitize all departments to avoid the headwinds it experienced when its operations were strained. "We have a very robust agenda to modernize our supply chain technology," Brewer said. "So you'll continue to hear us talk about that."