Q&A
// October 14, 2022 ■ 5 min read
Aldi's vp of national buying on the European grocer's U.S. rapid growth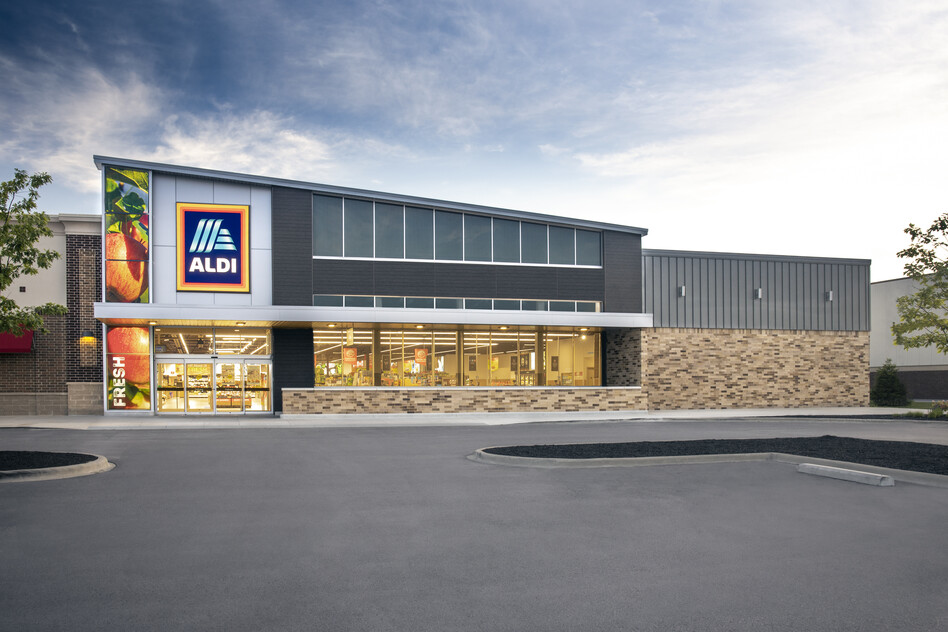 Aldi
Aldi is increasing its footprint as more Americans discover the German chain.
The retailer first came to the U.S. in the mid-'70s and has since become known as a destination for heavily discounted grocery basics and pantry staples. This year, the company said it had over a million new U.S. households visiting its stores and a 10.5% jump in foot traffic, resulting in a double-digit sales increase over last year. Aldi credits its U.S. growth to inflation-conscious grocery shoppers flocking to its stores for discounts and deals. 
Currently, there are currently over 2,200 Aldi locations across 38 states. Under a plan announced in June 2017, the company said it would invest $3.4 billion to expand from 1,700 to 2,500 stores nationwide by the end of this year.  The multi-year build out is also part of Aldi's strategy to compete with traditional supermarkets, as well as discount chains. According to Aldi's executive team, the retailer's focus on low prices is helping it stand out even among other competitively-priced chains, such as Walmart and Trader Joe's.
Over the past few years, the company has also built out its digital presence via an Instacart partnership, which began in 2018 and became available in all stores by 2020. In 2021, Instacart-fulfilled curbside and delivery sales accounted for 2% of Aldi's revenue.
In an interview with Modern Retail, Aldi's vp of national buying, Scott Patton, discussed the grocer's expansion quest, pricing model and what makes Aldi's seasonal assortment of private label products relevant amid inflation. The interview has been lightly edited for length and clarity.
Aldi has grown its U.S. footprint rapidly in the past few years. Tell us about your store expansion strategy and what we can expect from it in the next year.
It's no secret that we're growing rapidly, thanks to our one-of-a-kind business model which allows us to aggressively expand our footprint without compromising the value or quality of our products. As one of the fastest growing retailers — we are on track to be the third largest grocer in the U.S., by store-count by the end of the year — we're growing from coast to coast in existing markets and in new regions too. 
We recently announced our new distribution center in Loxley, Ala., which will support growth throughout the Southeast. Additionally, we've recently expanded into the Phoenix market and are increasing our presence in California.
The goal of our expansion is to reach new shoppers, and our new stores are motivating people to try Aldi. With our low prices and premium-quality products, there is no limit to our growth potential.
In the past year, food inflation has driven more shoppers to your stores. How does your merchandising strategy differ from other grocery retailers?
Everything we do is designed intentionally to deliver more savings and convenience for our customers. This comes to life when Aldi shoppers discover that they can save anywhere from 20% to 40% on their overall grocery bill.
We accomplish this through our thoughtful merchandising approach, which removes the guesswork from shopping and guarantees customers the best option in every product category. For example, we carry a curated range of the most popular products that we know our customers need, when they need them. Additionally, 90% of the store is stocked with Aldi private-label brands that cut out the inefficiencies of national brand products. 
This approach is proven to work, with one in three of Aldi private-label products being award-winning. As a result of our expertise in private labels and the efficiencies of our business model, we move faster than our competitors to offer new products that our customers want. The Aldi business model has been met with fanfare from shoppers across the U.S., confirming what we know to be true: our stores are stocked with exactly what customers want, when they need it.
How is this pricing model helping you compete with mainstream chains at the moment?
Over the past year, we've welcomed a million new customers into our stores. It's no surprise that our shoppers span all ages, locations and income brackets. No matter the demographics, the bottom line is this: no one wants to pay more for groceries than they have to. And no one wants to settle on the quality of what they serve to their family. And that's where Aldi comes in. 
Many new shoppers are discovering us because of our low prices. But they keep coming back because they realize our quality is unmatched, the shopping experience is incredibly convenient and their wallets are a whole lot happier. Features like our smaller format stores, carefully curated private label range of groceries, and even our quarter cart system all add up to tangible savings that we pass on to our customers. These differences may seem small but become increasingly important as inflation continues to rise.
Despite the growth in online grocery shopping, much of your growth seems to be focused on in-store product discovery. How do you balance the two channels as the world transitions out of the pandemic era?
We know that people want options for how they shop. We're continuing to invest in grocery pickup and delivery, but it's clear that both in-store and online options are vital to our business. 
The consumer's desire to shop with convenience and choice is a behavior we expect will only continue to grow. In response to the pandemic, we accelerated our e-commerce operations to give our customers more choices for how they shop, and we're proud of the progress we've made. But no matter where and how they shop, our goal is to provide customers with the products they want at the lowest possible prices.