After a massive recall, The Laundress is set to relaunch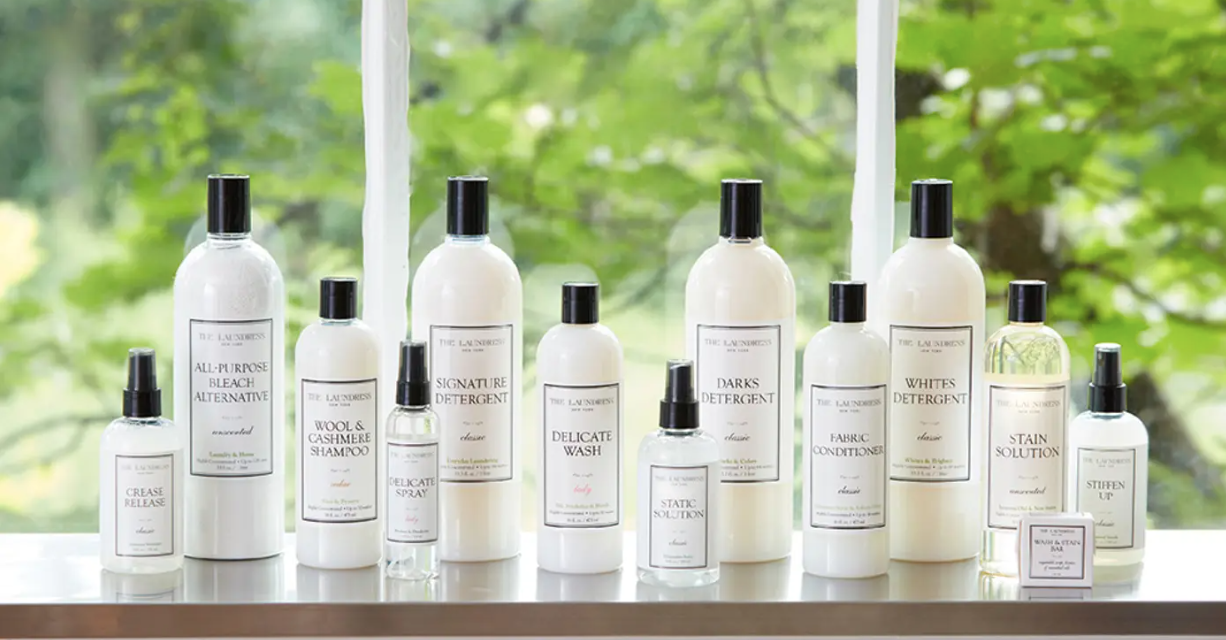 Unilever
The Laundress is ready to sell products again more than six months after a widespread voluntary recall.
In late November, The Laundress — a high-end laundry care line owned by Unilever — told customers to stop using all of its products due to a potential bacteria contamination issue. It froze all its sales and asked retailers to pull products from shelves.
Now, the brand is coming back to the market with a new manufacturer, modified formulas and pharmaceutical-grade production guidelines.
"We are determined to make things right and live up to our customer's highest expectations," the site says. "That's why it's our #1 priority to share the steps we have taken to ensure our fabric care solutions are safe for you."
In early June, the company shared on social media that its relaunch would be coming soon. Then, in early July, it invited Instagram followers to get a notification for July 12 for the launch of its new collection. Some product reviewers who were gifted the new formulas via Topbox Circle, a reviews platform, raved about the scents.
"It smelled like I was in a flower garden," one reviewer said of the signature detergent in the brand's "classic" scent.
But whether the brand's transparency and reformulation efforts matter to customers remains to be seen. Some fans in the comments clamored for the brand's return. Others said they were no longer interested.
Nancy Falk, a cleaning products formulation scientist and consultant who previously worked at Unilever and Clorox, said the brand's latest update shows that it's taking great care to re-establish credibility — not just with fans of the brand but its retail customers like Nordstrom's and Saks Fifth Avenue that had to discontinue sales.
"The parent company is trying to build trust in the brand and that comes from multiple facets," she said. "They're not just going in and saying 'OK, we've cleaned this up, so we're going to make the same formulas at the same place.'"
A rapid response
Founded in 2004, Unilever bought The Laundress in 2019. Known for signature scents, special formulations and high-end collaborations with the likes of Le Labo and John Mayer, The Laundress had carved out a niche as a luxury cleaning product. A 33-ounce bottle of its signature detergent would be sold for $24, while a gallon would run $94. It also made specialized products like delicates wash, stain remover and a formula for wool and cashmere.
Then in mid-November, the brand posted a "safety notice" warning customers to discontinue use of all products. The Laundress the next day told customers there were potential elevated levels of bacteria that raised safety concerns. Updates over the next few weeks revealed the bacteria was a strain of pseudomonas, among others. The bacteria could pose a health risk, especially in people with weakened immune systems, the brand said in its FAQs.
The company later worked with the Consumer Product Safety Board on a recall for hundreds of SKUs, and instituted a reimbursement program for its customers. A second recall in March notified customers about the potential of ethylene oxide contamination in its fabric conditioners, though those products were already covered in the prior recall.
As of late April, about 78% of reimbursement requests were fulfilled, the brand said on Instagram.
In early June, the brand posted an update saying it was working to relaunch its product. This includes an extensive update on its website that explains its new safety program. Developed with experts from R&D, engineering, quality assurance, supply chain and manufacturing, Falk said it appears the brand took an all-encompassing approach to investigating what went wrong and how to prevent it from happening again.
Those steps include ingredients that "meet stringent ingredient and microbiological consumer safety standards." The Laundress also scouted out a new manufacturing partner that follows "Good Manufacturing Practice," or GMP. Falk said these are pharmaceutical-grade standards that aren't typically employed for cleaning products.
"This is a really high standard," she said. "It's a really interesting choice they made, to go above and beyond what's required."
The new safety program also includes on-site supervision, monitoring ingredients, and reviewing suppliers. The Laundress also says it will undertake microbiological testing of the product. And though it doesn't say how often this will be done, Falk said pulling product for this sort of testing is more than typical.
"They aren't just looking at one thing, they're looking at all the different aspects to make sure this doesn't happen again," she said. "This up there with a best-in-class response to a recall like that."
Ongoing litigation
Meanwhile attorneys for Unilever are looking to shake off a proposed class action lawsuit about the recall. The case, filed in New York federal court, alleges that Unilever and The Laundress misled customers by advertising the product as safe.
Unilever has pushed back against the claims and seeks to dismiss the suit. The company argues the plaintiffs can't show that they were injured by the products and can already receive a refund through the reimbursement process. It also argues that the lawsuit can't proceed as a class action representing the thousands of potential customers.
Stephen Fearon, an attorney for the plaintiffs in the case, said that his clients are pushing back against the motions.
"Many people were hurt by this contamination," he said. "I hope that The Laundress is now taking steps to prevent this kind of life-threatening injury from happening again."
Upon news of the relaunch, many fans chimed in on social to say they were excited for the new products and that they'd miss the signature scent. "You're a unique offering, and I can't wait to switch back to the best!" one user wrote.
But others expressed concern, or raised issues with the way their refunds had been handled. "Can't say I'll be running back," one user wrote.
"I've been a huge supporter and even evangelist to friends," another acount commented in June. "Hard to want to purchase again when I went through all of your hoops and still haven't even had a response or refund." In response, The Laundress social team replied that they would have someone reach out.
Per its new promotions, The Laundress said that its "determined to make things right" with its customers.
"As we prepare for our comeback, we are confident that the quality and consumer safety procedures we have put into place embody our uncompromising commitment to you and will exceed your expectations for exceptional fabric care."