Why mobile billboards are driving interest from DTC brands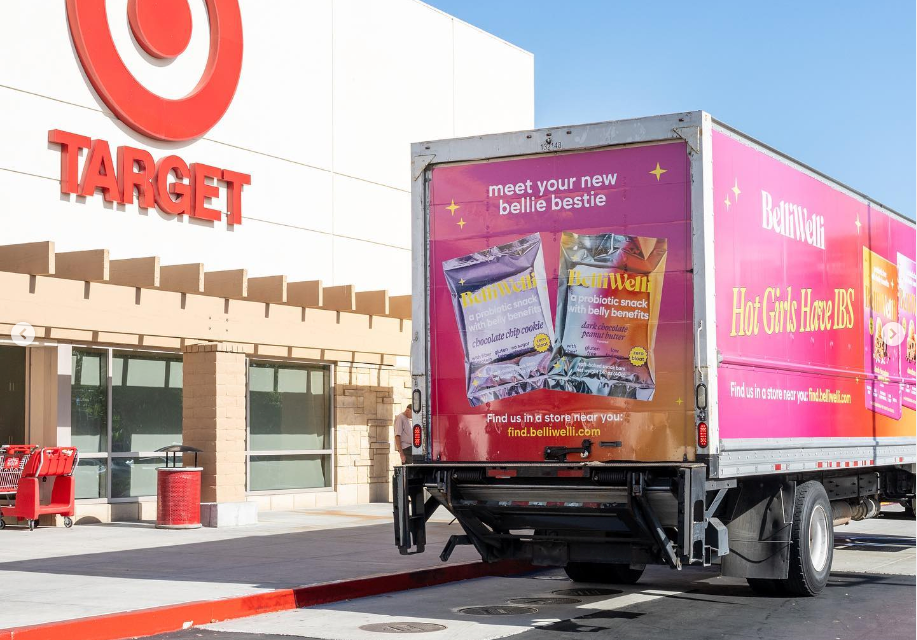 BelliWelli
Mobile out-of-home campaigns, where trucks plastered with products roam the streets of major U.S. cities, have lately been the advertising medium of choice for DTC brands looking to attract customers.
BelliWelli, a probiotic snack brand that went viral for its "Hot girls have IBS" billboards, has put its popular tagline on three trucks driving around L.A., Dallas and Chicago. Meat Stick brand Chomps, on the other hand, has three trucks hitting the road in L.A. and three trucks in Chicago. And deodorant brand Curie launched an OOH truck campaign in August to promote its launch at Walmart.
While mobile billboards are by no means a new advertising medium, it is increasingly becoming popular among digitally native brands that are just starting to dip their toes in OOH marketing. This is being driven largely by newer agencies that specialize in advertising on mobile trucks. Adgile Media Group, for example, manages many of these campaigns. Brands interviewed by Modern Retail said that these mobile billboards are tools they use to potentially drive brick-and-mortar sales. And compared to a traditional billboard, mobile also tends to be cheaper.
Brian Rappaport, founder and CEO of OOH agency Quan Media Group, said that a traditional billboard in major metropolitan areas like New York City could cost anywhere from $50,000 to $200,000 over the course of a month. "Sometimes brands don't have that," he said. "Wrap trucks offer a cost-effective, targeted, hyperlocal option for DTC brands."
For Geometria, a media company that offers digital mobile billboard advertising, the rate of its solo truck is around $170 per hour.
Rappaport added that mobile billboards are also a tactic brands use to make a splash in specific markets. A splashy campaign is exactly what BelliWelli sought when it launched the mobile billboards to promote its Target launch. Curie's founder and CEO Sarah Moret previously told Modern Retail that its mobile billboards released for its Walmart launch were driven in areas that have high foot traffic and are close to a Walmart. Curie worked with Adgile for its campaign.     
BelliWelli's truck started hitting the trail on Oct. 2 and will end by Nov. 27. Around 15 days into the campaign, BelliWelli generated about a million impressions, which is based on the markets' population. BelliWelli Founder Katie Wilson said that, despite being much cheaper, the mobile billboards were on par with the traditional billboards it has had in the past in terms of social mentions and social traction.
"Billboards are somewhat costly, so we can target specific markets of course, but we usually only choose one or two at a time," Wilson said. She added that brands "can get three trucks for the price of one billboard."
The company also added a URL on the billboard that would direct people to its store locator page. While the company is starting with three trucks, Wilson said BelliWelli plans to expand that number soon.
"We think it's been really successful," she said. "We've loved seeing social mentions, people taking photos [of the truck] tagging us."
Chomps, on the other hand, has mobile billboards driving in close proximity to its top retail accounts, including Whole Foods, Albertsons and Trader Joe's. Its mobile campaign is currently in progress and will end on Nov. 7. This is Chomps' first OOH marketing campaign since its founding in 2012.
"It's really different than a billboard ad because those are obvious ad buys," said DeeDee McCoy, senior manager of omnichannel marketing at Chomps. "With the truck, there's this assumption that it's a Chomps delivery truck."
The Chomps mobile billboards also have a geofence around them so it is able to capture phones with location services on and leverage that data for retargeting ads. At the moment, McCoy said this campaign only accounted for a "very small percentage" of its marketing budget.
For mobile billboard campaigns to work, however, Quan Media Group's Rappaport said that brands need to consider the market and the route these trucks are going. For cities that offer a ton of out-of-home diversity, it might not make sense to utilize trucks, he said.
"It comes down to budget, and it comes down to media buyer education and understanding why it would make sense for them," Rappaport said.