Why BelliWelli's marketing strategy aims to destigmatize gut health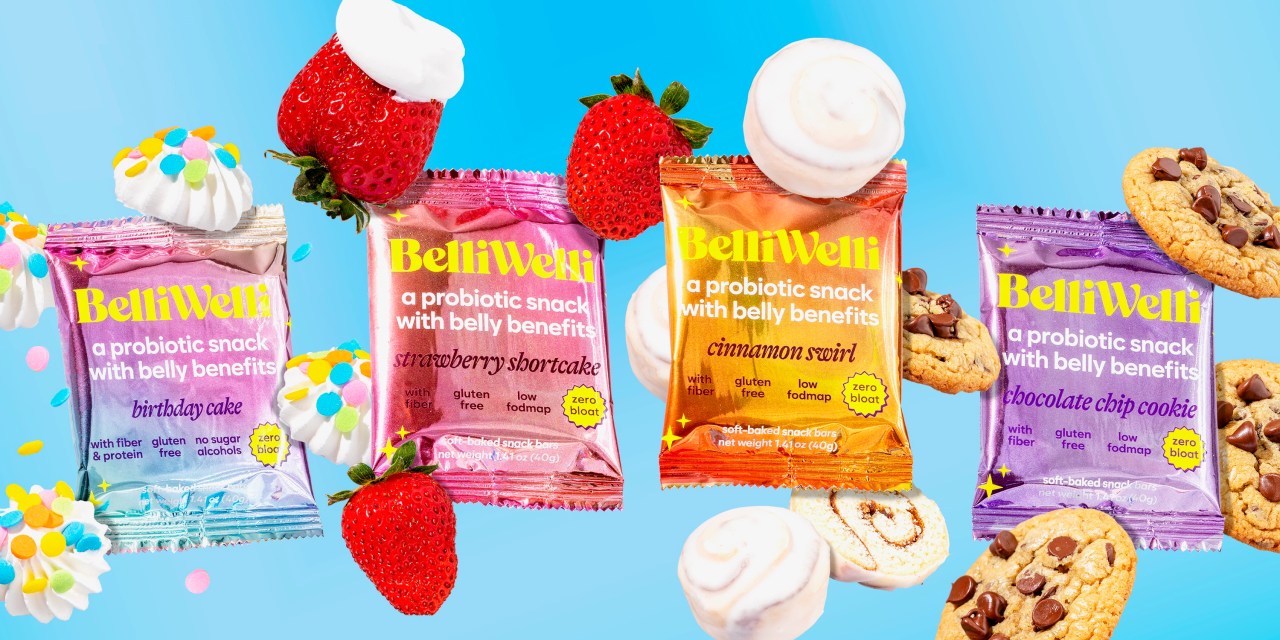 BelliWelli
Gut issues and Irritable Bowel Syndrome historically aren't the prettiest topics to talk about. But for snack and wellness brand BelliWelli, these are the main subjects of its marketing campaigns, merch and social media content.
Earlier this month, Belliwelli held a pop-up event at a bar in Venice, California, where employees dressed in pink "Hot girls have IBS" tops handed out free samples and friendship bracelets, which could have "BelliBesties," "BelliWelli," or "BloatedBabe" spelled out on them. The company's founder Katie Wilson, also often shares her personal gut health story on BelliWelli's social media platforms.
Like many startups these days, BelliWelli is finding success in destigmatizing topics that are often considered taboo. Since its founding in 2021, one of BelliWelli's marketing goals has been to ensure that the brand feels relatable. Wilson said the brand's messaging and marketing tactics helped BelliWelli products enter around a thousand stores, including Sprouts, H-E-B and Target.
"I want to build a brand and feel like I'm doing it with 100 different friends next to me," Wilson said. "I don't relate to brands that feel like brands."
BelliWelli offers gluten-free, dairy-free, low-sugar and low FODMAP baked snack bars. It has six SKUs at the moment with flavors like chocolate chip, cinnamon swirl, and birthday cake. The company has grown 10x since 2021, its first full year of launching, and has raised $15.4 million in a Series A round earlier this year.
This type of honest and relatable marketing has led to more sales and exposure for BelliWelli. When it deployed its "Hot girls have IBS" out-of-home billboard campaign last year, the company said it saw a 40% bump in sales and over a million impressions to BelliWelli's site in just two weeks. Last year, around 20% to 30% of its ad budget was dedicated to OOH advertising, 25% was for digital advertising and another 20% was for influencer marketing.
"Human beings want to connect and if we're connecting because we both love BelliWelli bars, and we both have stomach issues, [that's] great," Wilson said. "When you're a consumer faced with 120 different bar options in the bar aisle, you're probably more likely to choose the one that you have a personal connection to."
The company also couples its retail launches with brand activations. To promote BelliWelli at H-E-B, for example, the company held a "hype mob," its own version of a flash mob, in front of one of the retailer's Austin, Texas store where the company was stationed outside the store in bright pink. For its Target launch, BelliWelli hinted that it plans to rent out a limo and invite community members to do store visits.
Wilson credits many of the company's marketing efforts, including its tagline to packaging, to its community members. She said the company often gets feedback from customers through surveys, email and SMS. BelliWelli also has a 50-person in-house team, located across the country, who are on the field to collect feedback.
"I'm really close to the space. I started this because I myself am a consumer — and I'm a consumer that we target and create products for — but it doesn't mean I have all the answers," Wilson said. "The community loves sharing. It's just a matter of asking and actually applying their feedback."
Lauren Beitelspacher, associate professor in marketing at Babson College, said that the younger generation of consumers is much more open about talking about subjects that were once considered "uncomfortable." Removing the stigma around a specific topic allows brands to differentiate themselves in a crowded market.
Gut health is also gaining attention on social platforms like TikTok, a trend that BelliWelli is tapping into. Gut health tips and probiotic brands are racking up a significant amount of views as a result. On TikTok, the hashtag #GutTok has over a billion views, which signifies the people's growing interest in improving their gut health.
"It's a kind of a whole shift in mindset," she said. "Using humor to kind of make the message stick and make it more digestible for a lot of audiences is really clever." She added that it can often be challenging for brands to get their message or health benefits across because people's attention spans can be limited.
While the company has a humorous approach to marketing "the product isn't silly," BelliWelli's Wilson said. "It's taking a really refreshing approach to women's gut health." In the coming months, the company said it plans to launch new products and flavors.