Deodorant brand Curie rolls out first OOH campaign to promote Walmart launch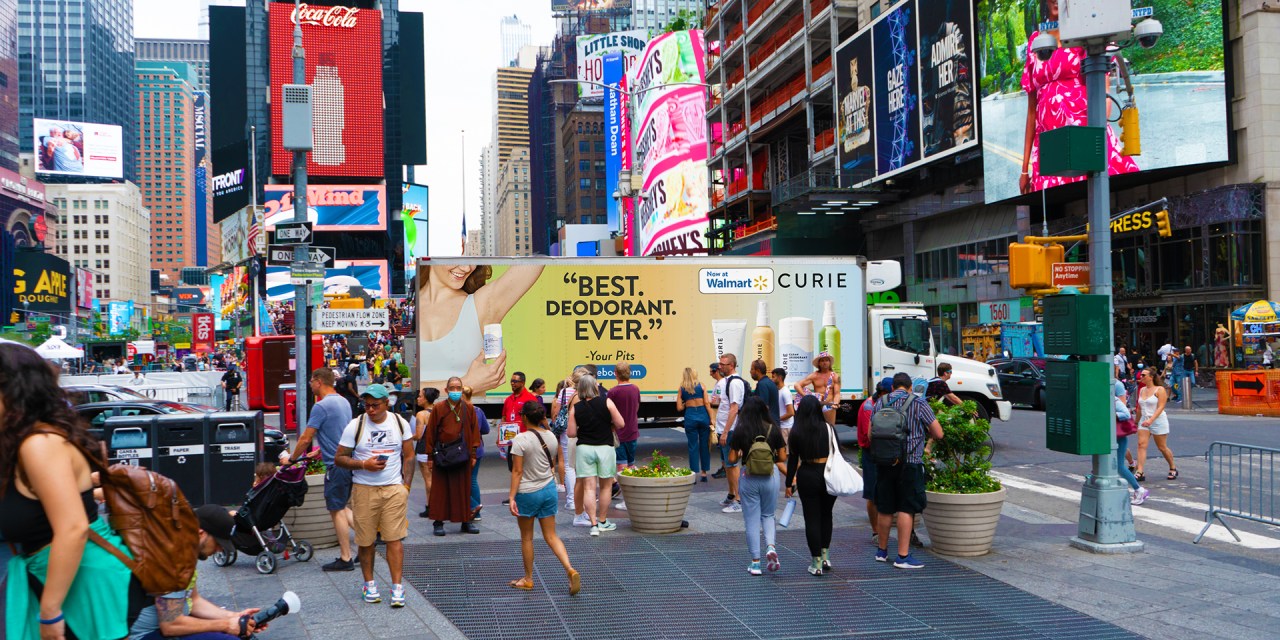 Adgile
Trucks plastered with Curie's products will soon be roaming three city streets promoting the company's expansion into Walmart.
The deodorant and body care brand will be available in 4,300 Walmart stores across the country and on Walmart.com starting Tuesday. To drive attention to its mass retail launch, Curie is deploying six mobile billboards in three of Walmart's key markets: Atlanta, Georgia, Dallas Fort-Worth, Texas and Bentonville, Arkansas. The trucks will be deployed from Sept. 4 to Nov. 27.
To coincide with its first big-box retail partnership, Curie wanted to take the opportunity to roll out an eye-catching marketing campaign strategy. In addition to the mobile billboards, the company will also be utilizing macro- and micro-influencers as well as its Sniff Club loyalty program to get the word out about its Walmart partnership.
"It's essentially like a driving billboard," said Sarah Moret, founder and CEO of Curie. "It's an opportunity for us to do a fun, splashy campaign to promote the fact that we're going to be in Walmart."
Curie was launched in 2018 as a clean and aluminum-free deodorant brand and now has six SKUs, including its deodorant stick, armpit detox mask and deodorant and body spray. Apart from Walmart, Curie products are available on its website, Equinox gyms, Nordstrom and Anthropologie.
From 2021 to 2022, Curie's business grew 400% year-over-year. But after appearing on Shark Tank last year, Curie's sales rose 900% year-over-year, and now says it is an eight-figure, profitable brand. By entering Walmart, the company intends to maintain its momentum and be readily available for customers when they need a new bottle of deodorant.
"Our customers are located all over the country," Moret said. "We don't have a concentration [of customers] on the coasts or anything like that. We are truly a national brand."
To make sure people know of the Walmart launch, the mobile billboard trucks will all drive around specific routes in the three cities, which have high foot traffic and are relatively close to a Walmart. This would be the first time Curie has engaged in an out-of-home marketing campaign.
Curie will also tap its roughly 1,000 loyal Sniff Club members to spread brand awareness. Members of the Sniff Club have affiliate codes that they can share with others and they earn commission for every person that uses their code.
For its macro- and micro-influencer campaign, Curie is targeting creators that "have a lot of crossover with Walmart shoppers." Curie is providing these influencers with gift cards to encourage them to go into Walmart stores, buy Curie products and create content. "We've just found in the past that this approach of having micro and macro influencer strategy is the best use of our budget in getting the word out there to as many people as possible," she said.
Flashy marketing campaigns are quite common for startups when they enter physical retail doors — and many are getting creative. Sparkling water brand Sanzo, for example, has established partnerships with brands in a range of categories, such as pickleball, fashion and food to highlight its growing roster of retail partners. Much like Curie, other brands like Chamberlain Coffee are using OOH campaigns to grow their brand awareness and sales offline.
In a time when shoppers are growing more desensitized by online ads, OOH campaigns are becoming more popular among startups, said Kimberley Ring Allen, founder of Ring Communications and adjunct professor at Suffolk University. "It's a back-to-basics kind of approach," she said. "Because of our attention spans today, social media and online [ads] in particular don't have the same staying power."
Unlike typical static OOH ads, Allen said these mobile billboards breaks into pedestrians' peripheral. Because people can't scroll past it as they can often do on social media and its eye level, people have a better chance of absorbing the brand's messaging or call to action. The prices of truck-side ads can vary. For media company Geometria, which offers mobile billboard advertising, the price of its solo truck offering is around $150 per hour.
However, one of the pitfalls of OOH campaigns is that it can be hard to measure how effective it actually is in attracting customers, Allen said. While brands can add measurement tactics like QR codes in an ad, it can be difficult to get accurate data on whether the cost of the campaign was worth the results.
Aside from its Walmart partnership, Curie's Moret said that one of the company's priorities is relaunching some of its body care products.
"Potentially in 2024, we would want to look to expand into more retail doors," Moret said. "But in 2023, we're really focusing on being great partners for Walmart and making this launch a success."