Why Keen's price drops makes for a fresh marketing strategy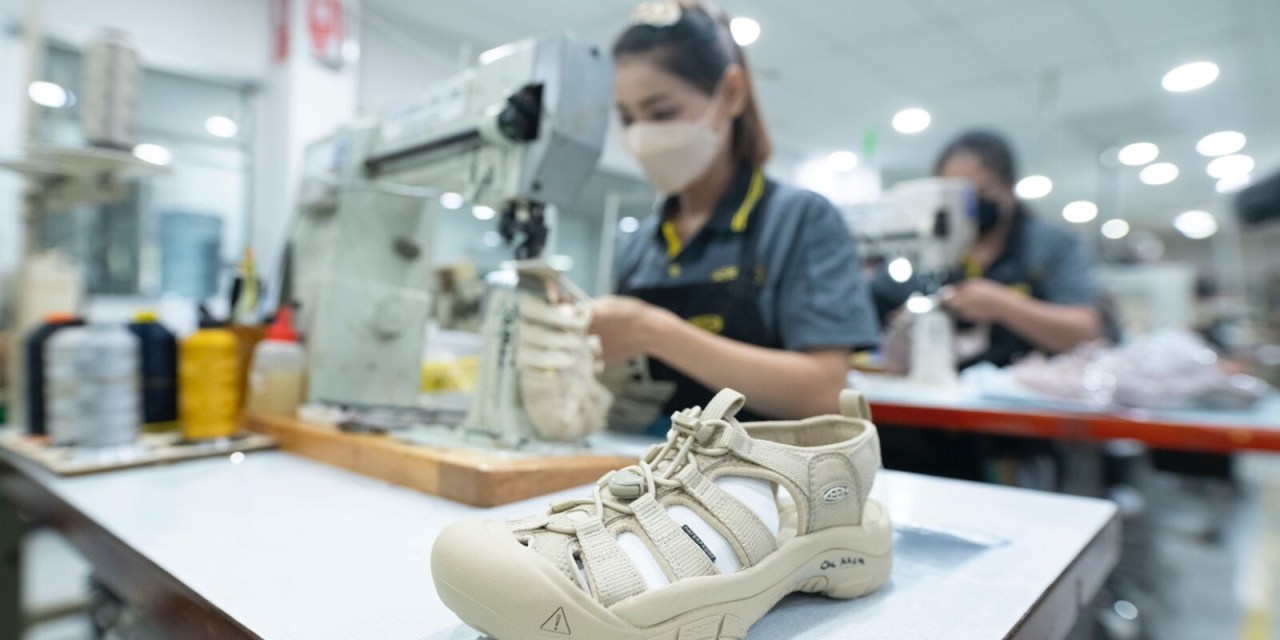 When costs to ship materials across the Pacific Ocean increased more than tenfold to $24,000 a container during the peak of the coronavirus pandemic, Keen Footwear made the hard choice to raise prices. 
"We found ourselves very quickly needing to make some tough decisions about how we were going to absorb those costs," said John Evons, president at Keen. 
But by the spring of 2023, shipping costs were returning to pre-pandemic levels. And in early June, Keen announced it was dropping prices by about 5% across nearly its entire line.
"It was our turn to kind of do the right thing, and pass those savings back," Evons said.
The Keen website site now alerts consumers with a banner that "Keen Fights Inflation," as well as house ads showing the tagline "Spreading love. Fighting Inflation." Though the pricing changes are still taking effect through retail partners, where Keen does a majority of its business, the family-owned, Portland-based brand has seen a lift in DTC sales.
"We've seen a tremendous amount of positive reinforcement from not only our retailers, but our fans who are really appreciative of us doing our part to try and kind of reverse the impacts of inflation within the overall marketplace," Evons said.
It's a rare move for a retailer in any economic conditions. But it seems particularly unusual at this moment, when some companies — such as CPG giants like PepsiCo, Kimberly-Clark and Nestle — have raised prices in an inflationary environment. But for Keen, a brand known for durable and long-lasting footwear, the move is a nod to its loyal consumers' tight budgets.
Kassi Socha, retail analyst with Gartner, said shoppers are starting to pull back on discretionary spending because they can't keep up with price increases. In a recent survey, Gartner said consumers said level pricing was the top priority for shoppers due to inflation, but it was the seventh priority for executives. 
"CMOs were focused on things like increasing availability, offering specials or deals. They were focusing more on discounting strategy rather than, 'Could we pass on savings that we're starting to see as the supply chain steadies straight to our consumers?' which is what consumers really want," she said.
Keen's move is rare, Socha said, as retailers are more likely to deploy sales and discounting than make an overall pricing strategy shift. But the move could score goodwill among the brands' fans if marketed correctly. 
"If brands are raising their prices, the brand needs to be as transparent as possible with the consumer," she said. "And if they're bringing the prices down, they should celebrate that with the consumer as well."
Keen, founded in 2003, broke through the market with its Newport closed-toe sandal, a vented, water resistant shoe meant for hiking trails or scrambling through rivers. The brand weaves sustainability and durability into its outdoorsy image, focusing on the use of rugged materials and comfort-forward design. Evons declined to share sales data or revenue figures for Keen, but the brand has expanded its inventory in recent years, including putting out a walking shoe in February. And it's benefited from the popularity of "gorpcore," or outdoors-related accessories, that blossomed as people went outside more during the lockdown era of the pandemic.
Evans said the decision to lower prices fits with the brand's "slow fashion" ethos, one that wants to show transparency in its manufacturing and processing capabilities. That plays into the decision to lower prices, Evons said, and the idea of apparel that's long-lasting and valuable.
The price drops are as high as 18% for some items – like the kids-sized Elle backstrap going from $65 to $55. Higher-priced utility footwear, like the San Jose 6" boot with an aluminum toe, saw bigger dollar drops from $185 to $160, or from $260 to $230 for the Camden waterproof insulated workboot. 
As far as how the company was able to absorb the price drop, Keen owns about 40% of its supply chain, including manufacturing facilities in Portland. This setup gives the company clear insight into what its costing to produce its products — so, once logistics costs started to fall, it meant the company had wider margins.
"Our control over our supply chain is giving us a much better read on how to get back to a more normal cost structure for our products," he said. "It gives us a unique vantage point on being able to really have more control over the outcomes of our business."