Research Briefing: Brands, influencers dive into YouTube Shorts, as platforms ramp up full-funnel ad strategies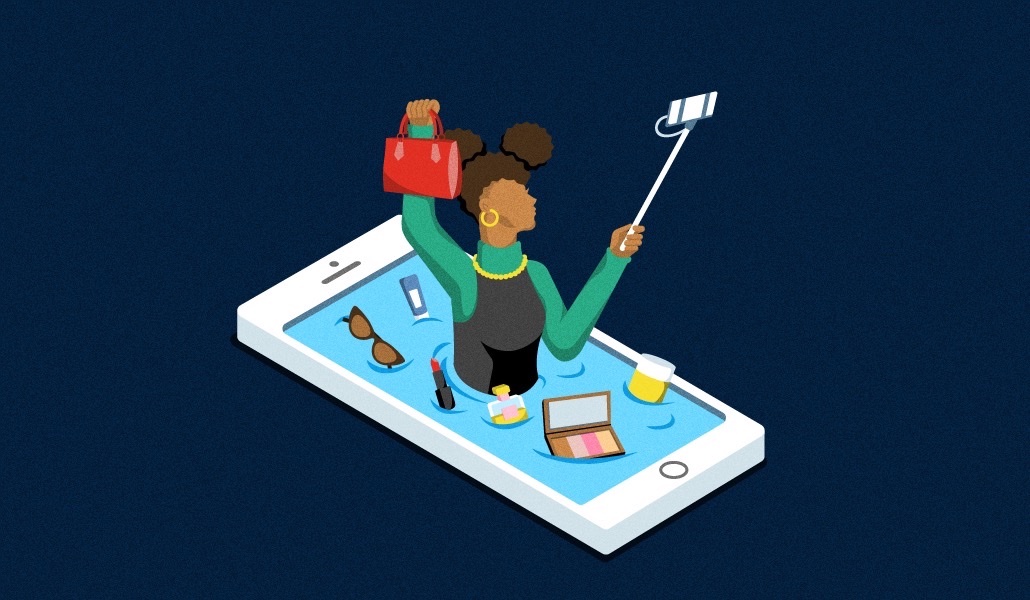 Ivy Liu
Welcome to the Modern Retail+ Research Briefing, your weekly curation of retail, technology and marketing research insights. Modern Retail+ members have full access to the research below.
In this edition, we examine how platforms are ramping up their full-funnel ad strategies, while brands and retailers are increasing their use of YouTube Shorts, as seen in recent data from Modern Retail+ Research.
Interested in sharing your perspectives on the future of retail, technology and marketing?

Apply to join the Modern Retail research panel.
Influencers received an average of 128,786 views per Shorts video
These days, every platform from Amazon to Google wants to position itself as a full-funnel ad platform to get more brands to spend advertising dollars with them. In 2020, Google released Shorts, its short-form video feature, to advance YouTube as a more full-funnel ad platform. This spring, YouTube added more Shorts ad formats, such as Shoppable Shorts, which provide viewers with the ability to shop products shown in short-form videos.
With the recent rise in popularity of short-form video, many brands and creators are also starting to experiment with YouTube Shorts to expand their reach across social media. Short-form videos are effective for engaging niche audiences and communicating brand messages, and in Modern Retail+ Research's YouTube Shorts analysis, all of the 11 influencers included in the study received high viewership numbers from the Shorts videos they posted last year.
Across all videos, the group received an average of 128,786 views per Shorts video. Jeffree Star (@jeffreestar on YouTube, who has 15.9 million subscribers), for example, posted two Shorts videos to his YouTube channel that amassed over 1.4 million views in combination, and around 718,000 views per video. On average, 802 comments were left on each Shorts video. To note, Star has the largest channel based on subscribers among the influencers included.
Modern Retail+ Research found that channels that have consistent interactions with their subscribers can more naturally engage their audiences through Shorts and may see exponential growth in their viewership base — helping position influencers for brand partnerships and brands themselves to find an audience.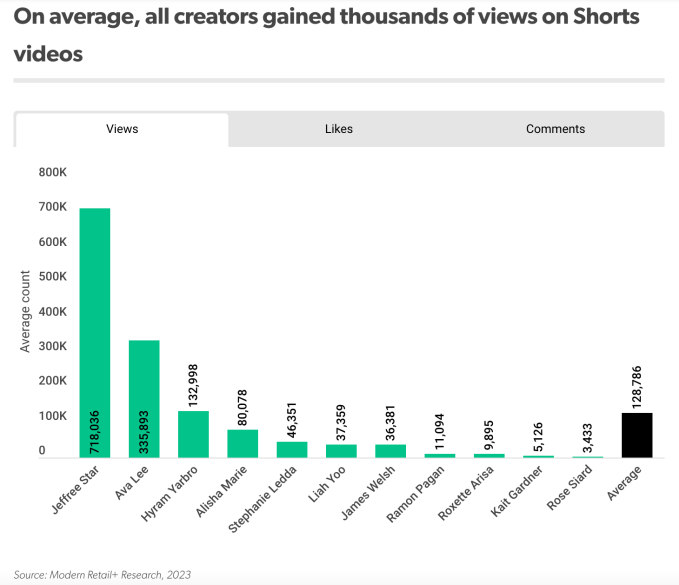 Modern Retail+ Research also looked at the style of Shorts videos influencers most commonly posted and discovered a third (33%) of the 2022 Shorts posts included in this study were tutorial videos depicting beauty or fashion tips, while reviews were the second-most popular type of post, with 21% of Shorts videos sharing creators' opinions on product efficacy.
These types of videos garnered the most viewer attention and engagement as well. On average, routine videos received over 428,000 views per video. Tutorials were a close second, averaging over 385,000 views per video. However, more viewers engaged with tutorials than routine videos through likes. On average, tutorials earned about 21,000 likes versus approximately 16,000 likes for routine videos.
Brands working with influencers should consider these types of video formats to engage viewers, as tutorials and routine videos are a great opportunity to display product efficacy and proper usage in a casual format. In particular, Modern Retail+ Research observed that catchy product demonstrations that don't feel forced are ideal.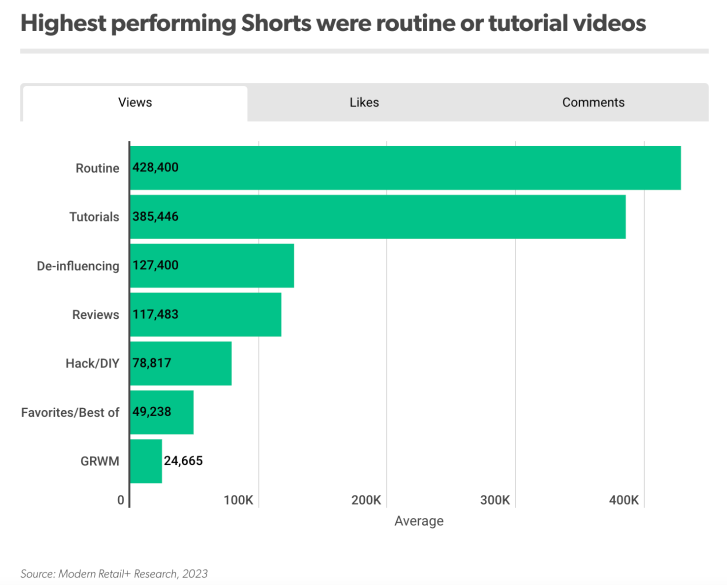 In 2022, the majority of influencers included in this study reposted content from TikTok or Instagram to Shorts. Because influencers with smaller YouTube Shorts channels have been able to amass larger followings on TikTok or Instagram, they largely focus on creating original content for those platforms instead. However, as Shorts continues to evolve and strategies to garner favor from the Shorts algorithm become clearer, brands and influencers alike will need to ideate and produce original content for Shorts — both sponsored and otherwise.
Some brands are already looking to develop and invest in original and dedicated Shorts videos to take advantage of the recent surge in Shorts consumption, rather than repurposing existing content from TikTok and Instagram. Ipsy, for example, is assessing how to develop and invest in original and dedicated Shorts content.

Key findings:
Shoppable Shorts debuted in June 2022, providing viewers with the ability to shop products shown in one of the short-form videos. Only four influencers out of the 11 included in this study posted sponsored or shoppable Shorts videos last year, but as shoppable and sponsored content continue to grow, influencers are beginning to create more original content for Shorts — and some of it is shoppable.

On average, the 11 influencers included in this study received over 128,000 views per Shorts video posted. Even the smallest channel received over 3,000 views per video on average. However, Shorts viewers casually scroll through many videos in one sitting and may be more passive to brand content than long-form video viewers.
See research from all Digiday Media Brands: