Nonalcoholic drinks brands are testing out 'Sober October' campaigns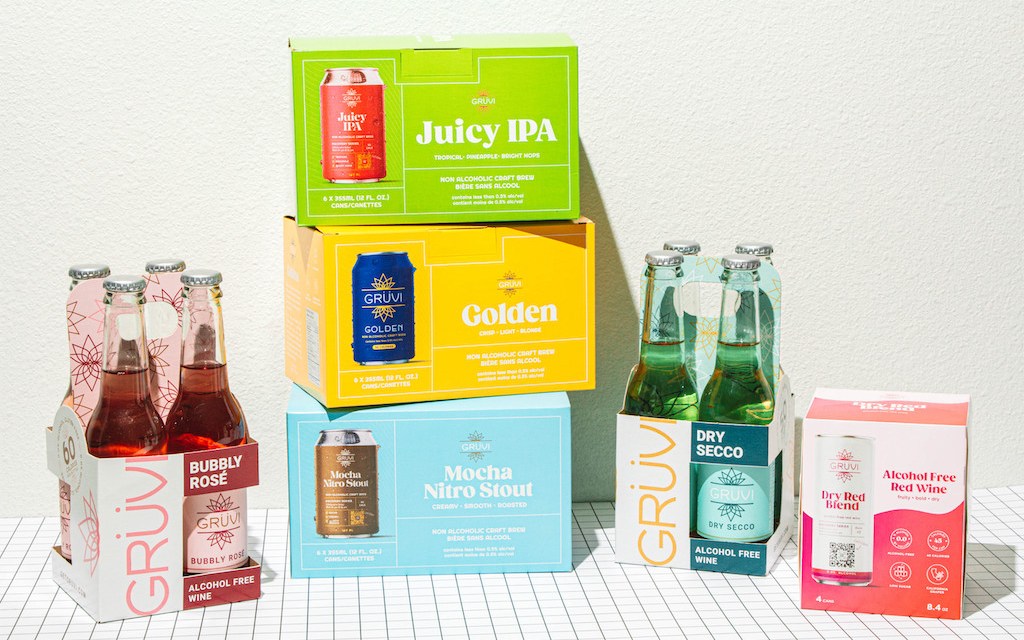 Gruvi
Known as the younger sibling of Dry January, Sober October has gradually become a popular challenge for people trying to cut back on drinking. The annual "Go Sober" campaign began about a decade ago, as part of a fundraising initiative by the U.K. charity Macmillan Cancer Support.
With Sober October being deemed a warmup for Dry January, the challenge is gaining popularity as part of the mindful drinking movement. As such, alcohol-free beverage brands are fine-tuning their messaging around the annual campaign. Marketing efforts such as Sober October-themed discounts and promotions are par for the course. Companies in this category want to capitalize on opportunities like Sober October to introduce themselves to new customers. However, some nonalcoholic brand founders haven't seen as much traction from Sober October, and instead attribute the sales spike they generally see during October as a kickoff to the busy holiday period.
Ritual Zero Proof co-founder Marcus Sakey said that the alcohol-free category has been growing consistently over the past three years — and campaigns like Sober October help sustain that momentum. Since its sale to Diageo, Ritual has seen 100% year-over-year growth that's being fueled by increasing retail sales.
Ritual currently has a full paid digital campaign to mark the annual challenge, along with in-store activations such as customer tastings and discounts with nonalcoholic beverage shop Boisson. As part of the collaboration, Ritual Aperitif is also one of the handful of brands that Boisson is offering in its Sober October bundles. Ritual is also running other pop-up events, like giving away nonalcoholic cocktails at select bars across the country.
For Ritual, so far Sober October has led to a notable uptick in sales on the company's DTC sales. Sakey confirmed that these sales are coming from a mix of both new and existing customers. "What these media moments do is really put it back in front of people," Sakey said of month-long no drinking challenges, such as Sober October. "In the first three days we're already up 35% over last week, so it's clearly resonating."
But like traditional spirits sales, Sakey said that nonalcoholic brands tend to experience big sales during the October through December holiday period. In fact, many of these companies are now positioning their products as companions to their alcoholic counterparts during gatherings. 
This year Gruvi, a nonalcoholic wine and beer maker founded in 2018, isn't relying on Sober October for a major sales boost. Gruvi co-founder Niki Sawni told Modern Retail that Sober October is another opportunity for the brand to build awareness around its products. "But we've gone pretty light this year, after investing in Sober October marketing the past two to three years," Sawni said.
Gruvi currently sells at over 5,000 retail locations including Total Wines and Whole foods — with off-premise shops now representing 70% of its business. So much of Gruvi's Sober October campaigns are running on the brand's own social channels, where it's offering a 15% off discount.
Naturally, Gruvi's busiest sales period is Dry January. This is followed by July, Sawni explains, when overall beverage revenue spike due to summer consumption. "The volume typically follows alcohol sales, which spike in the summer and during the holidays," she added.
Sober October can be an acquisition strategy for some brands, Sawni said. "But most of our DTC customers have given up alcohol altogether and already buy cases throughout the year," he said. "So they're not necessarily hit by Sober October campaigns." 
The long tail of end-of-year nonalcoholic drink sales is also trickling into retailers specializing in these alternatives. Courtney Balzer, chief marketing officer at Boisson, agreed that outside of Dry January, October, November and December sales are consistently growing every year. 
"Sober October has definitely gained popularity coming out of the summer, with many consumers looking to slow down their consumption habits," she said, which sometimes extends into the retailer's Black Friday promotions. This is similar to an emerging customer behavior in February, Balzer noted – when customers extend their Dry January run which the retailer calls its "Try February" campaign.
Balzer said that with many of these booze-free "challenges" now popping up year round, the retailer is developing campaigns and content calendars based on the consistent interest in nonalcoholic drinks.
"While we are still acquiring new customers at a steady pace throughout the year, especially during these busier time periods," Balzer siad. "We don't see customers waiting for these 'dry challenge' occasions."