How intimates brand Kindly is building a Walmart-exclusive business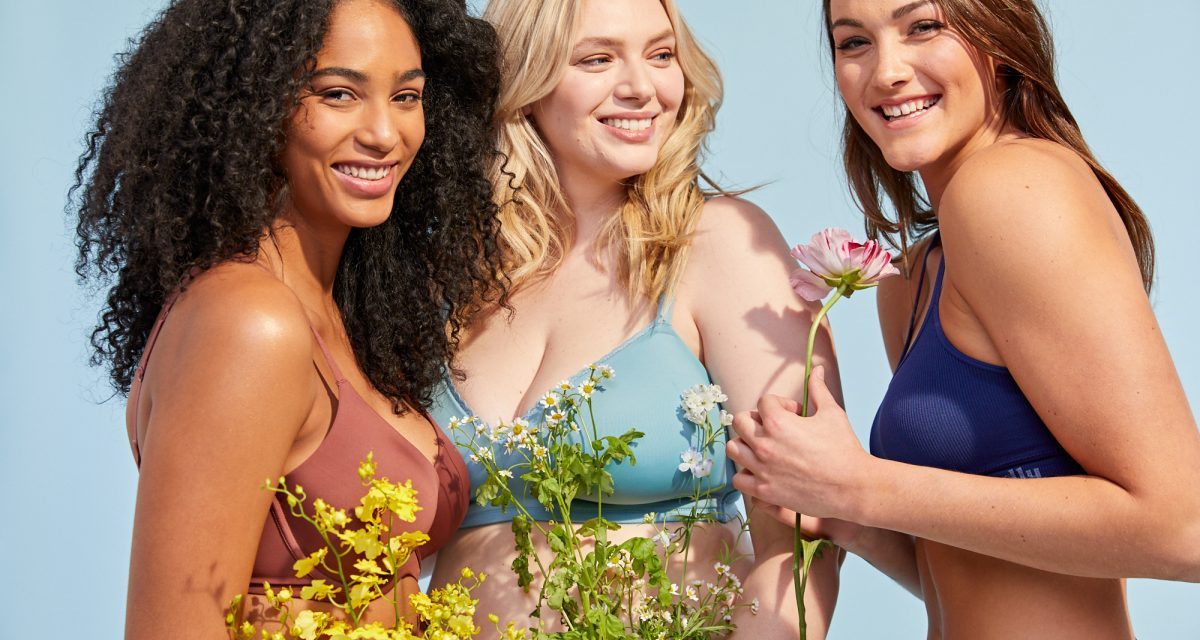 Kindly
Seventy-year-old intimates manufacturer Gelmart is experimenting with new ways to build new business — most recently with its new Walmart-exclusive brand Kindly.
In August 2021, Gelmart — which supplies DTC brands like Lively and In Common, as well as private labels for retailers like Target and Kohl's — launched a new intimates brand called Kindly. Kindly is independently owned by Gelmart, but is a Walmart-exclusive brand. Despite being only available at the big-box retailer, Gelmart wants to build brand awareness for Kindly in its own right and is taking a marketing approach that more closely resembles that of a DTC startup.
Over the past few months, the Gelmart team has tested a series of digital marketing campaigns to better target potential Kindly customers. Having already set the foundation with a physical footprint, Kindly is now adopting digital marketing strategies like creating TikTok and Instagram campaigns to draw attention to its mission and affordable products. So far, these tactics have helped the brand grow its digital presence by triple digits, especially through influencer-led videos.
A marketing playbook centered around Walmart 
Caroline Levy, chief marketing officer at Gelmart International, told Modern Retail that the brand is in a unique position of operating like a standalone startup with the backing of Walmart.
Kindly first launched in 300 Walmart stores and on Walmart.com, starting with a core collection of its bra cup sourced from sugarcane. The brand also introduced three new collections over the past few months, including maternity wear and loungewear. Kindly product prices range from $11 to $23, with most bras retailing for around $13. By contrast, bras by sustainable DTC brands like ThirdLove and Lively retail for anywhere from $45 to $70.
Today, Kindly is now available at over 3,000 Walmart locations and has a growing assortment. In turn, Levy said the Kindly team is now focusing on growing brand awareness. While Kindly uses Walmart's advertising network and in-store promotions, Levy said the brand doesn't receive any special sponsorships from the retailer. This means Kindly is left to find ways itself to reach customers and tell them about the brand's Walmart availability. 
"In a way, we're using DTC marketing tactics, but with the advantage of already having a large retail presence," Levy said. This marketing strategy was already in place pre-launch, when Gelmart decided to first test out an in-house brand in partnership with Walmart. Levy said this move was partly due to seeing firsthand the challenges DTC startups face while scaling an intimates brand. 
"Because our price points are so accessible, we want to cast a wide net through marketing initiatives," Levy explained. With most American shoppers living near a Walmart, Kindly's strategy is to make them aware of the products.  
Zoee Silber, a brand marketing consultant for Kindly, said much of the brand's marketing efforts are centered around embracing its namesake. 
"So far, our biggest viral moments have revolved around embodying and spreading kindness," she said. "We've been playing around with TikTok and Instagram to see what works," adding that Kindly launching a TikTok channel in mid-2022.
For the recent holiday season, the brand kicked off its kindness campaign in November with TikTokers like Eli Rallo, Autumn Gruber and Blaine Musca. As part of the campaign, Kindly gave these creators $500 to give away — with subjects ranging from tipping unsuspecting baristas and servers, to giving free ice cream for passersby. 
Silber said the campaign has already become the brand's biggest trending moment on TikTok, with hundreds of viewers and commenters praising the initiative and pledging to participate. The series is also acting as a top-of-funnel strategy, taking the audience to Kindly's Walmart page. 
On social channels like Facebook and Instagram, Kindly's content focuses on wellness and self care for an accessible budget. Over the past six months, Kindly has also been getting into user-generated content and collaborations with other startup brands carried at Walmart. Recent examples include product giveaways in collaboration with prenatal supplement maker Pink Stork, skincare brand Botanic Tree and makeup brand Profusion Cosmetics.
Last year, the brand also began working with creators — especially those in the wellness and parenting space — on Walmart-focused ads featuring content like Kindly shopping hauls at Walmart.
Social KPIs have been growing consistently, said Silber, which the brand attributes to its kindness-focused campaigns. For instance, Kindly's Instagram profile traffic increased by 36% during the holidays, compared to the prior six weeks; account likes saw an 87% spike. The campaign also drove a 853% month-over-month traffic increase to Kindly's pages.
Kindly declined to provide specifics around sales data, but Gelmart confirmed a spike in sales during the first month of the latest campaign, compared to its average monthly Walmart sales.
Hedging growth prospects on a major retailer 
Exclusive lines are nothing new for big-box retailers like Walmart. The retailer has several exclusive lines with celebrities like Drew Barrymore and Sofia Vergara. Additionally, Walmart has experience with acquiring e-commerce brands with some degree of success. Past partnerships include Modcloth, Bonobos and eloquii.
Andrew Lipsman, principal analyst for retail and e-commerce at Intelligence Insider, said that Kindly's business model is an early experiment that could show the pros and cons of selling exclusively through one retailer. 
"If the consumer is none the wiser, it's a smart way to cut through the noise and establish the brand," he said. "You can do your own social and marketing, but a retailer like Walmart can provide distribution and velocity."
At the end of the day, Lipsman said most shoppers mainly care about distribution and innovation for categories like apparel and beauty. 
This is the main selling point that Kindly is trying to drive home in its social campaigns — especially among young, digitally-savvy customers. 
Kindly is gearing up for a 2023 spring collection launch, which was developed with a consumer panel of Kindly VIP members that the brand works with on product improvements. To amplify the launch, Levy said "we're going to be executing a 360-degree marketing campaign, inclusive of our Brand Ambassador network, our newest marketing channel to be hard-launched this spring."
Kindly is also developing new partnerships with its paid and gifted influencer community to announce a new social impact program. "Additional channels to launch later this year include experiential marketing and a celebrity spokesperson opportunity," Levy said.
Still, Levy emphasized that "our biggest marketing tool is having Walmart distribution," noting that many DTC companies ultimately end up partnering with big box stores anyway. "We just have to make audiences aware of our sustainably-made, affordable collections."