How dental clinics became Boka's fastest growing sales channel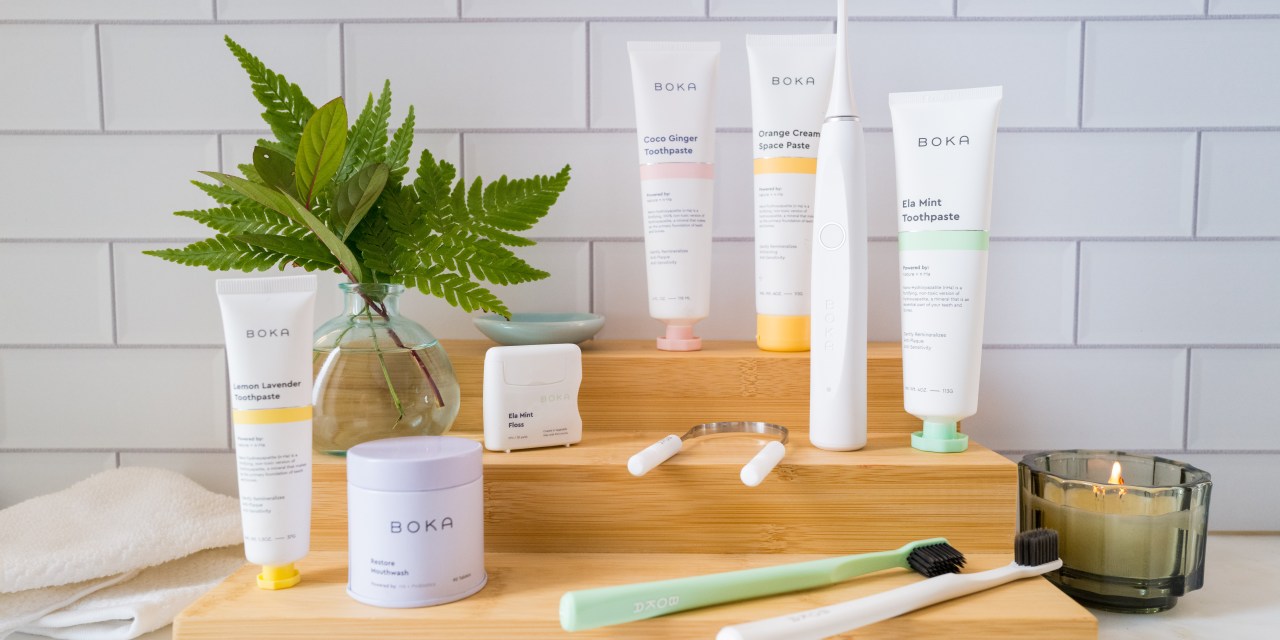 Boka
While some direct-to-consumer brands may be hyperfocused on big-box retail partnerships to grow their businesses, dental care brand Boka has witnessed rapid growth from dental clinics.
Its dental wholesale business is currently Boka's fastest-growing sales channel. The brand has experienced 150% year-over-year growth within its dental wholesale business. The channel currently accounts for 5%-10% of its business.
Dental clinics often recommend, offer free samples of and sell products to patients, making them ideal partners for brands that want more people to try their products and know their benefits. Boka — which sells products like tubes of toothpaste, dental floss and toothbrushes  — has been utilizing dental clinics as an instrument for sales and brand awareness. Dentists either offer Boka products as samples, resell the full-sized version or do a mix of both. 
"The idea came to us from dentists," said Nisha Karna, director of brand for Boka. "As a result of the call to action from them, we started to set up the program."
Its dental wholesale program was founded in 2021 and has been growing rapidly. Boka said that it receives up to 100 applications a day to be a wholesaler, the majority of which come from dental offices. Boka currently has 1,345 dental customers, including Boudry Dental in Wisconsin, Spades Dental in New Hampshire, American Center For Bioregulatory Medicine and Dentistry in Rhode Island. Many of Boka's dental wholesale customers are individual offices as opposed to large dental associations.
"We've, in fact, already exceeded more than half of the number of customers we had last year in the first three months of this year," Karna said. "It's actually a lot of individual practices who are just excited about the product."
Boka was founded back in 2015 and is widely known for its tubes of toothpaste that contain nano-hydroxyapatite. Boka was acquired by Heyday in 2022 and has since grown by 130%. The brand currently has around 8-10 SKUs and is available on its website and Amazon, as well as in 800 Ulta stores and a select number of Erewhon locations.  
While some clinics buy and resell some of Boka's full-sized products, others offer samples to patients. Boka offers travel-sized options that these dental offices often purchase. Karna said the company has gone viral a number of times on TikTok, which prompted a number of patients to ask their dentists about Boka.
As more DTC brands look toward big-box wholesale as a way to reduce their reliance on online customer acquisition, dental offices can offer a similar strategy albeit at a smaller scale. Karna said that when dentists recommend a product to their patients they will more likely listen.
"The way [dentists] tell the story and the way they get their… patients excited about it is very authentic and that authenticity is just what leads to the virality of the brand," Karna said. "They do, in many ways, the hard work for me." 
During a time when the cost of acquiring customers continues to rise, finding alternative low-cost channels to bring in more customers can be valuable, said Dan McCarthy, assistant professor at Emory University's Business School. He added that not very many people are keen on replacing the toothpaste they are used to unless a dentist tells them to. 
"It's one of those products that, you tend to fall into a rhythm with," he said. "People are not really aware or not necessarily all that interested in seeing what's out there." 
Other brands have utilized alternative channels to reach customers. Direct-to-consumer brand Curie — which offers products like deodorants, body washes and detox masks — partners with gyms like Equinox and SoulCycle. Insoles brand Fulton told Modern Retail that it has partnered with almost 100 chiropractors, physical therapists and podiatrists nationwide. Australian pet brand Dog by Dr Lisa also works with veterinary hospitals to have its products be used for in-patient care.
McCarthy said dental clinics can be an effective tool to convince shoppers to change their routines. But like any distribution partnership, alternative channels can be time-consuming to set up and brands could take a financial hit from it. 
As part of the dental channel's next phase of growth, Boka's Karna said that the company plans to invest more in its outreach to hygienists and dental networks. Boka also plans to launch more products this year and increase its SKU count to 15-16. With these initiatives lined up, Boka expects to grow 90%-100% in 2023.
"We want to own the oral care regimen," Karna said. "The launches we have coming for the latter part of this year allow us to play in spaces that have traditionally been owned by legacy players."