Body care brand Curie is betting on gym partnerships to acquire new customers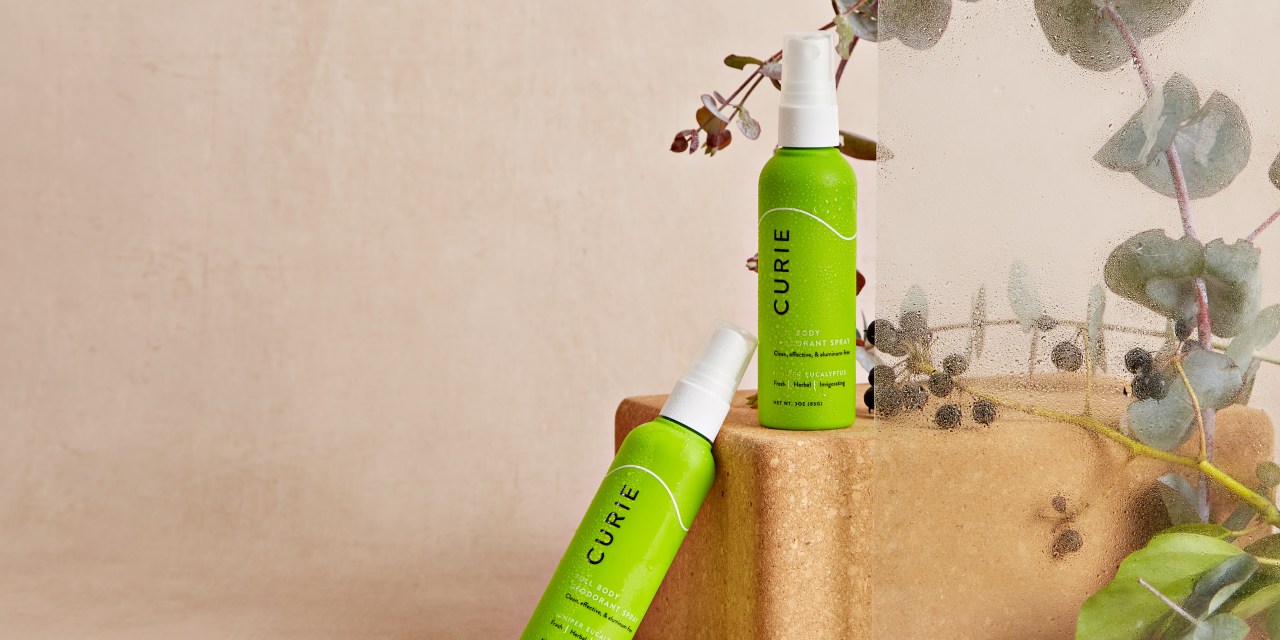 Curie
In a bid to gain more brand awareness, direct-to-consumer brand Curie has its eyes on gyms. 
Curie — which sells products like deodorants, body washes and detox masks — announced this week that it is launching a Juniper Eucalyptus Full Body Deodorant Spray with high-end gym Equinox, which will be available at all 105 Equinox Clubs this summer as a complimentary amenity for members. This tie-up follows its partnership with SoulCycle studios that launched last summer; samples of its orange neroli-scented full-body deodorant spray can still be found at all locations.
After inking its deal with SoulCycle, Curie saw locker rooms as an opportunity to bring the brand in front of more people. Founded a little over three years ago as a "clean, performance-based" body care brand, Curie said members of these high-end fitness clubs align with its target customers. Year-to-date from 2021 to 2022, the company has seen 400% year-over-year growth.    
"To us, it's more of a marketing thing than a sales channel," said Sarah Moret, founder and CEO of Curie. "I would compare it to almost like a billboard. It's a sampling opportunity."
Its partnership with Equinox has been in the works for the last couple of years, even prior to the pandemic. Curie's exclusive new scent with Equinox is inspired by the gym's popular eucalyptus towels. The co-branded deodorant spray will be available for purchase online through Curie's website and The Shop at Equinox. 
"I think Equinox members care a lot about their health, not only their fitness. Equinox really is like a way of life — as cheesy as that sounds," Moret said. "I see Equinox is such a strong brand and they have such a strong following."
Moret said partnerships at popular gyms like SoulCyle and Equinox help people associate Curie with a healthy and active lifestyle. Moving forward she said the company will continue to explore more partnerships with fitness companies and brands that have a similar customer demographic as Curie.
Other Curie products, which are priced at around $14 for a deodorant spray and $16 for a whipped body wash, can also be found on Curie's website, Amazon, Anthropologie, Nordstrom, QVC and Bloomingdales.
Much like Curie, other startup brands have been leveraging partnerships with non-retail companies to raise brand awareness. Canned mix drinks brand Tip Top Cocktails, for instance, is one of several food and beverage companies that Delta Airlines began offering on board to travelers. Sexual wellness brand Maude, on the other hand, has some of its products, like condoms and vibrators, sold at mini-bars and gift shops at certain hotels.
Polly Wong, president of DTC marketing agency Belardi Wong, said that this type of marketing strategy can be an effective way to target potential customers. These channels, she said, are growing more popular as digital marketing becomes more expensive and competitive. "With all the challenges on the digital marketing side, we are seeing companies try to find other ways to increase brand reach to acquire new customers."
Additionally, these partnerships also give consumers the opportunity to test the product prior to purchase, a challenge that many digitally native brands face.
Wong added that brands should make sure that the company that they are partnering with has a strong affinity for the brand and has a similar core audience. Otherwise, Wong said, the marketing channel would be ineffective. 
Curie's Moret said it's too soon to tell how the company's partnerships with fitness centers have impacted the company's sales, especially because pandemic caused most gyms to close doors. However, she said, Curie has been receiving emails and direct messages from customers who've discovered the company in studio locker rooms.
"The goal is exposure," Moret said. "We're providing these gyms with a really great quality, clean product, and the gyms that we're working with also give us the opportunity to associate ourselves with these amazing established brands."
For its next big partnership, Curie is looking to close in on the customer purchasing journey by making its products available at larger retail chains. "Our biggest goal for 2023 is to get a larger physical retail presence so that people can discover us in their favorite club or their favorite fitness studio and then go buy the product in real life," Moret said.