Why more apparel brands and museums are teaming up on artistic collaborations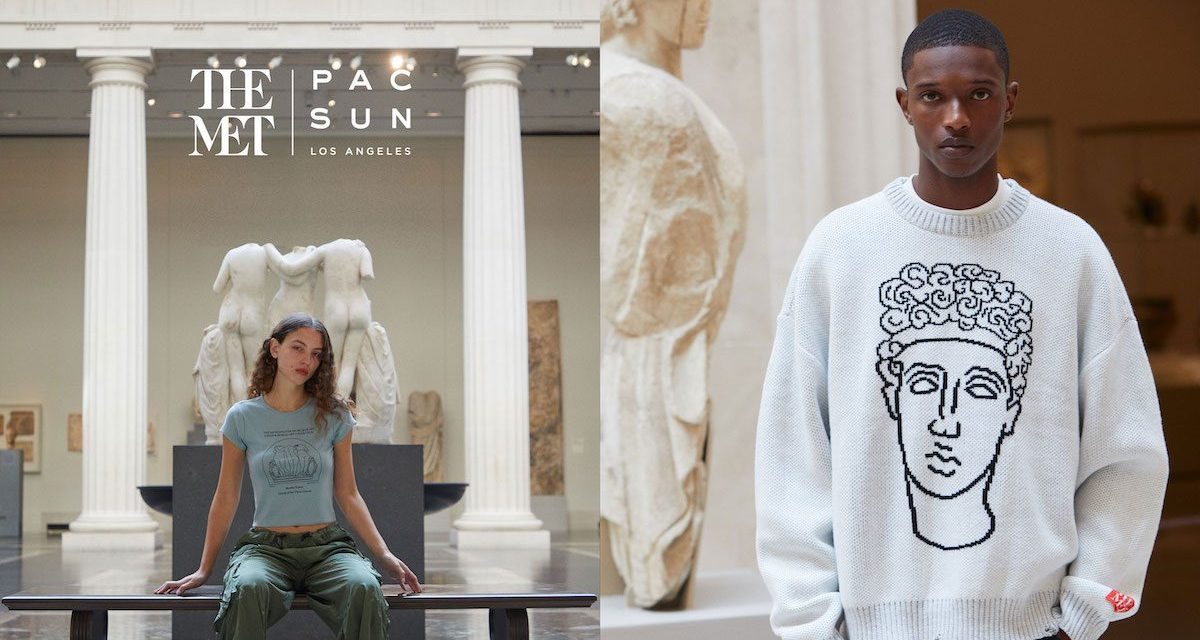 The Met x Pacsun
Roughly eighteen centuries stand between the creation of the ancient Roman statue "Head of an Athlete" and the rise of California surf and skate culture. This summer, though, the two share common ground: They're both featured in a collaboration between the Metropolitan Museum of Art and Pacsun.
The co-branded collection, which dropped at the end of August, includes more than 60 items ranging from puffer jackets and crewneck T-shirts to boyfriend jeans and crew socks. All draw inspiration from the Met's 30,000-strong collection of Greek and Roman art, using prints and illustrations of statues such as "Group of the Three Graces" and other classical masterpieces. The items range from $25 to $90 in price, and many have already sold out on Pacsun's website.
This new collection is the latest example of art museums and fashion brands teaming up on new pieces. Last February, Uniqlo released a line of t-shirts and sweatshirts inspired by popular works at the Museum of Modern Art, such as Claude Monet's "Water Lilies" and Piet Mondrian's "Composition No. II, with Red and Blue." Vans partnered with the Van Gogh Museum and MoMA on footwear collections in 2018 and 2020, respectively, while Swatch rolled out a collection with the Rijksmuseum in 2018. Partnering with museums is another way for fashion brands to establish cultural cachet, to position themselves as champions of the arts and to get their products in front of people who might not have stopped by one of their stores.
Retail executives and museum leaders alike frequently tout these collaborations as way to get new, younger audiences interested in particular art collections. Uniqlo partnered with the Boston Museum of Fine Arts on a line of apparel featuring woodblock prints in 2022. The collection, Nick Grover, Uniqlo director of brand partnerships, said in a press release, "reflects UNIQLO's origins from Japan and our longstanding interest in the arts." Similarly, the Van Gogh Museum was eager to work with Vans, "as it ties in with our mission to make the life and work of Vincent van Gogh accessible to as many people as possible," Adriaan Dönszelmann, managing director of the Van Gogh Museum, said in a statement.
Pacsun and the Met have partnered on three previous collections going back to fall 2022. To get inspiration for its new collection with the Met — now available in more than 300 Pacsun stores — Pacsun designers combed through the museum's asset library and toured its galleries, then consulted with the Met's teams for feedback and further direction. The collection consists of basics like t-shirts and fleeces, but also left room for designers to experiment with pieces like suit pants and mesh shorts, Richard Cox, Pacsun's vp of men's merchandising & design, told Modern Retail.
Although the collection has only been out for a week, sell-through has been "great" so far, especially in terms of e-commerce, Cox said. He expects sell-through to be similar to that of other Pacsun collaborations with the Met, which historically have reached 80% sell-through in the first six to eight weeks. Pacsun has been "nudging up the volume" with each drop due to demand, Cox said. "We want to try to expose it [the collection] to as many fans as possible," he explained. "We're not buying really tiny quantities so that we can say 'sold out.'"
Pacsun and the Met have different core audiences but were drawn to the idea of bringing them together, executives told Modern Retail. At Pacsun, for instance, "our customers are becoming more and more interested in the arts," Cox said. "The point of this collaboration is first and foremost to appeal to their desires and to get them excited… But, we also recognize that partnering with the Met should open us up to additional customers, ones that may not have engaged with Pacsun or may not have shopped us in years."
The Met, for its part, is hoping to access Pacsun's core audience of Gen Z and Millennials, Josh Romm, head of global licensing & partnerships at the Met, told Modern Retail. "Together with Pacsun, we are bringing art, history, culture and creativity to a young, style-conscious audience who will shape the future of art and design," he said.
This is not the first time the Met has worked with other fashion brands. Last year, it launched a collaboration with Dr. Martens to celebrate "The Great Wave" artist Katsushika Hokusai. It's also teamed up with beauty conglomerate Estée Lauder. The Met is working on accessory launches "to round out our lifestyle program" as well, Romm said.
In evaluating new partnerships with fashion brands, the Met looks for retailers that are "trusted and believable, and know how to interpret the assets and brands of their collaborators in a way that's meaningful and beautiful," Romm said. In addition, he noted, "the ability of the apparel licensee to understand who the Met is as a brand and to work in tandem with our licensing design department is key."
Sky Canaves, senior analyst of retail & e-commerce at Insider Intelligence, told Modern Retail that there is a "natural affinity" between art and apparel that makes sense for collaborations. "They're both highly creative, expressive and visually oriented," she said. The trick is getting that "right product-market fit," she said. "Brands have to ensure that the partnerships… do more than put an image on a t-shirt." As for museums, she said, there is "the general risk that comes with too much licensing — overextension and brand dilution."
These types of partnerships are not new, Canaves said. But, she added that these collaborations became more significant following the Covid-19 pandemic. They "gained a new impetus during the pandemic when museums and other cultural institutions were faced with a major loss of revenues from the public," she explained.
The Met, too, wants to ink collaborations that will resonate, Romm said. "One of the central objectives of our licensing program is to extend The Met's reach… by bringing art to life and enabling our brand to connect with consumers in key lifestyle touchpoints, including apparel."