Eastern Mountain Sports is leaning into humor & affordability for its brand refresh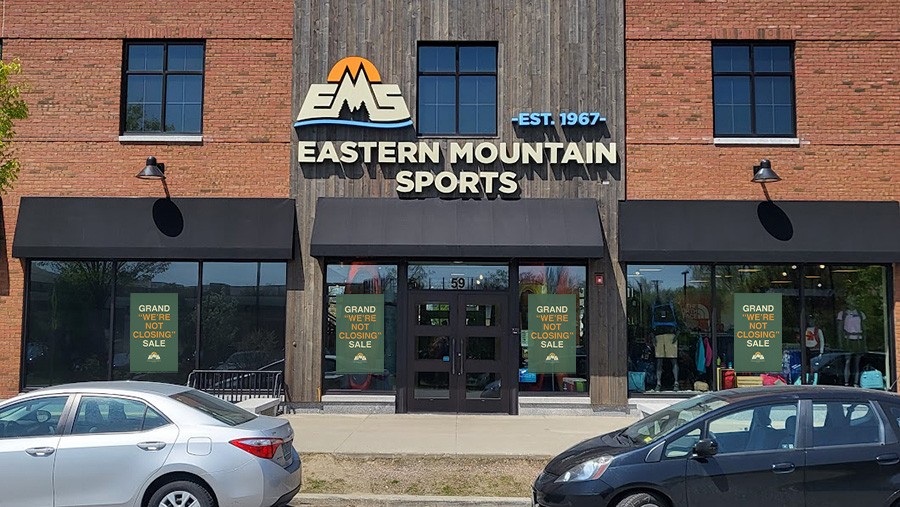 Eastern Mountain Sports
Eastern Mountain Sports last week debuted its first ad campaign in decades, aiming to reintroduce the brand as an affordable and approachable outdoor gear alternative following years of ownership changes, downsizing and a bankruptcy. And it's starting by poking fun at itself.
The latest TV spot features a store associate explaining how the staff "took a long hike on the Appalachian trail," resulting in store closures. "When we got back, someone had closed a bunch of our stores," the associate says with an apologetic laugh. "Sorry about that."
Kerry Muricchio, executive vice president and general merchandise manager at EMS told Modern Retail, that the company wanted to reintroduce itself with a wink and nod toward its past troubles while showing that it's a lighthearted brand.
"We want customers to laugh with us," Muricchio said. "They know we have closed stores in the past."
This latest campaign is one of several ways that EMS aims to reposition itself and reintroduce itself after switching hands three times in the past 10 years, and going from more than 60 stores to 25 at present. In 2012, private equity firm Versa Capital Management bought the company from J.H. Whitney & Company, which had owned the company since 2004. But the unit that owned EMS along with Sport Chalet and Bob's Stores eventually filed for Chapter 11 amid a downtown in both sporting goods and clothing apparel. In 2017, Sports Direct International bought EMS in bankruptcy proceedings, then current owners GoDigital acquired the company last spring.
EMS was founded in 1967 by Alan McDonough and Roger First, two camping enthusiasts in Massachusetts that targeted the local outdoor equipment market. After multiple ownership changes in the '80s, it underwent a rebrand in 2003 after facing losing some of its hardcore outdoor gear head customers to competitions like REI and Patagonia. Today it carries its own line of goods, gear and apparel — plus top outdoor wholesale brands like The North Face, Osprey, Merrell and Yeti.
In addition to the relaunch campaign, this fall EMS is also launching a new branded line of apparel and gear, called the '67 Heritage Line, which aims to be a more affordable option compared to brands like REI and Patagonia. It will also host in-store activations, including a Black Friday-themed campout, and promote hiring by placing application drop-boxes in outdoorsy attractions.
Additionally, the brand plans to grow its footprint by 20% over the next year, including a recently opened store in Burlington, Vermont.
This new ad campaign from SlapGlobal will be deployed across TV channels in EMS's core markets in the Northeast, with a corresponding social and digital and influencer component — plus a "Not Closing" sale.
From a strategy perspective, the refresh comes at a time when the outdoor sector is coming off a growth spurt of people who discovered new outdoor habits during the coronavirus lockdowns. Even furniture and households brands started to lean in by offering outdoor furniture and barbecue goods, while platforms like Etsy hosted online sales events. The Outdoor Industry Association's most recent trends report found that the participant base grew 2.3% last year, covering a record 168.1 million people, and 80% of categories including camping, fishing and climbing experienced growth. The population is also getting more diverse, the report found.
But EMS was on fragile footing during this time. After its 2017 bankruptcy, so many stores were closing that people were wondering if the brand had closed, Muricchio said. Then in May 2022, it was acquired by GoDigital Media Group alongside Bob's Stores for a reported $70 million.
Beyond plotting the strategy for the brand refresh and trajectory for growth, EMS took new strides to commit to support environmental causes. One percent of its revenue now goes to philanthropic organizations that support environmental causes as part of the "1% for the Planet" campaign. And it became the official exclusive apparel provider for the Mount Washington Observatory, providing its scientists at the New Hampshire summit with elements-tested winter gear and launching a new line.
"From that point on, everything changed," Muricchio said the new change in ownership. "There was definitely new life injected into our brand."
Mike Hess, svp of editorial content and strategy at Fleishman Hillard, said that brands embarking on a repositioning are smart to be self-aware about any potential past associations people might have with the brand.
"When a company is trying to introduce itself, using humor and that tongue in cheek mentality makes a lot of sense," he said.
But that approach alone isn't enough sustain the company in the long term, Hess said. Given inflation and high interest rates, it makes sense to follow up the reintroduction with affordability and approachability at the core.
"Humor only goes so far," he said. "It might get people in the door, or to your website. But what's going to make you successful and what's the value proposition?"
To that end, EMS is leaning on being an affordable option for outdoor gear that appeals to anyone from the hobbyist to the expert looking to save money. Parts of the ad campaign take a swing at unnamed competitors for being "stuffy," or prohibitively expensive. In one recent ad, EMS cheerfully advertises its sales having "no preachy politics, no gate-keeping the outdoors with tech-bro prices."
In addition to its ad campaign and new collection, Muricchio said that EMS is working on ways to drive brand awareness and loyalty. As a pitch to hire outdoors enthusiasts, it's putting application drop boxes in outdoor attractions, starting with the Mount Washington Observatory. And as part of the observatory partnership, Muricchio said that when the temperature at the summit drops into the negative, shoppers can get a matching discount.
"We definitely went back to our roots, back to our founders' roots," Murichhio said. "They had the belief that everyone should be able to access the outdoors. Whether you're a beginner, or you're an expert, everyone should be able to get outside and not have to be wealthy and not have to be a millionaire, or not have to be an expert."