DTC Briefing: The biggest DTC success stories are increasingly celebrity-founded brands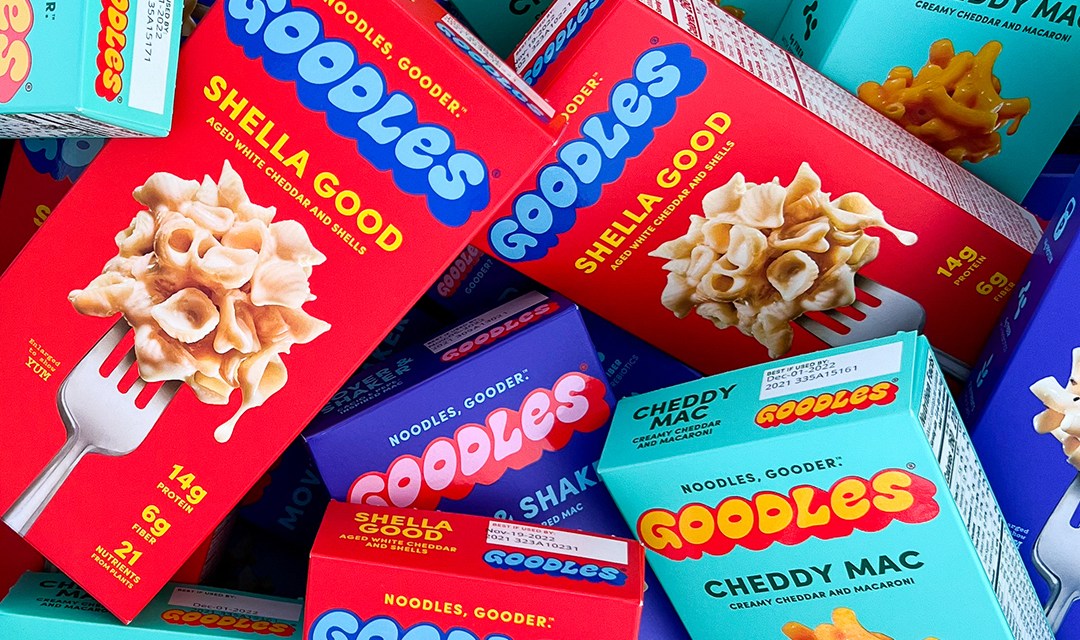 Goodles
This is the latest installment of the DTC Briefing, a weekly Modern Retail+ column about the biggest challenges and trends facing the volatile direct-to-consumer startup world. More from the series →
These days, some of the fastest-growing and most formidable players in the direct-to-consumer startup space aren't those founded by ex-Wharton grads or growth marketers. Instead, celebrity brands are having a moment.
Celebrity-founded businesses aren't new endeavors. But particularly since the pandemic, the rise in the number of celebrities launching brands has seemed meteoric. Bloomberg reported that in the last three years, for example, at least 50 celebrities have launched their own beauty brands. These celebrity-backed businesses are taking up more space on retail shelves, and their founders are popping up at trade shows and other industry events. Meanwhile, Wall Street is clamoring for some of the most successful entrants, like the Kim Kardashian-founded Skims, to go public. The DTC boom of the early 2010s was predicated on the rise of a similar swath of like brands Allbirds, Away and Casper, who found success by scaling through cheap Facebook ads and proclaimed that they could offer fairer pricing by cutting out the middle man. But now, the biggest DTC success stories of the next decade could be some of these celebrity-founded brands.
Particularly within the past few years, a more concrete playbook has emerged to indicate which celebrity-backed brands have staying power. The CEOs of celebrity-founded brands that I spoke with said that what they feel like makes their brands successful is the level of founder involvement. The common theme was that in order to be successful, celebrity founders need to do more than just post about the brand on social media. They also need to call into meetings with buyers, show up to trade shows or be regularly involved in product discussions.
Actress Gal Gadot is a founding partner of mac-and-cheese brand Goodles, which has had a meteoric rise in retail after launching just two years ago. The brand is now available for sale in more than 35,000 points of distribution, including nationally at Target and Whole Foods. Most recently, Goodles announced last week that it had raised $13 million from prolific consumer investor L Catterton.
Jen Zeszut, CEO and co-founder of Goodles, said that one of the biggest pieces of advice Gadot got from another actor before getting involved with Goodles was that if she wanted the brand to be successful, she needed to be involved with more than just social media posting.
"When you post on social — that's literally like the sprinkles on the cake," Zeszut said. "[It's the] tenth bullet point" on the laundry list of things that Gadot does for Goodles.
She said that at Gadot is, among other things, involved with taste testing new products at Goodles; she also tries to be involved with every buyer meeting — either dialing into calls or filming a video message for the internal teams at retailers, thanking them for carrying Goodles. 
Zeszut said that it is metrics like sales velocity that help Goodles get meeting with retail buyers. But, that "when Gal pops on with us at the beginning of [a buyer meeting] and is like, 'I have 108 million followers and we're gonna do whatever it takes to make this successful, we've got you and we're not going to let you down' — she's very compelling."
Adeela Hussain Johnson, president of Béis, a luggage brand founded by actress Shay Mitchell, said that it seems that one of the biggest things consumers want to know from celebrity-founded brands is just how much the actor or actress is involved with the company. She said that behind-the-scenes content seems to perform best for Béis. For example: showing videos of Mitchell at warehouses, or taking part in product meetings. 
"The consumer is interested in how brands are built, and what they stand for and what they mean," Hussain Johnson said. Béis, founded in 2018, is on track to hit $200 million in revenue during its next fiscal year and is profitable, Women's Wear Daily reported in April.
What's fueling the rise of celebrity-founded brands
At their best, celebrity-founded businesses have produced incredible outcomes: think George Clooney's sale to Casamigos for $1 billion, or Apple's $3 billion acquisition of Beats by Dre. At their worst, they are thought of as flash-in-the-pan endeavors before a celebrity loses interest and moves on to the next makeup or clothing line: think of all of the business ideas that Kim Kardashian cycled through before launching Skims. 
Dhruv Patel, the founder of a newsletter called Celebrity Packaged Goods, attributes the pandemic to an uptick in the number of celebrity-founded brands. "During the pandemic, there was no film production taking place," Patel said. "There were a lot of question marks about the future of Hollywood." In turn, many celebrities — and their managers — sought to gain more control over their financial future by launching their own e-commerce brands.
But while a huge number of celebrity-brands have launched in the past few years, there's reports every month of some of these startups quietly shuttering. Last week, the Hollywood Reporter, for example, reported that Jared Leto was pulling the plug on a skincare brand he launched just last year.
Patel said that his litmus test for whether or not a brand has a good partnership with a celebrity is "if you can get them to show up to some suburban neighborhood store." He cited influencer Emma Chamberlain working the trade booth for her company, Chamberlain Coffee, at Expo West as one example.
"One of the difficulties is a lot of celebrity founders will put their name, image and likeness attached to a brand, but not really do anything beyond that," Patel said.
An obvious first step in launching a celebrity-founded business, then, is to actually pick a category to focus on that the celebrity has a genuine interest in.
Hussain Johnson said that in one of her first meetings with Mitchell, the actress said that she was frequently approached to start beauty brands, and that while she was engaged a lot with the beauty industry by virtue of her work, it wasn't something that she had "an incredible amount of passion for."
Andrew Sugerman, the CEO of Chris Hemsworth-founded fitness app Centr, said that he was interested in joining the brand because of how authentically he felt like Hemsworth "personifies health and wellness and fitness."
Centr was initially launched as a subscription fitness app in 2019. Last year, HighPost Capital, a private investment firm led by Jeff Bezos's brother Mark, acquired Centr and combined it with a fitness equipment startup called Inspire Fitness. The goal was to build a business that had a digital, subscription-based component, that also could be used to sell physical products.
After that, Sugerman, who was previously the executive vice president of global digital media and publishing at the Walt Disney Company, came on as CEO. Centr launched its products in 3,000 Walmart stores nationwide earlier this month.
The next question then is just how much the celebrity wants to be involved in the outward-facing aspects of the brand. Part of it comes down to personal preference. Nearly all of the aforementioned celebrity founders post about their brands on their personal social media, and appear in brand videos. But Zeszut said that Godot knew she didn't want her face to be on the packaging of Goodles. By contrast, Hemsworth face is on the packaging of Centr's workout kits.
"[It] was very, very important for Walmart, that our brand and our content and everything that we stand for, is totally synonymous with Chris himself, "Sugerman said. "And so it's not [just] a company that is endorsed by a celebrity."
Hemsworth himself appears in many of Centr's videos, which include not just workout videos, but also meal plans for muscle gains and even meditation videos. The videos also feature many of the experts Hemsworth works with, like his personal trainer and stunt double. Lastly, Hemsworth also makes appearances at events like an annual celebration for Walmart associates.
But for many of these celebrities, the goal is to design a brand that can live beyond them. That's because, as Hussain Johnson said, there is a risk of "tapping yourself out" if you rely too heavily on one influencer or one celebrity's audience to acquire new customers.
Hussain Johnson said that this was an active consideration for Mitchell when she launched Béis. She knew she didn't want the brand to be called something like "Béis by Shay Mitchell," for example. Last year, Béis started experimenting more with including other influencers besides Mitchell in marketing and social media posts. Today, Hussain Johnson claims that Mitchell "as a person, as a platform" only drives about 10% of Béis' revenue. 
While she says that Béis got a "halo effect" from Mitchell, she attributes that not just to Mitchell's large following, but also her ability to make the brand more relatable, and personify it.
"I think that is really truly where the rubber hits the road [in terms of] how you leverage a founder," Hussain Johnson said. "Whether they're an influencer or not, is almost, you know, not as relevant as whether or not you can leverage your founder to help you personify the brand to create more relatability and community."
What I'm reading
Klaviyo, which is due to start trading on the New York Stock Exchange soon, has raised the price range of its proposed shares and is now targeting a $9 billion valuation.
DTC jewelry brand Mejuri has launched a new loyalty program, as it plans to open five new brick-and-mortar stores by the end of the year.
The CEOs of Lovesac and Solo Stove sound off on whether or not the term "DTC" is still useful anymore as it has become a "bit of a dirty word." The consensus: DTC is no longer thought of as just a sales channel, but as a way to maintain strong relationships with customers.
What we've covered
Japanese snack startup Bokksu has acquired a competitor, Japan Crate, in order to help expand its presence in physical retail.
DTC sneaker brand Atoms is launching kids' shoes.
How British DTC startups like Vivobarefoot and Form are expanding to the U.S.