Q&A
// September 7, 2022 ■ 5 min read
'Customer tastes can change very quickly': Lands' End CEO Jerome Griffith on the company's evolving product strategy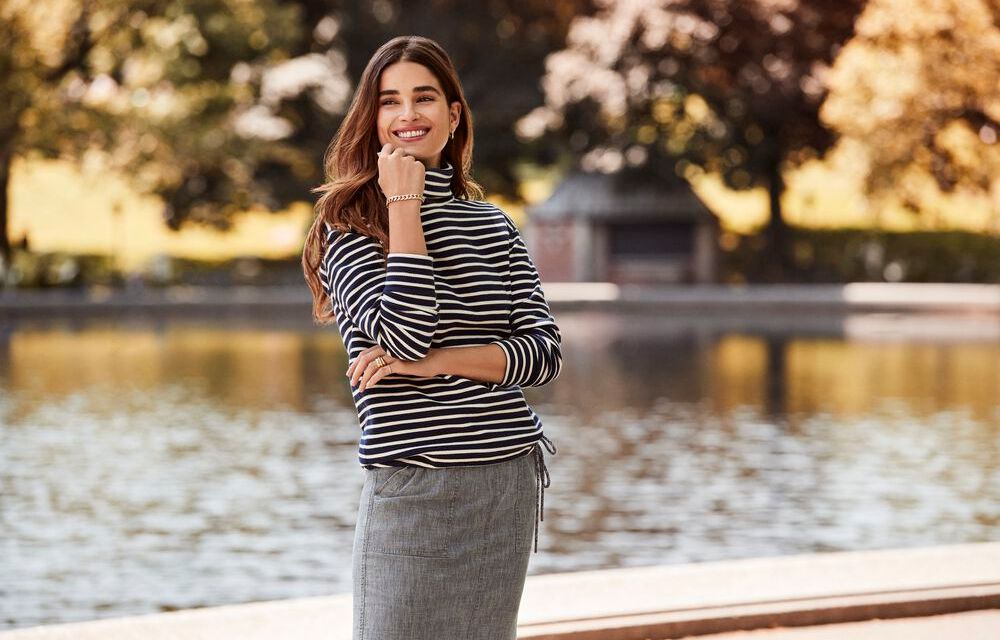 Lands' End
Get the latest news and analysis with the Modern Retail daily newsletter. Sign up here.
Casual clothing retailer Lands' End is planning to enter the intimate apparel space and increase its comfort-oriented workwear this year as it seeks to adapt to changing consumer habits.
CEO Jerome Griffith spoke with Modern Retail following Lands' End earnings call Thursday, sharing growth plans for the company despite ongoing macroeconomic challenges. Second-quarter revenue was down 9% to $351.2 million, compared to the record high of $384.1 million in the same timeframe in 2021 — but that's still an 18% increase compared to the pre-pandemic second quarter in 2019.
Looking ahead, Griffith said the brand intends to expand into the intimate apparel space with a soft launch this fall. The company will also continue to invest in the leisure clothing trends popularized during the pandemic, by releasing new styles of clothing that are comfortable, yet appropriate for the office, Griffiths said.
Griffith spoke to Modern Retail about these trends and what else is ahead for the legacy retailer in the crowded apparel space. This conversation has been edited for clarity and length.
What stood out to you in the company's second-quarter results?
We had a couple of parts of the business perform very well. Our third-party business, which has been growing over the last few years, performed extremely well. We were up about 43% there. And our uniform business, which is broken into three sections — it's school uniforms, our national accounts and small and medium-sized businesses — a little bit of the volume pulled forward from the third quarter into the second quarter. Because parents are understanding that if they don't order early enough, the supply chain issues that are out there, or the worker issues that are out there, might delay their shipments. So they were buying a bit earlier this year than what they did last year.
Additionally, we have been pushing prices up somewhat because our average unit costs have gone up over the course of the last six to 12 months. And we didn't get much of a pushback from our customers.
Our largest product category, swim, continued to perform relatively well for us. It's a very large part of our business. And we were pleased because every year, that season seems to get a little bit longer.
Comparing the drop of this year's second quarter to last year's, is that due to consumer habits or because 2021 was a big e-commerce year due to the pandemic?
[The] 2021 quarter two was a record for us out of all quarter twos. So you've seen a couple things happen. You've seen people shopping a little bit less online, but you've also seen them tighten their belts because they're being hit with higher energy costs and higher food costs so their shopping habits have changed somewhat. What we're finding, though, is our conversion rates are still very strong. And people that are coming online are there to buy something.
You've pointed to the strong growth in the third-party area. How are you developing those connections, and how is that propelling your business at this time?
If you go back four or five years, you could buy Lands' End product in two places, LandsEnd.com and Sears. And the Sears relationship wasn't exactly ideal because the Sears customer attributes didn't overlap with the Lands' End customer attributes so there wasn't a really good synergy there. We believe as one of our growth strategy pillars, that we want to be a unit challenge distributor, meaning we want to sell to our customer where our customer shops. Our customer shops at Amazon and Walmart and Kohl's and Target, and we want to be present where they spend their dollars because they spend their dollars there for a reason.
We expanded into Kohl's because we knew that our customers shop at Kohl's, and Kohl's is predominantly apparel. And we went on to not just the marketplace, but into brick-and-mortar locations with them. We saw kind of a symbiotic relationship because if you're in the brick-and-mortar locations, you become more relevant because you're there. And that helps in turn to increase the marketplace business. And then we've opened up in the last several months in Target and QVC, and will continue to expand our marketplace.
We do it really well. We have the technology to do it really well. We shipped from our own warehouses, and it's pretty seamless for the consumer.
What can you share about any different strategies or product offerings you'll be launching in the new few quarters?
We're starting with intimate apparel. We have not carried that in the past. We have very good technical designers with real technical know-how and how to put together swimwear. And that relates directly to what's going on in intimates. So we're launching that a soft launch this fall, a bigger launch in spring.
We've really swung more towards versatile clothing that you can wear to work, but it's also very comfortable. That seems to be a trend in the marketplace. And we're getting good early results in fall from that.
On the intimates side, are you seeing a lot of opportunity as that as a growing sector, and where do you see Lands' End fitting in among newer DTC intimates brands?
It was something that our customers were asking for and we didn't carry. So we think that there's been enough disruption in that industry, that there's opportunity out there for customers that shopped with us already, but are buying their underwear someplace else.
Was there similar demand from customers for more comfortable wear-to-work clothing?
Comfort worked for us really well when the pandemic hit, from April 2020 through July to August of last year. But you figured as people start to work their way back into the office, they're going to have to have more versatile clothing. You can't wear sweatpants into the office. I mean, you can, but people don't want to do that. But they don't want to give up the comfort side of it either. So we went out and researched new fabrics that were more comfort- and stretch-oriented that people would seem to like, and that seems to be resonating with them.
When you look at the next several years, what are the biggest growth areas and challenges for apparel?
I think you can probably have a shakeout — of people and apparel people that haven't been able to manage their inventory as well, or companies that were poorly capitalized based upon what's going on in the economy today. And I think the folks that are going to survive are really going to be the best-capitalized people with the best ideas and the most flexibility.
Customer tastes can change very quickly and you have to be able to change right along with it.