Beyond Amazon, the strengths of the top retail media networks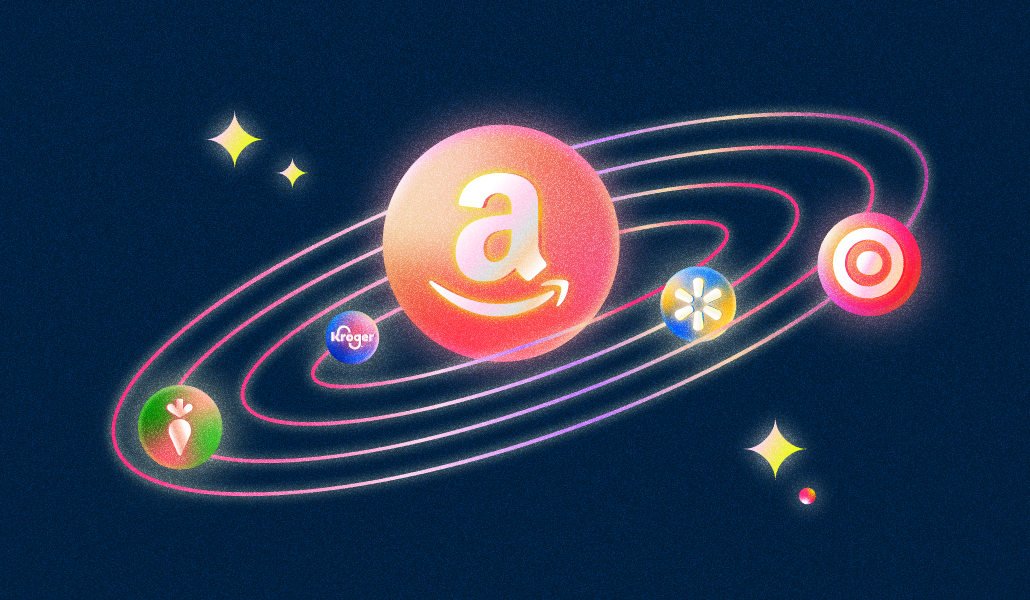 Ivy Liu
In this edition of the weekly briefing, we share newly released data from Modern Retail+ Research that focuses on the strengths of top retail media networks from Walmart to Kroger.
Interested in sharing your perspectives on the future of retail, technology and marketing?
Apply to join the Modern Retail research panel.
Side-by-side comparison: How retail media networks stack up 
Breaking News: This week Modern Retail+ Research published a new guide in our CMO Strategies series, in which we analyzed strategies and challenges of retail media ad platforms — like Walmart Connect, Target's Roundel and Kroger Precision Marketing — to identify key trends and best practices for marketers.
To map out marketers' current digital playbooks, Modern Retail+ Research sent out three surveys asking 635 respondents about past and upcoming investments, marketing channel tactics and preferences, and business challenges.
Questions: What game plans are the top retail media platforms, other than Amazon, using? And how do the platforms compare to each other?
Answers From Research: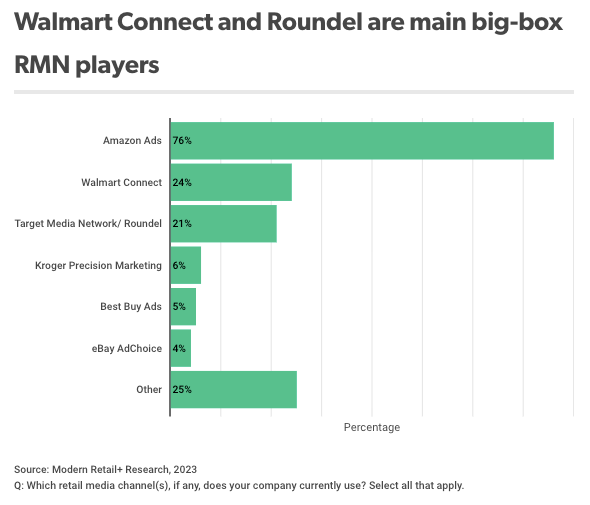 Walmart's Walmart Connect and Target's Roundel were marketers' second and third most-used retail media networks, with 24% and 21% of respondents respectively saying they use those platforms.
Walmart has successfully expanded its ad business since rebranding its retail media network to Walmart Connect in 2021. According to commerce acceleration platform Pacvue's Q2 2023 advertising results, Walmart Connect saw a 125% year-over-year increase in click-through rates and a 40% increase in return on ad spend in the second quarter of 2023. Pacvue attributed Walmart Connect's growth to tweaks Walmart has made to its algorithm, bid rules and features.
By comparison, Target's media network Roundel was marketers' third most-used RMN, according to Digiday's survey, with slightly less than a quarter of respondents (21%) indicating they use it. Roundel has placed a lot of emphasis on its ability to collect and provide customer data to brands by tapping into Target's first-party customer data across its online site and its mobile app, which can be used to trace customer behavior in stores too.During the company's Q4 2022 earnings call, executives said that Target's ad business had grown 60% over the last two years.
Want to learn more: Modern Retail+ Research's CMO Strategy series examines the ins and outs of marketing channels and how CMOs are approaching them.
READ MORE ABOUT RETAIL MEDIA AD PLATFORMS

See research from all Digiday Media Brands:
Modern Retail+ Research
Digiday+ Research
Glossy+ Research