With the help of Amazon, Pinterest is hoping its latest full-funnel advertising pitch will stick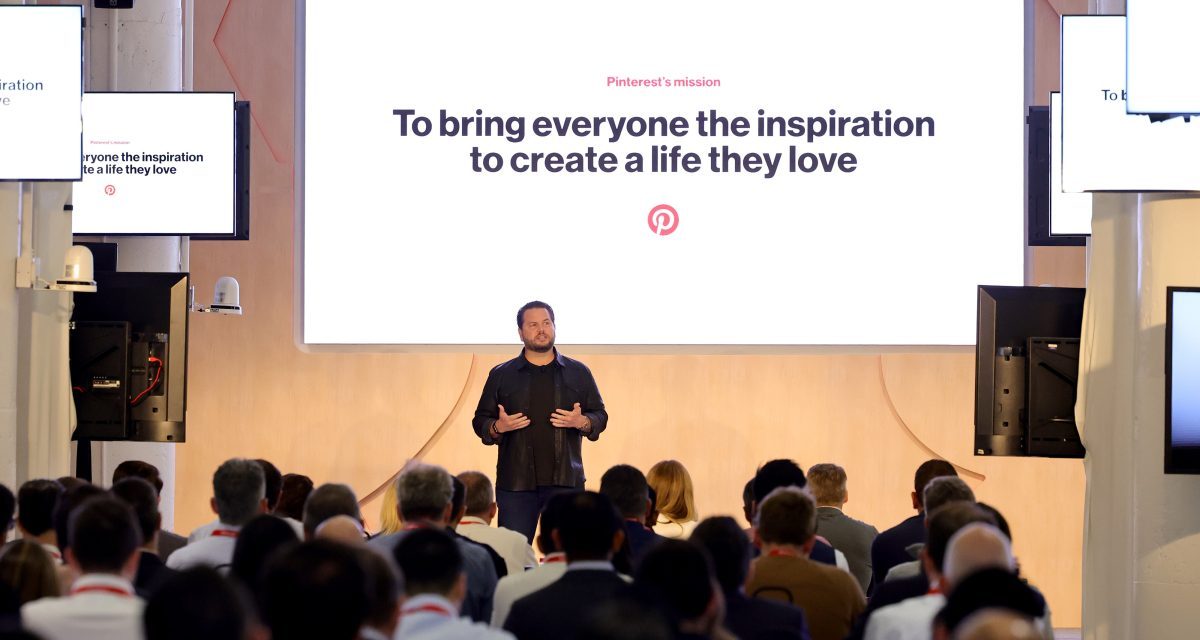 Pinterest
Pinterest executives have been making the rounds over the last week — at both its global advertising summit and its investor day — talking up the company's plan to become more of a full-funnel advertising platform.
This isn't the first time Pinterest has tried to position itself as a full-funnel advertising platform. But a large part of Pinterest's confidence that, this time, its pitch will stick has to do with its ad partnership with Amazon. In April, Pinterest opened itself up to third-party ad partners starting with Amazon Ads. At its investor day this week, Pinterest said it expects to grow revenue in the mid-to-high teens over the next three to five years. "We're scaling shopping ads, including with our first third-party partner, Amazon Ads — unlocking new budgets from advertisers and giving our users more of the relevant commercial content they crave, deepening engagement," the company said in a blog post.
As a place where people go to 'Pin' destinations they might visit or browse products they might buy, Pinterest has long struggled to convince advertisers that its platform — not Facebook, not Google — is responsible for driving sales. But some agency heads who have tested out the Amazon ads partnership so far say that it has helped increase conversion rates, because the Amazon checkout experience is so simple. To further on this momentum, Pinterest announced a bunch of new tools designed to help move customers further down the purchasing funnel. Now, the question is whether all these new bells and whistles will be enough to convince brands that haven't previously seen an onslaught of sales through Pinterest to try its ad tools once again.
Brandon Doyle, founder of digital marketing agency Wallaroo Media, described the past decade as a series of "ebbs and flows" for Pinterest. "They'll have a quarter where things are great, or a month or two where things are awesome. And then it's back down again. So, it's kind of like the boy who cried wolf, like we want to make sure that this one is real this time."
Doyle said that some of his clients who have tested out the invite-only Pinterest-Amazon ad combo have seen conversion rates double. "On a typical client site, ad campaign conversion rates will be around 2%. And with the Pinterest to Amazon combo it's more like 3.5% to 4%." The way the integration works is that when users click on an Amazon ad on Pinterest, they will be taken to Amazon to check out.
As a result, "that checkout process becomes a lot quicker and more seamless," Doyle said. "The conversion rate at that very last step is much higher than if we were to run an ad that goes from Pinterest to our clients website," he added.
Pinterest has previously made a number of improvements to its advertising platform to position itself as a full-funnel advertising platform, particularly prior to its IPO filing in April 2019. In June 2018, it unveiled a new video ad unit and added a tool to measure purchase intent called Audience Insights. It's also released various tools over the years to better measure attribution and optimize campaigns for a greater variety of goals. It has jumped into areas like the creator economy, launching more influencer marketing tools in September.
But this time, Pinterest's quest to position itself as a full-funnel advertising platform feels different because it has a formidable partner in Amazon. At the investor day, Pinterest head of strategy Martha Welsh said the Amazon ads appear to be "more relevant" than current ones.
In order to build on this momentum, Pinterest released a bunch of new tools at its advertising summit last week. Some of these tools were new formats, like Quiz Ads. Pinterest is also trying to make it easier for brands to run ads on the Pinterest home feed by extending Premiere Spotlight, a takeover tool that allows brands to control all premium ad placements on the platform. 
"It's exciting to see what they're doing is more than some of the other platforms," said Katya Constantine, founder of Digishopgirl Media. Constantine said, relatively speaking, Meta already has a fairly big footprint in the different ads they run on their platforms, "which makes it harder to bring innovation for a new ad unit when you're fairly built out."
By contrast, she said she hasn't seen many newer ad units from TikTok, "beyond some of the AI-driven stuff that's comparable to Meta's ASC and Google's Performance Max. So I think from that perspective, it's exciting to see Pinterest putting interesting innovation into launching new adding units within the platform, but also doing bigger partnership with someone like Amazon."
Doyle agreed.
"The changes they're making seem like they're actually making more of an impact…"They're coming out with ad formats that are actually unique," he said. Doyle pointed to Pinterest's option to do a quiz in an ad, a feature he had never seen before. "The great thing about a quiz is it can move the customer down the funnel. Sort of without them even really realizing it. They're just filling out the information," he said.
Ultimately, whether or not Pinterest's full-funnel pitch will stick this time depends upon how much sales and conversions these new ad tools are able to drive, especially as marketing teams are under greater pressure amid a tough macroeconomic environment.
"For most brands, in the last 12 months, there's been a lot of pressure to talk about performance. And so for that, everyone has become very much focused on the bottom-of-the-funnel conversion campaigns, but then the big dollars sit in the middle and upper funnel and top funnel," Constantine said. "One of the best ways to position yourself as the advertiser of choice as an advertising platform is to be full funnel, so that when times are tough, you're grabbing the bottom of the funnel dollars."
How well these advertising offerings are accepted in the long run will ultimately to determine how much staying power Pinterest's advertising business has compared to flashy new entrants like TikTok.
"Pinterest is really trying to ramp up and utilize its data and products to show that they can make up that position as well from wherever they sit somewhere in between TikTok and Facebook," Constantine said.