Why Gopuff is partnering with Grubhub to fulfill orders on its marketplace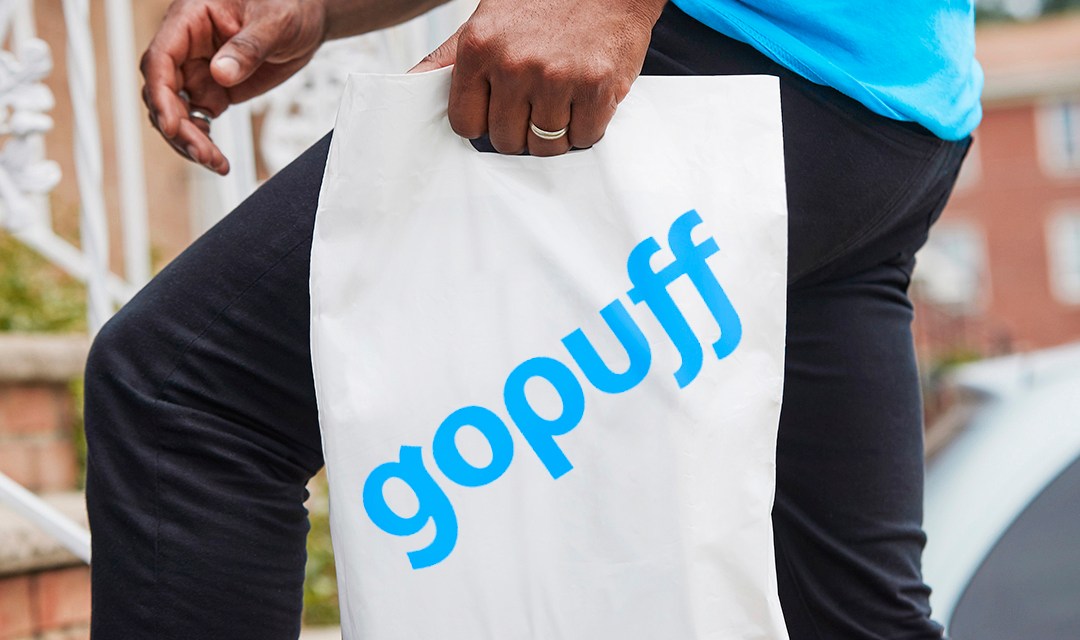 Gopuff
Gopuff is looking to reach shoppers using other delivery apps with its latest partnership. 
This week, the rapid delivery player announced a pilot program with Grubhub – expanding its reach to over 32 million digital customers. Through the deal, Gopuff will fulfill Grubhub Marketplace orders containing groceries and alcohol.  
The upcoming pilot will roll out to select cities in the coming weeks, including New York City, Los Angeles, Chicago, Boston, Philadelphia and Austin. For Gopuff, the enterprise play is as much about growing its presence beyond its app as it's about applying its rapid delivery tech to other delivery platforms. The partnership also comes as Gopuff tries to grow more profitably, following cost-cutting measures this past summer, including layoffs and warehouse closures.
Gopuff will receive orders placed on the Grubhub app, which will then be prepared at its stores or micro-fulfillment centers and delivered by a partner. This new partnership is the latest growth tactic by the Philadelphia-based company, which is also trying to grow its own in-house offerings such as fresh food and private labels. 
Daniel Folkman, Gopuff's svp of business, told Modern Retail that eight years into operation, Gopuff currently "owns the inventory, technology, micro-fulfillment centers and customer experience, giving us the flexibility to expand our platform to reach customers wherever they shop online." Folkman added that through this new partnership, Gopuff's logistics network will help "power instant commerce on other platforms like Grubhub and introduce new customers to Gopuff's unique assortment and unmatched instant delivery experience."
This isn't the first time Grubhub has partnered with another delivery service. Last year, the company struck a deal with Amazon to offer Prime members perks like free local delivery.
According to Gopuff's release, the pilot will allow the rapid delivery app to build awareness among new users by tapping into Grubhub's vast customer base. Grubhub users will be able to order from thousands of grocery and packaged goods items, alongside Gopuff Kitchen's growing menu of freshly-prepared dishes. For instance, Gopuff's fresh pizza brand, The Mean Tomato, will be promoted via a branded virtual store in the Grubhub app. Customers can also bundle their orders with alcohol or another restaurant meal they order through Grubhub. These orders will be covered by Grubhub+, the platform's membership plan that waives delivery and service fees for users.
Grubhub didn't respond to requests for comment on the new Gopuff deal. But in its release, Grubhub's senior vp of growth, Ariella Kurshan, said Gopuff's presence on the marketplace will give Grubhub diners "more options when it comes to ordering fresh food, grocery items, snacks, and alcohol." 
Gopuff is currently the fastest-growing rapid delivery app in the U.S., according to Apptopia, coming in ahead of competitors like Getir and Gorillas. To maintain its rapid growth rate, this year the company has tried to build out its assortment so that more customers turn to Gopuff for everything from household essentials to  takeout to late-night treats.
Alongside collaborating with celebrity entrepreneurs like Selena Gomez, Chris Paul and Emma Chamberlain, Gopuff has also been creating more private-label products and prepared foods to compete with takeout delivery services. In January, Gopuff launched a household essentials brand called Basically. Then this week Gopuff debuted a health and wellness brand, Goodnow, featuring over-the-counter cold and flu medications, electrolyte drinks and diagnostic test kits.
But this rapid expansion has also brought forth growing pains. The company laid off 10% of its workforce in July, or 1,500 employees in total. During the same week, Gopuff also announced it was closing 76 warehouses, which account for 12% of its national footprint. With new deals like the Grubhub partnership, Gopuff is trying to grow sales without making more costly investments like opening up lots of new fulfillment centers.
John Mercer, head of global research at Coresight Research, said the series of partnerships make sense given that Gopuff is trying to play in multiple delivery areas that are already crowded with major, well-funded companies. Mercer noted that companies like DoorDash, UberEats and Grubhub are also trying to compete with Amazon and Instacart on grocery delivery.
Moreover, there has also been a series of consolidation in the delivery space as these companies race to become the go-to delivery app for everything. This includes Uber's acquisition of Drizly and Postmates over the past 18 months.
Jonah Ellin, chief product officer at retail data analytics firm 1010data, said diversification is especially important since rapid delivery is still considered as a nice-to-have option for most people. This places a long road of challenges for instant delivery players like Gopuff, who may need to partner with competitors to grow sustainably. 
"There are needs and there are wants," Ellin said. And while last-minute emergency orders like missing recipe ingredients or toilet paper are primed for Gopuff sales, he said that instant delivery often tends to be a luxury rather than a necessity. 
Indeed, the Grubhub partnership signals Gopuff's need to reach more customers outside of its own platform. "Gopuff is now leveraging its core competitive advantage – a very substantial network of locations and couriers, designed to serve demand for rapid delivery," Mercer said.