Why FSA accounts are an 'untapped opportunity' for wellness brands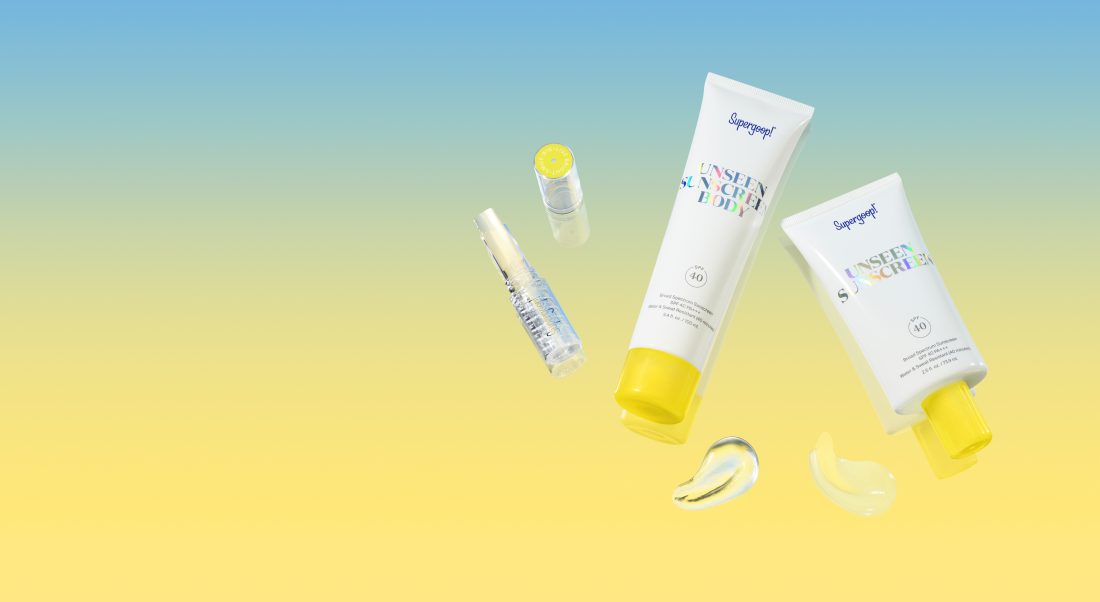 Supergoop
Twice a year, skincare brand Supergoop sees sales bump from shoppers using flexible spending accounts to make their purchases. First it's in the early summer, when people are stocking up on sunscreen. Then it happens again at the end of the calendar year when people are trying to spend down their "use it or lose it" contributions.
Sameer Agarwal, svp and GM of the Americas for Supergoop, said the brand jumps on this trend with organic social media messaging. It also includes information in its payment FAQs to let shoppers know they can use their FSA-linked cards. And it lists products on FSAstore.com to help drive sales for eligible products.
"We always send out very consistent reminders through our various channels to let them know that they're there, 'Don't forget to use their FSA dollars,'" he said. "And it's also a great opportunity for us to continue to remind them that SPF products are actually really relevant year round."
Shoppers are getting savvier about ways to spend their FSA dollars, a pretax benefit available to roughly half of the U.S. population, according to the Bureau of Labor Statistics. As more accounts become linked to debit cards, it translates to more opportunities to buy eligible products online, including over-the-counter medications, oral care and first aid kits.
But there's still a wide gap between what people are putting away and what's being spent, with as many as 40% of workers forfeiting some dollars. The Employee Benefits and Research Institute reports that there was more than $3.28 billion in FSA contributions across 2.4 million accounts in 2021, the most comprehensive data set that includes accounts for recently available data set. The average account is around $1,200, with a maximum of $2,750. And while health savings accounts, or HSAs, have rollover provisions, FSA dollars expire at the end of the calendar year, though some plans offer a grace period or $500 carryover. EBRI data found that the average remaining balance last year was $455.
In turn, some brands are warming up to the idea to market eligible products to customers. Eyewear brands like Luycd and Pair explain in their FAQs that they accept FSAs, and so does hearing aid company Eargo. Nursing bra brand Kindred Bravely has a dedicated FSA section on its website and explains what breastfeeding products are eligible for full or partial reimbursement.
Other brands with eligible products — like skincare, bandages and massage devices — go directly to shoppers looking to spend these dollars by listing products on FSAstore.com, while Amazon has a carve-out category for eligible products that lets users add their card information. Meanwhile, services and platforms that aim to make the FSA process easier are trying to sign up more brand and get more customers aware about the program.
Untapped potential
Taryn Jones Laeben, founder of early stage advisory and investment firm IRL Ventures, said companies face a challenge in getting customers to understand what their FSA funds can be used for, an "awareness gap" that brands must navigate. Jones Laeben's firm works with multiple wellness and health care companies, including Lululemon's Mirror. Its portfolio also includes sexual health care brand Odela, which accepts FSA cards, and hormone wellness test provider Veracity, which could be reimbursed under some plans.
"Centering messaging around expiring or unused benefits is a great opportunity to galvanize or incentivize customers to transact," she said. "There's a lot of untapped potential for both the consumer and the company."
She added that, "as customer acquisition costs increased, and the purchasing climate faces increased headwinds, I think you're starting to see brands look under every rock for fresh ways to convert consumers, and I think this is going to be one of them."
Part of the complication with marketing FSA-eligible products is that shoppers may not know what they can spend their dollars on. Others may not have an immediate need for a health-related product. But some online programs are trying to change that.
Susan Elliott-Bocassi, vice president of operations, merchandising and planning for Health-E Commerce, which operates the FSAstore.com and HSAstore.com, says the brand aims to stay up-to-date to better explain all that's available. The websites regularly update eligibility lists to align with IRS rules, and adds new products that it purchases wholesale from brands that can sell out of its marketplace-style store.
Eyewear, sunscreen and menstrual products are some of the items that are most familiar to FSA shoppers. But Elliott-Bocassi said the sites aim to highlight items that they might not realize are FSA-eligible — like foot insoles or heating pads. The "Surprisingly Eligible" category includes devices like massage tools and migraine relievers made by Caring Mill, Health-E Commerce's private label brand.
"The goal here is education," Elliott-Bocassi said. "They're surprised when they come to learn that these are IRS-approved products."
Making it seamless
For brands that do carry eligible products, the next step is figuring out how to ensure payments are processed. While many FSA holders may have a debit or card card connected to the account, it's not a uniform practice among providers. That means customers would have to send in a receipt to get a reimbursement.
Jones Laeben of IRL Ventures said increasing access to FSA usage online is part of the "consumerization" of healthcare that the firm works in. "It's unbelievable how many elements of our health care system are still so antiquated," she said, "but there are some incredible startups and businesses trying to tackle that so you don't have to mail in a receipt for a breast pump."
Obi Ohiaeri, founder and CEO of Binkey, a one-year-old startup that aims to make it easier for brands to accept FSA/HSA payments as well as other benefits like Medicare Advantage, has been working to add more brand partners. To date, it has worked with at least 20 clients. It becomes part of a brand's point-of-sale by splitting the tender between eligible and non-eligible products, and it can also enable brands to accept FSA/HSA accounts that don't have debit cards attached.
Overall, Binkey's clients see a 16% increase in conversions after introducing the service, plus a 48% average order value, as of September 2023.
"People are willing to spend more when they know that they're saving," Ohiaeri said. "That's essentially additional business that merchants wouldn't have been able to tap into if they weren't able to accept FSAs and HSAs."
While there isn't any comprehensive study looking at what products people are most likely to spend on or how they're paying for it, EBRI researcher Jake Spiegel said more people are also using FSA dollars via a debit card which facilitates online purchases.
Spiegel said that reducing barriers to FSA spending may yield higher spending, and overall there are more brands talking about FSA than there was years ago. At age 22, he let about $1,000 in an FSA expire without realizing that the rules around how to spend it on something like over-the-coutner drugs.
"The FSA store didn't exist back then. Amazon's FSA search filter didn't exist," he said. "There's an increased capacity to make it easier for people to log on and search for FSA-eligible products and using a debit card and making it alit more seamless."