Why BNPL platform Afterpay is rewarding customers for on-time payments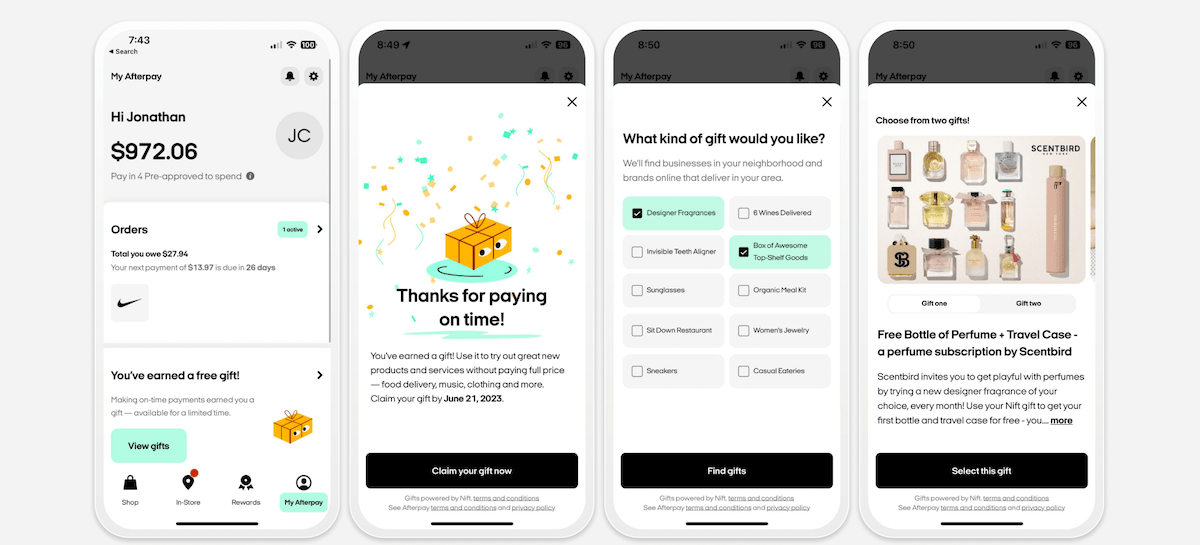 Via Nift/Afterpay
Afterpay, the buy now, pay later platform owned by Block, is doling out brand-specific rewards for customers who pay on time.
The company is pairing up with the gifting platform Nift to offer customers a gift of their choosing when they make their second on-time payment. Those who do so can head to the "My Afterpay" section of the Afterpay app to choose a reward from categories like "sunglasses" or "casual eateries." Customers who pick a certain category will then be shown two gift options to choose from in relation to brands that are part of Nift's gifting network. Potential rewards include free items, money towards a purchase or a gift certificate. Companies on Nift's platform include Allbirds, Bespoke Post and Liquid IV.
Afterpay has experimented with a loyalty program before. It has a Pulse Rewards program that gives users 10 points any time they make an on-time payment for a transaction above $40. These points accumulate over a six-month period, and there are four tiers that "unlock corresponding benefits" such as the ability to delay payments, according to Afterpay. With this new rewards partnership, however, Afterpay is gamifying the experience and more closely linking rewards with brands. By working with Nift, Afterpay can also gain additional insights and data points into what categories, stores or subscription services its existing customers are interested in.
Saket Mehta, global head of advertising partnerships and strategy at Afterpay, told Modern Retail that the new rewards program ties in with the brand's mission of financial inclusion. "We developed this as a way to empower Afterpay customers and reward them to explore new products and services on the app," he said. "But also, when they make their payments on time, to make sure that we're providing value to them, because it's really a critical part of making sure that their financial needs are being met and we're able to cater to them in the best way possible."
BNPL services have exploded in recent years, particularly among Gen Z customers who are looking for ways to finance purchases, but are wary of racking up credit card debt. From 2019 to 2021, the total value of BNPL loans in the United States grew more than 1,000 percent, according to data from the Consumer Financial Protection Bureau.
While fintech platforms like Block and Paypal are leaning more on BNPL, the space has become more crowded in recent years. And, with consumer patterns changing, some BNPL companies have pivoted to new channels like physical retail or tried to tap into new demographics like older customers. Offering a rewards program — especially one that gamifies paying off installments — could be a way to draw in more customers, Jeremy Bowman, tech and consumer goods writer at The Motley Fool, told Modern Retail.
Bowman explained that some of the users who use BNPL may have student loans to pay off or credit card debt — the latter of which reached a record $1 trillion in the United States in August. "It does feel like we're going kind of deeper into the trough of the credit cycle," he said. "Offering rewards is a generally competitive play, but to do it with 'make your second payment on time and get a bonus gift,' it's maybe trying to push back on some concerns about maybe weakening payments or a potential increase in delinquencies." A recent Morning Consult survey found that a quarter of BNPL users reported missing a payment in August.
Afterpay created a proof of concept of its new rewards program earlier in the year and will judge the program based on redemption rates and conversion rates, Mehta said. Customers don't have to redeem rewards, but for those that do, "it's a really great way to reward the customer and allow them to choose what's important to them," he added.
Rewards may have expiration dates, although these will be set by participating retailers, rather than Afterpay. "That information is provided to the customer, but it's not standardized across all of the rewards," Mehta said.
More retailers are offering rewards programs or tweaking their existing ones as an incentive to keep customers coming back, especially at a time in which people may be pulling back from making purchases due to high inflation.
A BNPL rewards partnership like the one between Afterpay and Nift is a "brilliant move," Liz Kressel, CEO of the e-commerce consultancy firm Lizard Strategy, told Modern Retail. "If you think about it from the companies who are offering those rewards, it's lowering customer acquisition cost," she said. "It's allowing folks to pick what's relevant to them and getting a lot of first-time trials."
Offering various categories of rewards is a good idea, she said, because "many rewards programs, and rightly so, direct back to their own product." However, users could be presented with the problem of too much choice, she emphasized, which is why she considers the relevancy of rewards so important. "What would be best is if… the offers are in sync with whatever the person purchases," Kressel said. "So, if I'm purchasing apparel, what else might be related?" (Nift said the set of categories shown to Afterpay customers will be small and personalized to them, through use of its patented AI technology.)
Afterpay is working closely with Nift to offer an attractive and diverse spread of rewards, Mehta said. For its customers, the goal is "tailoring the right offers and the right categories… to make sure that we're delivering them what they want," he said.