Q&A
// March 17, 2023 ■ 6 min read
Square CMO Lauren Weinberg on its new Forward accelerator program for Black and Latino retail entrepreneurs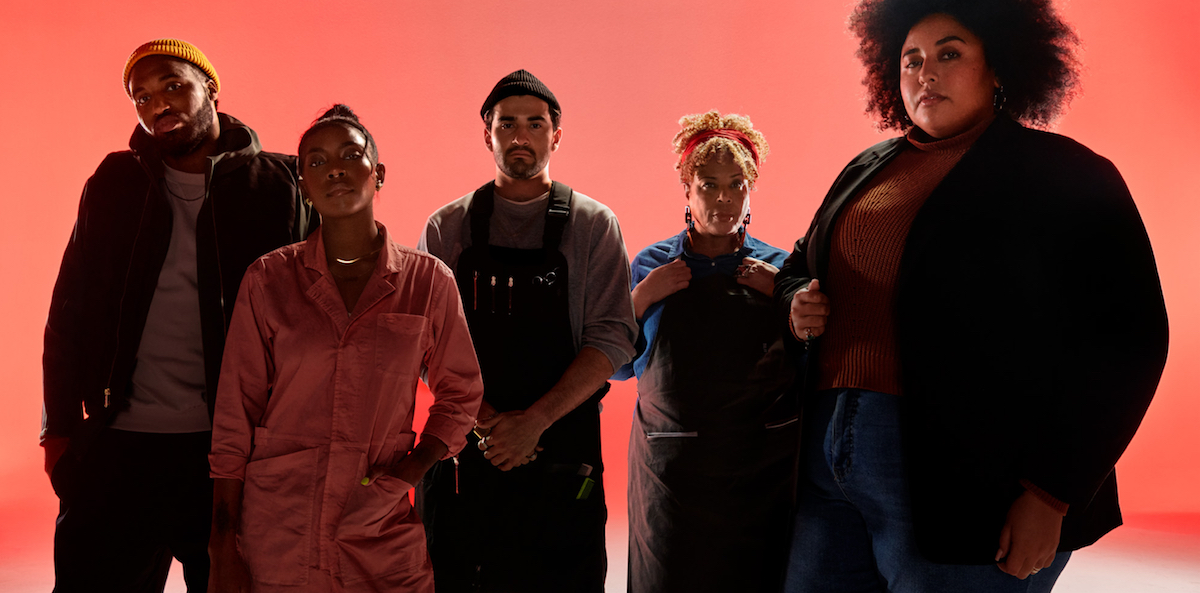 Square
Black and Latino retail entrepreneurs can now access fresh funding, mentoring and products they need to thrive thanks to a new business accelerator program announced by Square.
The program, called 'Forward' and launched in partnership with Social Change Fund United, will support 25 early-stage businesses who will be awarded $20,000 in funding along with exclusive access to trainings developed in partnership with 1863 Ventures, a national business development non-profit. Participants will also get to meet with celebrity entrepreneurs such as Ayesha Curry, Dwayne Wade and Rosario Dawson, who are serving as mentors for the program.
Black and Latino Americans are launching more businesses than any other group, the company said, citing data from a national report on early-stage entrepreneurship in the U.S. published in February 2021. According to a recent Square report, one of the most common challenges faced by Hispanic businesses is raising capital.
Applications for Forward are now open until April 1, the company said in a press statement. Retail businesses based in the U.S., that are in their first three years of operation and led by a founder or CEO who identifies as Black/African American or Latino are eligible to apply among other requirements.
In an interview with Modern Retail, Square CMO Lauren Weinberg talks about the inception of Forward, the selection process and how the company hopes to keep on building its journey to support minority communities at large.
"Once we select the participants, it's around a month that they're in the program, getting the training and the coaching from the coaches and mentors. And then we're hoping to have somewhat of a commencement ceremony at the end of the program in June," said Weinberg.
This interview has been edited for length and clarity.
How did the plan for the Forward initiative come about?
So this project actually kicked off from an inbound request to Jack [Dorsey] around this. And so it basically started with Jack essentially, and then evolved from there. It did actually start from a celebrity that was looking to find ways to support the Black business community reaching out to Jack. I think it was off of the heels of Covid, where there was a lot of push from a lot of celebrities to make sure that Black and Latino businesses were getting access to funding. And so the idea was born out of something that somebody approached Jack with and then we took it and ran with it and continue to evolve it until we got to where we are today.
What will participants get out of the accelerator program?
We're going to be offering 25 early-stage businesses the opportunity to get $20,000 in funding, exclusive access to training and topics ranging from leadership and customer development, scaling operations and managing their financial growth. They'll be getting access to Square checking and savings account as well as Square hardware.
We feel our ecosystem and our platform is really uniquely positioned to help sellers think about how they can automate their operations, bring in diverse revenue streams and thinking about these things from the get go, will really set these businesses up for success.
And then I think probably one of the most exciting parts about the program is that they get these intimate, masterclasses with our mentors and individual coaching from Dwayne Wade, Rosario Dawson Ayesha Curry, Rashad Bilal and Troy Millings.
What are you hoping to achieve from this program?
The goal for this program is to really reduce premature closers of Black and Latino businesses. And this is just one thing in Square's ongoing commitment to increasing equitable access to the economy for sellers of color. And then I would say for retail, Square has a few priority verticals including retail and restaurants. And so those are the areas that we primarily focused on as a brand.
Why are retail and restaurants a priority vertical for Square?
First of all, these are huge areas in the business landscape and so there's a big opportunity there. We see right now within retail and restaurants in particular, there's just this huge migration to technology. And in particular, what we're seeing that's super interesting across both of those verticals, is really the shift to what we call 'multi-hyphenate' or 'multi-vertical businesses' where there's just a blending of business types.
So we see a lot of restaurants becoming retailers as well. And so in their restaurant, they're selling merch and they're selling cookbooks. We see a lot of retailers, similarly, offering coffee bars and those kinds of experiences. And so these businesses right now are looking for ways to diversify their revenue streams and Square's platform is really uniquely positioned to support them in that journey.
There's a very large addressable market and also that Square we feel has a great product market fit for supporting these businesses in terms of their desires to automate their operations, find new revenue streams. We provide access to capital, we can help them with their inventory management, we can help them with their omni channel selling and so it really is just based on the fact that we've built out this ecosystem of solutions to really support businesses and these verticals.
What support will Square provide to participants beyond the end date of the program?
This is our inaugural cohort for Forward, so we're really excited. I would say Square as a business, our purpose is all around economic empowerment. We really want to see businesses be able to participate and thrive in the economy. And this is one of many things that we do to really support Black and Latino-owned businesses.
Square has a giant library of content. This is an accelerator program, but we'd see this as the beginning of a journey with Square where we're supporting our sellers through continued education. We have access to tons of content and libraries, tutorial videos and access to just more of our products and services. And then, depending on how this inaugural class goes — measuring the impact understanding, how it's really accelerating the growth of these programs — we'll think about how else we would continue to build on the program.
How else is Square looking to work with retail entrepreneurs and minority entrepreneurs right now?
One thing is that last year Square underwent a company-wide initiative to make our entire ecosystem of products and all of our content available in Spanish. And so that was a huge unlock for us and something that our sellers have been asking for for a long time.
And then, on the marketing side, we have a very long history of storytelling and using content to really highlight and basically leverage Square's platform to highlight the success of businesses within these communities. So if you go on to our YouTube channel, you'll see things like a content series called Black-owned, where we're featuring Black sellers and their contributions to their individual communities. We also did a series last year called 'Only in Denver,' where we've highlighted Latinx business owners in Denver, specifically just showcasing their stories and their contribution to their communities.
So for us, we really see this as an evergreen initiative.