Shopify takes a stake in Faire, makes it the recommended wholesale marketplace for merchants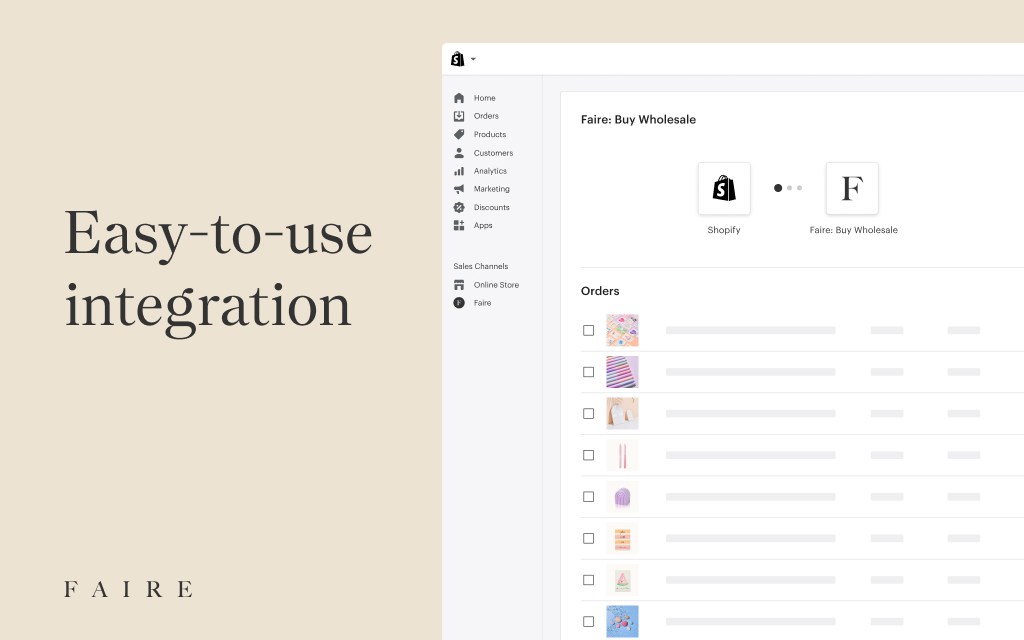 Faire
Shopify is deepening its relationship with the wholesale platform Faire as it seeks to offer more B-to-B tools to its merchants.
Faire announced on Wednesday that Shopify will now become a shareholder in its business, though the exact terms of the agreement were not disclosed. As part of the deal, the tech giant will recommend Shopify merchants use Faire's platform to find new wholesale customers. The deal also gives Faire's existing sellers access to Shopify's point of sale system. This comes at a time when Shopify has been building out more tools to help companies like Glossier and Brooklinen build out their B-to-B strategies, as it seeks to court larger merchants who sell in more places beyond their direct-to-consumer website.
Founded in 2017, Faire connects independent retailers who are looking to carry more products in their stores with brands who are looking for more places to sell their items on a wholesale business. Faire said that it works with over 100,000 brands currently, that collectively have nearly 10 million products. Faire's revenue comes from commission fees imposed on transactions completed via its platform.
According to Max Rhodes, Faire's co-founder and CEO, Shopify reached out to Faire over ten months ago to discuss a deeper partnership. Rhodes said the deal is "incredible validation" that Shopify recognizes Faire as the "leader in wholesale" and as somebody that Shopify wants to recommend to their merchants.
"The reason we're most excited about Shopify is because so many of our retailers and our brands on both sides of our marketplace are users of Shopify," Rhodes said. He described the overlap of customers between Faire and Shopify as "pretty substantial" on both the brand side and the retailer side, adding that "it's growing for both of us." (Rhodes did not share further specifics.)
Additionally, Rhodes said he views the fact that Shopify is becoming a shareholder in Faire as "validation in their belief in us as a company and the fact that we really represent the future of wholesale for brands and for retailers."
"Through our strategic partnership with Faire, we are doubling down on our strategy to enhance B-to-B commerce by making it easy for Shopify merchants to find new wholesale buyers via Faire's wholesale marketplace, and enable retailers to source products seamlessly from Faire's extensive network of brands," Aneeqa Khan, director of product at Shopify, said in a press statement.
The investment comes as Shopify has been making product changes to cater to more B-to-B merchants over the last 18 months. In June, Shopify revamped its wholesale business by letting Shopify Plus merchants sell to other businesses using 'B-to-B on Shopify' the same platform they use for their consumer business. Last year, it introduced a Balance plug-in to assist U.S. B-to-B vendors with self-serve payments. In January, Shopify made a composable commerce stack available to larger enterprise retailers, so they could pick and choose which of Shopify's core features they wanted to use, like its checkout.
The Faire integration is also the latest example of Shopify taking a stake in some of the B-to-B software providers that work with its merchants. Last year, Shopify made Klaviyo the recommended email solution partner for Shopify Plus merchants. In exchange, the company got a 3% stake in the data collection and marketing automation platform, The Information reported. And Shopify also owns a 13% stake in freight forwarding service provider Flexport.
As part of this new partnership, brands that use Shopify will be able to use one fully-integrated Faire seller channel to manage orders to all of their wholesale partners. They will also be able to put a Faire-powered "Stockist" map on their website so shoppers can see which stores near them carry that brand's products.
"With integrations like this, when you buy your products on Faire, you can set it to automatically import directly into your Shopify point of sale. So, it saves you a ton of time and it's much more efficient," Ami Vora, chief product officer at Faire, said. "This is one of the things we hear a lot from our customers about a way to make their lives easier." Vora said
In the past, merchants had to spend a lot of time manually entering data for a bunch of wholesale orders in order to have those products recognized by Shopify. "The user experience to connect Faire with a platform like Shopify just didn't exist earlier," Kassi Socha, a director analyst at Gartner said.
To Chris Grouchy, the COO and co-founder of cross-selling platform Convictional, the deal with Faire "signals that Shopify is firmly choosing to focus its own R&D on B-to-C commerce and not B-to-B commerce." Shopify, he said, is "outsourcing B-to-B marketplace functionality rather than building a competitive version." To be sure, Convictional somewhat competes with one of Shopify's newer offerings, like Shopify Collective; both tools allow merchants to sell products from other brands on their own website.
Ultimately, Rhodes said, this deal is an inflection point in the trajectory for Faire and will prove to be an accelerant for the platform. "Shopify has millions of retailers and brands out there. They are a leader in this space and we view their endorsement, both internally to ourselves and to the world that we are a major force in the commerce space," he said.