Q&A
// October 10, 2022 ■ 6 min read
'Retailers want more control': Buyk's former CEO on the future of rapid delivery in the U.S.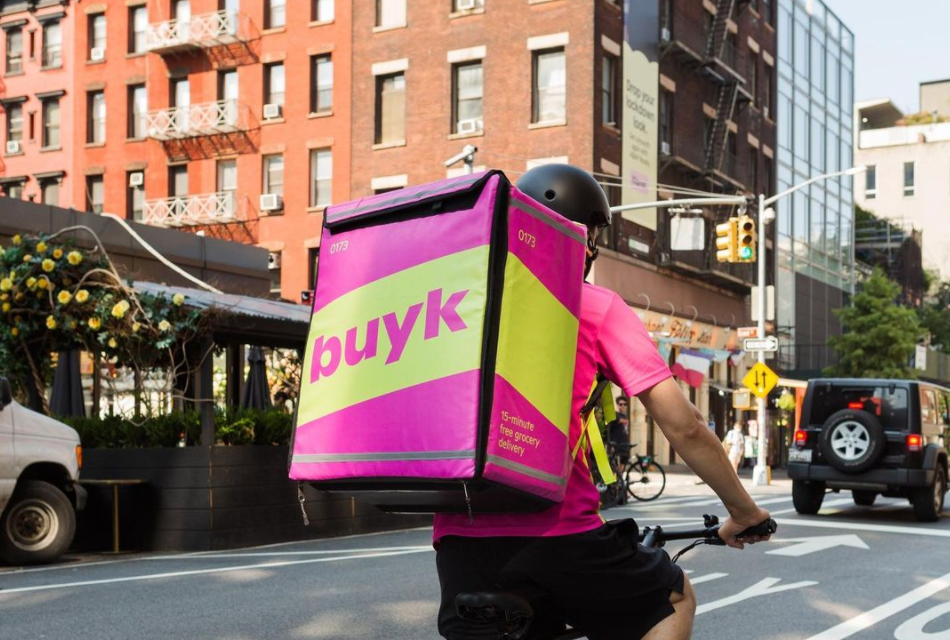 Two weeks after Russia invaded Ukraine, rapid grocery-delivery app Buyk filed for bankruptcy. Founded in 2021 by Slava Bocharov and Rodion Shiskov, Buyk launched operations in New York City and Chicago with the promise of offering 15-minute delivery to its customers.
But Buyk's ambitions to scale and grow came to a screeching halt in what former CEO James Walker described as an "extraordinary act-of-God-type situation." The company's funding was abruptly cut off in March, due to the economic fallout from Russia's invasion of Ukraine. Buyk was a U.S. subsidiary of Samokat, a Russian delivery service.
Last week, the company said it is looking for bidders to liquidate its physical assets, technology and intellectual property. According to a press release, the company is liquidating three warehouses' worth of equipment, including freezers and office furniture.
Last year, companies like Buyk, Gorillas, Jokr and Fridge No More that delivered groceries to customers in often 15 minutes or less had become some of the best-funded startups in the grocery sector. But a challenging macroeconomic environment has led some of these companies to scale back their ambitions or shutter altogether. Fridge No More shut down its operations this year, while Jokr decided to ramp down U.S. operations to focus on Latin America.
In an interview with Modern Retail, Walker talks about the factors that led to the collapse of Buyk, the final stages of the company's liquidation process, key learnings from this experience and what the future of rapid ultra-fast delivery might look like in the coming years.
Can you walk us through the behind-the-scenes of the liquidation process at Buyk? And why is the company selling its assets now?
There was a lot of interest in Buyk, because of the pedigree of the founders, because of the quality of the team in the United States, because of the quality of the software. There was a lot of interest from either mergers or acquisitions or what have you. The issue really became that, with the invasion of Ukraine, our funding situation became incredibly acute, almost immediately. We didn't have months to find a partner, we had literal days to find a partner. And frankly, there was confusion and concern at that point in time around what was allowable, with a company that had some Russian investors and Russian founders.
We would talk to large organizations that were super interested in acquiring the software and the company and kind of using Buyk as their delivery apparatus for a large broadline retailer, both online and offline retailers. But a lot of them were very concerned that there was an incredibly short period of time, because we went from being well-financed to not financed overnight. So, I think, the inability to resuscitate the company that ultimately leads us to this liquidation was a short time — days, not weeks — and also this general confusion around what the Russian sanctions meant.
Where that leaves us today is this best in-class delivery ecosystem software and a large number of high-quality grocery store equipment — refrigerators, freezers and shelving. While Buyk was only a few months old, the software we have is incredibly sophisticated and robust and much more than just a consumer app. The software really allowed for an entire delivery ecosystem from inventory management, supply chain and driver management to customer acquisition. One of the things that I liked about Buyk and the software is we had the flexibility to contemplate different delivery radiuses and different delivery times.
What has been perhaps your biggest learning out of this entire experience?
It was impossible to forecast the situation with Ukraine and the corresponding situation. So, my advice for startups is to always be in a position where you can withstand an interruption in your funding — from a business, from a finance standpoint. That would be my advice.
From a retailer standpoint, what I would say is: regardless of the metrics of your service, whether you're a 10-minute delivery service… whether you're delivering food or whether you're delivering hard goods, stay focused on the customer experience. Make sure the customer experience is great.
Who do you anticipate might buy these assets?
Buyers for the technology range from tech startup companies in the convenience space, who are looking to leapfrog the competition and basically find a way to move ahead faster. And I think for larger companies, including traditional grocery stores, or traditional broadline retailers who probably already have software. It allows them to find elements that could augment the software that they already have.
It ranges from the corner convenience store, up to and including chain restaurants and chain convenience stores and grocery stores, as well as service stations. Today, supply chain is more difficult than it's ever been. You can't buy things in the restaurant, grocery and retail businesses. And here's this company — through no fault of its own, because of a political situation — has these brand new refrigeration and freezer assets available for sale.
So, to me, it's a good opportunity. The liquidation should be very attractive to people within the grocery convenience or restaurant space.
How do you see this industry growing in the U.S. in the years to come?
I'm still optimistic and I think what we're going to see is more of a maturity in this sector. Basically, some of the current traditional retailers, both online and offline, [will] look to move to controlling more of their delivery.
The question is not whether America wants more delivery services and wants more goods and services delivered to their home and office. I think the question is: what is the timeframe that America is willing to accept for that delivery? I don't think it's 10 minutes — is it an hour? Is it the same day? If there's a question, I don't think it's around America's demand for convenience. I think it's what convenience means to America.
What kind of companies do you anticipate will get into the rapid delivery space?
I'm aware of more players wanting to come into the space than are currently in the space. I think what you'll see is more specificity around service, meaning services that deliver different goods very specifically tailored to a line of products. I think you will see more hard goods retailers using software like the Buyk software, to be able to control their own delivery cycle.
I think high-end retailers will say, 'listen, we need to make sure that we control the entire delivery cycle. And we can't just hand that off to a third party.' So I think you will see more third-party companies, yes, I think many of them, their unique selling proposal will be specificity and product line. And I think you will see more traditional retailers want to use software, like the Buyk software, to be able to directly handle the entire delivery and inventory cycle from the first contact with the customer through delivery to their door.