Macy's is the latest department store chain to test out a third-party marketplace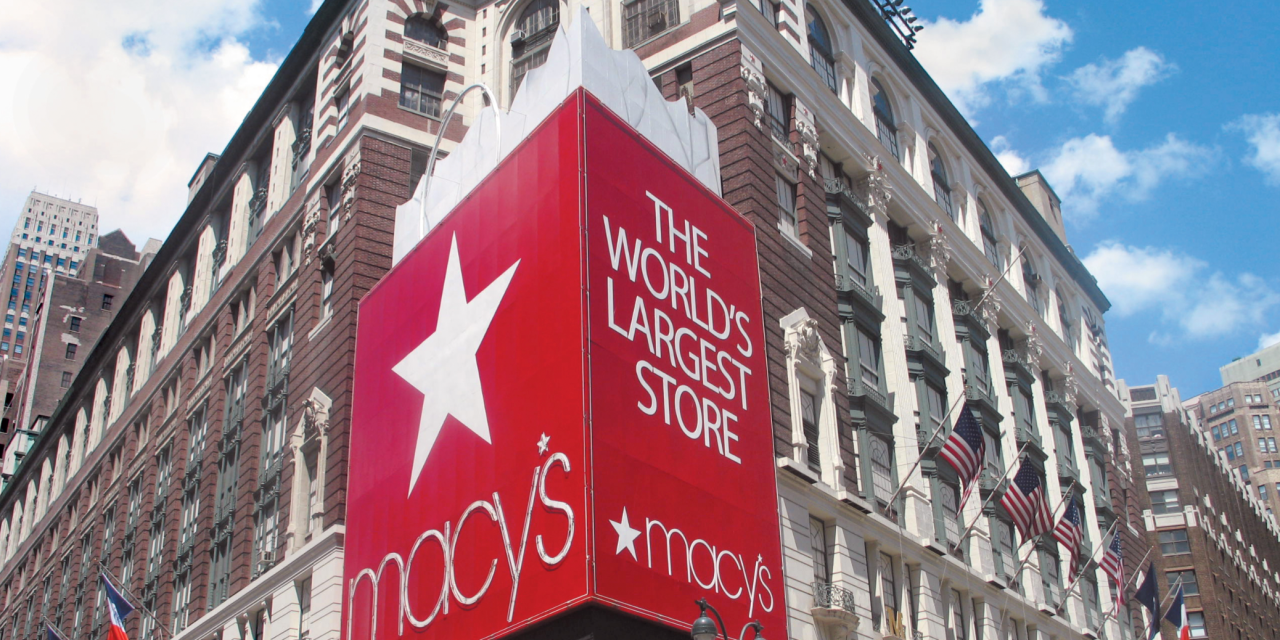 Macy's
Last week, Macy's rolled out a new marketplace for third-party sellers with a limited set of brands.
The 164-year-old department store has introduced a "curated marketplace" on macys.com to expand its online e-commerce offering with new categories, brands and products. The company has integrated this new platform in partnership with tech provider Mirakl alongside Macy's digital, merchant and technology teams to design the new website.
This fall, 400 new brands including Sony, L'Occitane and Smeg are expected to be selling on the service, according to Macy's. Unlike businesses that sell in Macy's shops, brands that sell on the marketplace are responsible for fulfilling their own orders. The retailer said it is still onboarding merchants and brands across 20 different product categories. Sellers and brands are "carefully selected to ensure alignment within our standards that customers trust", the company said in a statement. Merchants are required to pay an initial cost to start selling on the new platform
Like Macy's, other legacy retailers like Walmart, Target and Best Buy have all launched their own respective marketplaces — in 2009, 2011 and 2019 respectively — as a way to complement their more traditional e-commerce sites. More recently, stores like Lands' End and Nordstorm have also entered this space as well. According to a 2020 Marketplace Pulse blogpost, brick-and-mortar retailers continue to launch marketplaces "to fix their lacking online presence by offloading the work to third-party sellers; however, those marketplaces never work."
But retail analysts cheered Macy's new platform for attracting a really strong lineup of brands. One vendor selling on Macy's marketplace told Modern Retail, the new platform is appealing because brands can manage their own inventory and fulfillment in a curated and controlled setup. The new launch comes as Macy's has downgraded its financial targets for the year, due to the possibility of a more severe economic slump and a decrease in consumer spending. Macy's same-store sales dropped 1.5% at the end of the second quarter this year. The company cut its forecast for full-year sales and earnings-per-share in August. Its digital sales dropped 5% at the end of July. At this challenging time, Macy's said the marketplace will accelerate its turnaround strategy to modernize its supply chain with products shipped by third-party sellers.
For brands, the new Macy's marketplace presents a potential new sales channel. "As a seller, you have access to a huge new customer base," said founder of high quality organic clothing brand Hope & Henry Matt McAuley. "You can leverage one virtual pool of inventory, so it's super efficient, you don't have to physically move inventory to a new warehouse or a new location. You're leveraging your existing pool of inventory, that we can now ship to new customers all around the country," added McAuley.
"The fact that you're able to manage your own fulfillment, and not be discriminated against, for not being on Prime, for example, is what makes these other marketplaces so attractive," said McAuley. The children's clothing brand has also been selling on Amazon's marketplace since September 2017, on Target Plus since the last one year as well as Buy Buy Baby. Hope & Henry also has three brick-and-mortar stores across New York, Florida and Hawaii. Hope & Henry will only be available on Macy's marketplace and have never sold its collections in the retailer's physical stores. McAuley said the majority of the company's sales come from all digital, including its own website, but did not break down the channel mix.
For a company like Hope & Henry, Amazon has been a bit difficult for the small brand to navigate of late. The major issue, McAuley said, is that brands won't sell very much if they can't sell on Amazon Prime, but getting inventory to Amazon's fulfillment centers that ship for Prime, which typically offers same-day delivery is taking pretty long. "Getting inventory into Amazon fulfillment centers in a timely manner isn't happening right now, because they're sending your inventory through multiple fulfillment centers, through transfer facilities. It just takes a really long time to get your inventory to that fulfillment center that can sell it through Prime," said McAuley.
"This definitely expands our reach with kids and women's clothing. Our kids businesses is very strong. And this partnership with Macy's furthers that expansion. They have a huge customer base on the kids side, and we have an emerging women's business that's growing," added McAuley. Nearly 44 million customers have shopped at Macy's over the last 12 months.
"The things that attracted us to Macy's was that the initial cost [to setup] is quite reasonable. Obviously, there's an investment in time, effort and manpower to get product and listings live. But in terms of capital investment, it's very minimal," said McAuley.
"As brands look at omni-channel e-commerce and having a presence where their customers are shopping, we love what Macy's is doing with Mirakl," said George Hatch, Pattern's director of marketplaces in an emailed statement. "It's a win-win-win scenario. Macy's is able to offer more products to its customers, more brands are able to reach Macy's consumer base, and consumers have an additional curated selection of top products to choose from," added Hatch.
Instead of allowing the marketplace to operate as a free-for-all, which could result in a cluttered experience, Macy's is opting for a curated experience, said Neil Saunders, managing director for retail at consulting firm Global Data. "This control is sensible as Macy's needs to ensure its website remains easy to use and that the vendors it partners with are reliable in terms of fulfillment," he added.
Ultimately, Saunders said, the marketplace is not a substitute for Macy's own sales and it needs to make more effort there, especially in stores. "There is a risk that the marketplace becomes a distraction from them doing the work that needs to be done in their core retail operation. Macy's will also need to ensure that marketplace products do not crowd out its own offer," added Saunders.