Inside Babylist's emerging technology strategy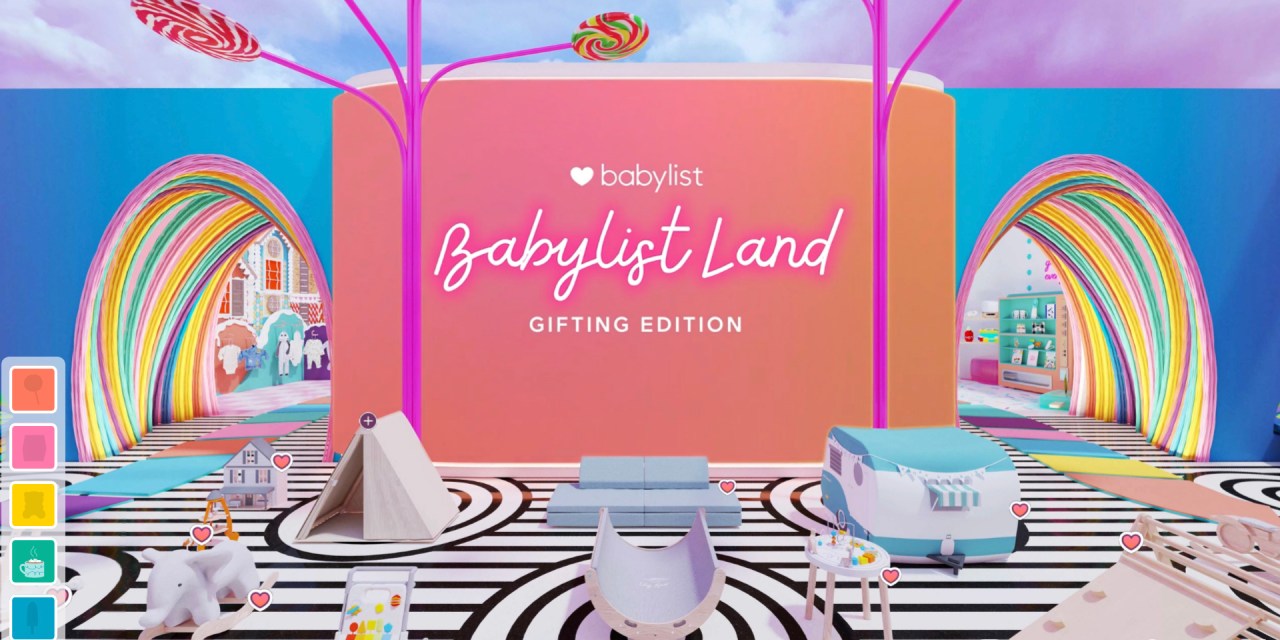 Babylist
Baby registry business Babylist is increasingly betting on emerging technology as it expands its services and products for expectant families.
Digital tools are built into Babylist's DNA. When the company launched 12 years ago, it was entirely online. Over the past few years, it's launched store pop-ups, opened experiences in the metaverse and started experimenting with generative AI like ChatGPT. As it expands its business, Babylist wants to use these experiences as learning tools and a way to build fresh, exciting content for users, Chief Growth Officer Lee Anne Grant said at the Modern Retail Commerce Summit held in New Orleans.
"Measuring success in emerging technology is very hard," she said. "We did a lot of education internally around — this is not going to be a directly ROI-positive investment… It's not saving time, it's building better quality content or more comprehensive content."
Babylist's business model is multi-pronged. It includes an e-commerce business, an affiliate retail partnerships business, an advertising business and, most recently, a health care business. Babylist's registry division allows parents to build a registry using multiple products across multiple websites. They can also request untraditional, special activities like home-cooked meals or dog walks. On the editorial side, Babylist publishes several baby-and-parent centered posts and guides with recommendations from its team. Topics include "the best prenatal vitamins of 2023" and "best convertible car seats under $250."
Today, Babylist hosts registries for more than half of first-time parents, according to company data. In 2021, Babylist raised $40 million in a Series C funding round. Babylist currently serves 9 million customers a year and drives $900 million in gross merchandise volume.
"I think we're very trusted, and we are really good at helping you figure out the stuff that you and your family needs," Natalie Gordon, Babylist founder and CEO, told Modern Retail in November. "Not everything is a must have. We really want to be helpful, and help you make the right product decisions."
Babylist brings that same care to evaluating which technologies to use, Grant said. She described the company's "five-step process" for evaluating which avenues are worth their time and investment. The first step, she said, is to understand the technology. After that, Babylist must ask if that technology will serve consumers, the brand and the Babylist team. Then, it must see if it can "test and iterate" the technology, look into whether it needs to be an early adopter of that technology and come up with ways to measure success.
Babylist has found particular success in launching digital showrooms in the metaverse. Last November, Babylist launched an experience called "Babylist Land — Gifting Edition," which let shoppers navigate  rooms organized by clothes, strollers or other gear, click on items to get more details and then add those items to their registries or order them individually.
"We know that our users love content," Grant said. "They spend 40 hours with Babylist, researching. And so we assume, will they actually spend that time in the metaverse? And they did."
The company is now building another metaverse experience that ties into its new physical store, which opens this summer in Beverly Hills, California. Grant describes the new showroom as "Kleinfeld… meets IKEA… meets MoMA gift shop… meets Bass Pro Shop." It will let customers feel and test out different products like high chairs and bassinets, but it will also have immersive elements, like an interactive nursery and a cobblestone path for strollers. Brands can co-sponsor these experiences.
Babylist is launching a version of the showroom in the metaverse, which it hopes will help it connect with wider audiences. Babylist has experimented with physical retail before via pop-ups in New York and Los Angeles, but it wants to use the metaverse to engage customers who don't live in those major cities or who can't visit its new showroom in person.
Ultimately, when deciding which new technologies to use, it's important for Babylist to diversify, both digitally and physically, Grant explained. "We could jump on every trend," she said. "But for us, the need was, we're only doing these experiences in one place, and we want all of our users to be able to experience them."
Want to discuss this with our editors and members? Join here, or log in here if you're already a member.