How regional grocer Save Mart is looking to grow its retail media business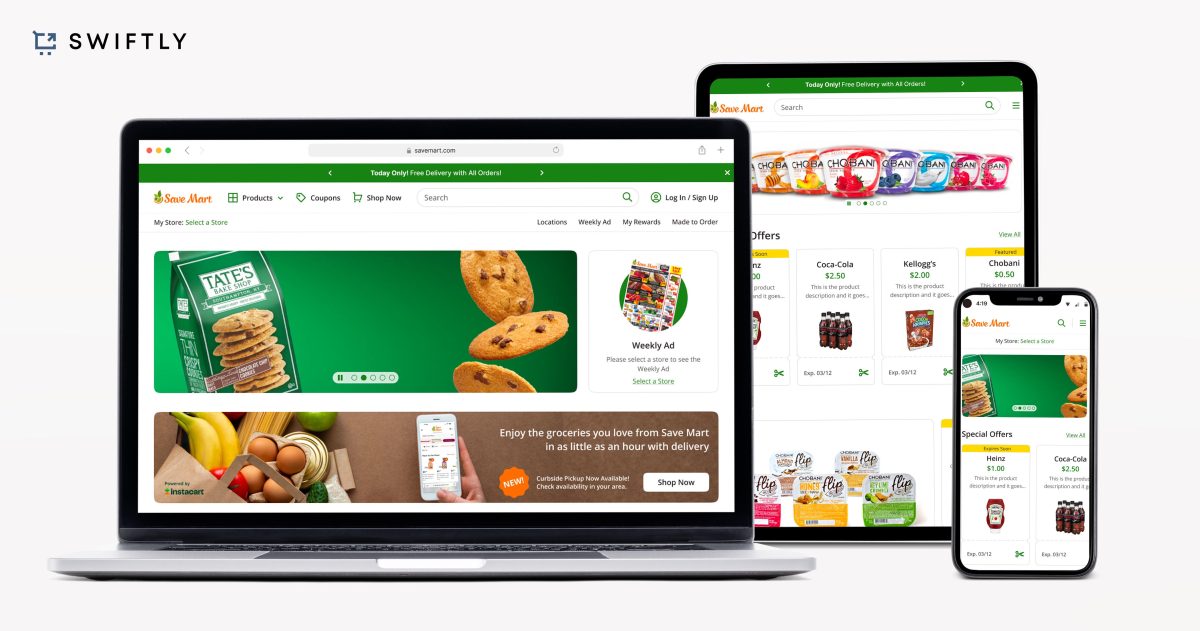 Save Mart
The Save Mart Companies, which operates Save Mart Supermarkets, Lucky Supermarkets and FoodMaxx grocery chains, is taking steps to grow its digital and retail media business.
In doing so, Save Mart is building out its retail media network in partnership with grocery tech vendor Swiftly. The grocer is now ready to open the doors to sellers on its platforms to leverage that by running ads across its digital properties. The company said brands like pain reliever Tylenol, yogurt maker Chobani and poultry brand Foster Farms have started running ads across Save Mart Companies' affiliate websites and mobile apps. In addition, the grocer has also made a significant push to driving awareness of its loyalty program and digital coupon programs to grow its online presence.
Tamara Pattison, senior vice president & chief digital officer at The Save Mart Companies, told Modern Retail this latest digital blitz has been a culmination of investment that the organization has made over the last 12 months and "recognizing that we had a lot of ground to make up."
"Some of the larger retail media networks, just because of their sheer size, don't offer that level of detailed partnership and creativity and innovation to their brand partners and that's how we uniquely think we can win," she said. "We certainly have focused internally a lot of technology investment and partnership related funds to make sure that we are building out this ecosystem. I can tell you that it is the most significant investment that the organization has made over the last 10 years," she added without sharing specifics.
In the past, the regional grocer based in California partnered with Swiftly to build out its mobile application offering shoppers digital coupons and weekly ads. Save Mart's websites and affiliates were originally launched in 2015 followed by mobile apps in 2017. The mobile apps were completely redesigned in October 2021, and the websites were relaunched last week in partnership with Swiftly.
But with this latest push, the grocer is ready to implement a more cohesive digital program — one that makes revenue by building out its own retail media network. The Swiftly partnership, the company said, has really accelerated its ability to deliver digital solutions across multiple platforms at a rate that allows the company to stay competitive. 
According to Andrew Lipsman, principal analyst for retail and e-commerce at Insider Intelligence, Save Mart Companies' efforts are in-line with a broader trend where retailers and regional grocers specifically, have realized that they need to digitize more of their operations. "Consumers are moving digital. And obviously, in the pandemic, as people started to buy groceries online, that increased its importance for grocers, who probably would have delayed these shifts," said Lipsman. "But the reality is, digital is going to be necessary for a lot of things about how these retailers operate in the future. And for a lot of them, it begins with couponing, because that's how a huge percentage of grocery shoppers in America shop," he added.
While the retail media network is the latest part of its digital strategy, the grocer has been making investments in e-commerce for the last four years. Save Mart first launched home delivery in all stores in June 2019, while curbside pickup has been available in select locations since 2018. Save Mart launched same-day grocery delivery in September 2019 with Instacart for both Save Mart and FoodMaxx shoppers. In September 2020, Save Mart first launched contactless grocery delivery at its flagship Save Mart store in Modesto, in partnership with robotics startup Starship Technologies.
More recently, in February of this year, Save Mart launched same-day grocery delivery and pickup service by employing tech startup Fulfil's micro-fulfillment warehouse in Mountain View, California.
Pattison said these efforts dovetailed on its digital advertising partnership with Swiftly. Over the last year, Swiftly has been running pilots of Save Mart's ad offering to optimize it for a larger-scale rollout.
Swiftly's Chief Technology Officer Sean Turner told Modern Retail that customers are looking for a personalized shopping experience. "We see this launch across websites and in-app as being able to bring another customer touchpoint into alignment with the overall consumer journey and have that much greater depth of engagement and consistency of experience for shoppers across desktop and mobile," he said.
Larger grocers like Albertsons or Kroger have dedicated teams that are building a lot of this technology in-house to provide these kinds of services to their consumers. Not every grocer, however, has the bandwidth to invest in these programs themselves. "We're really excited to partner with very nimble and forward thinking grocers like Save Mart Companies, because there's a huge opportunity for smaller, nimbler players to move a bit faster. And to really leapfrog and get ahead of what the larger players in the space are doing," said Turner.
"We've seen some campaigns that have delivered delivered a return on ad spend of in the three digits, meaning that some brands  have seen over $100 increase in sales for every dollar of ad investment," said Turner.
Beyond this ad program, Pattison said that an important area of concentration for The Save Mart Company is employing technology to make "findability" much easier, whether it be for in-store or online shopping. "We also think about e-commerce as an opportunity or an extension of our stores. So, allowing our shoppers to navigate aisles and potentially find products that they wouldn't necessarily have the mindshare or time to find in the store is very critical to us," said Pattison. She added that Save Mart will continue to invest in new technologies for aisle navigation or bluetooth technology to stay ahead of the curve.
Another significant push for Save Mart Companies is driving overall awareness of its loyalty program and digital coupons, by providing exclusive digital offers, "so that as those customers start to engage, we can, in turn, leverage their shopping history to create a better experience," said Pattison.
"As it relates to growth of the loyalty program, available in our Save Mart and Lucky stores, our primary focus for the rest of the year is driving awareness through in-store activation," said Pattison.
Though retail media is proving to be an important revenue driver for powerhouses like Walmart and Amazon, not everyone is convinced it will work for smaller companies. "I think the notion that these small retailers are going to have a media audience that's of value to somebody is always fanciful," Bryan Gildenberg, founder of consultancy Confluencer Commerce said.  Media buyers don't like small audiences, they just don't know what to do with them," he said.
The Save Mart Companies acknowledges the task ahead. "We're not intending that we are the destination for retail media dollars without thinking that there's more innovation that needs to come behind that," said Pattison.