Amazon Briefing: 'Trump card': How Walmart's new advertising partnerships take direct aim at Amazon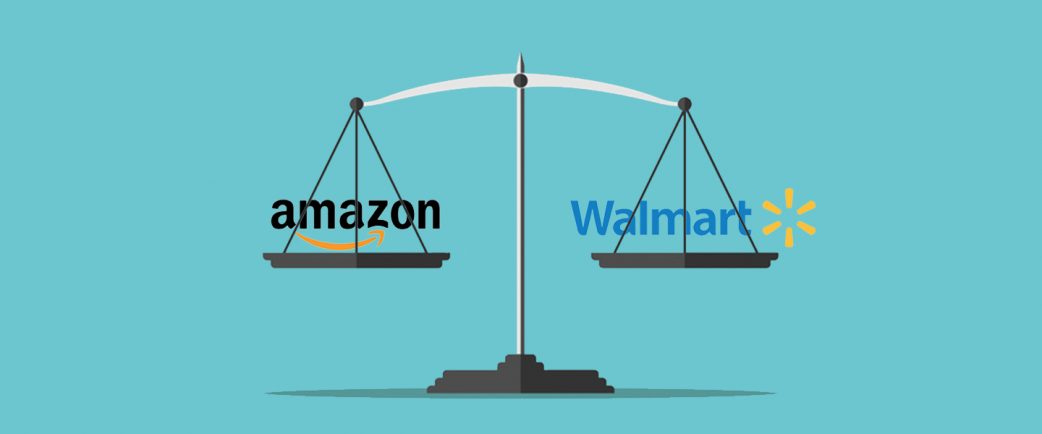 This is the latest installment of the Amazon Briefing, a weekly Modern Retail+ column about the ever-changing Amazon ecosystem. More from the series →
This is the latest installment of the Amazon Briefing, a weekly Modern Retail column about the ever-changing Amazon ecosystem. To receive it in your inbox every week, sign up here.
Walmart's decision to integrate social media platforms like TikTok and Snap into its ad tech platform is an indication that America's largest retailer is attempting to catch up to the booming ad business of its arch-rival Amazon.
On Tuesday, Walmart Connect, Walmart's retail advertising network, entered into partnerships with both Snap and TikTok to offer advertisers the opportunity to serve ads on these social media platforms. "The first-to-market pilot between TikTok and Walmart Connect will provide advertisers with the opportunity to serve in-feed ads on TikTok," said Walmart Executive Vice President and Chief Revenue Officer Seth Dellaire in a company blogpost. Meanwhile, advertisers for the first time will be able to buy Snap ad units through Walmart Connect as well, Dellaire added.
Walmart's move to go the partnership route could potentially disrupt the sweet spot Amazon enjoys in the digital advertising space. Last year, Amazon cemented its place as the third-largest player in digital advertising after Facebook and Google. Amazon's ad business has benefitted from the success of its marketplace and the treasure trove of customer data its tech competitors can't access. Amazon has also profited from tech giant Apple's recent privacy changes to its software. For example, many CPG firms have transferred their ad dollars in favor of Amazon because social ads on Google, Facebook and Instagram have become ineffective, after Apple offered its users the option of allowing advertisers to track them or not. Amazon has also been trying to grow its advertising business by betting on new ad products in local advertising and exploring new spaces for ad placements in its Whole Foods locations.
Amazon reported that profits from its advertising division increased by 18% to $8.75 billion in the second quarter. That's significantly stronger than Amazon's overall revenue growth of 7% during the same period. Last year, Amazon clocked $31 billion in advertising revenue. The fact that advertising is so profitable for Amazon is clearly catching the eyes of rivals like Walmart.
"This is like a trump card on Amazon, which has always struggled with top of funnel discovery," said Kiri Masters, head of retail marketplace strategy at Acadia, which assists brands to grow on Amazon. "They've been trying to put all these discovery mechanisms into the top of funnel and create their own TikTok etc. And then Walmart just goes directly to TikTok and Snap and negotiates the ability to run ads there," said Masters.
For its part, Amazon has also been trying to expand its array of advertising products from its consumer websites to video opportunities on platforms like Twitch. The Seattle tech giant also introduced interactive ads last year for streaming video content on its ad supported streaming service Freevee, Amazon's director of investor relations said on the company's latest earnings call.
"This is a very ironic battle between Walmart and Amazon and because Walmart is the underdog here — [it's] super ironic given Walmart's place in history as the huge behemoth that squashes all small retailers," Masters said.
Walmart has been adding fuel to its advertising business over the last 12 to 18 months. The company redesigned its ad-sales division in January 2021, adding new advertising technologies for brands and new ad units on its in-store checkout and display screens. In August, it launched an offsite ad network — called Walmart DSP (Demand Side Platform.)
In the most recent quarter, Walmart's global advertising revenue increased by roughly 30% thanks to sales from its North America ad tech business Walmart Connect and revenue from ads run on Flipkart, an Indian e-commerce startup it has backed. At the moment, Walmart also has thousands of open positions for advertising jobs on LinkedIn.
"Walmart's advertising business is more than 10x smaller than Amazon's, but Walmart is clearly intending to start closing the gap through hiring, building technology, forming partnerships, etc," said Juozas Kaziukėnas, founder and CEO of Marketplace Pulse, in an emailed statement to Modern Retail.
Ryan Craver, CEO of the Amazon agency Commerce Canal, was a bit more measured in his remarks about the build up to this ad war between Walmart and Amazon. "These additional channels provide Walmart opportunities for advertisers who previously haven't dipped their toes into TikTok, Snap and Roku the ability to easily test those channels," he said. "I don't believe there will be an impact to Amazon's ad business in the immediate future as most clients will likely add incremental dollars to their Walmart budgets to test these new outlets," said Craver.
Craver said the majority of his clients have been disappointed with the ad performance and scaling of Walmart — but this initiative will likely be helpful.
Still, others see this as a way to begin eating into Amazon's advertising revenue growth. Moves like these could make ad dollars shift from Amazon to another retail media platform, said President of Pacvue Melissa Burdick, a company that aids businesses in running online advertisements on Amazon and other e-commerce platforms.
Other retailers including Instacart and Kroger have also been trying to boost their retail media offerings more recently. In March, Instacart introduced Instacart Platform which offers a variety of services and technology including ad solutions to retailers. In May, Instacart also announced the rollout of new shoppable ads. This month, rival Kroger expanded its ad offering to include video and connected tv ad inventory. In March, Kroger allowed third-party platforms access to its ad inventory.
"I think that this is the beginning of the innovation. We've seen a ton of innovation from Instacart, Walmart and we're gonna keep seeing it. The challenge then is getting to the brand's educating them cutting through the noise, because they're hearing so many things," said Burdick from Pacvue. "There is pressure, so, whoever can offer the best innovation with the most data that demonstrates that it is effective and has an impact will ultimately succeed," added Burdick.
Amazon news to know
"Thursday Night Football" on Amazon attracted a record amount of new Prime subscribers for three hours, Bloomberg reported citing internal company memo.
Merchants selling on Amazon are preparing for a tough holiday season, Bloomberg reports.
Amazon announced 71 new projects in an effort to run its company entirely on renewable energy by 2025, Reuters reports.
What we've covered