As Starbucks changes its growth strategy, the 'third space' café model fades from view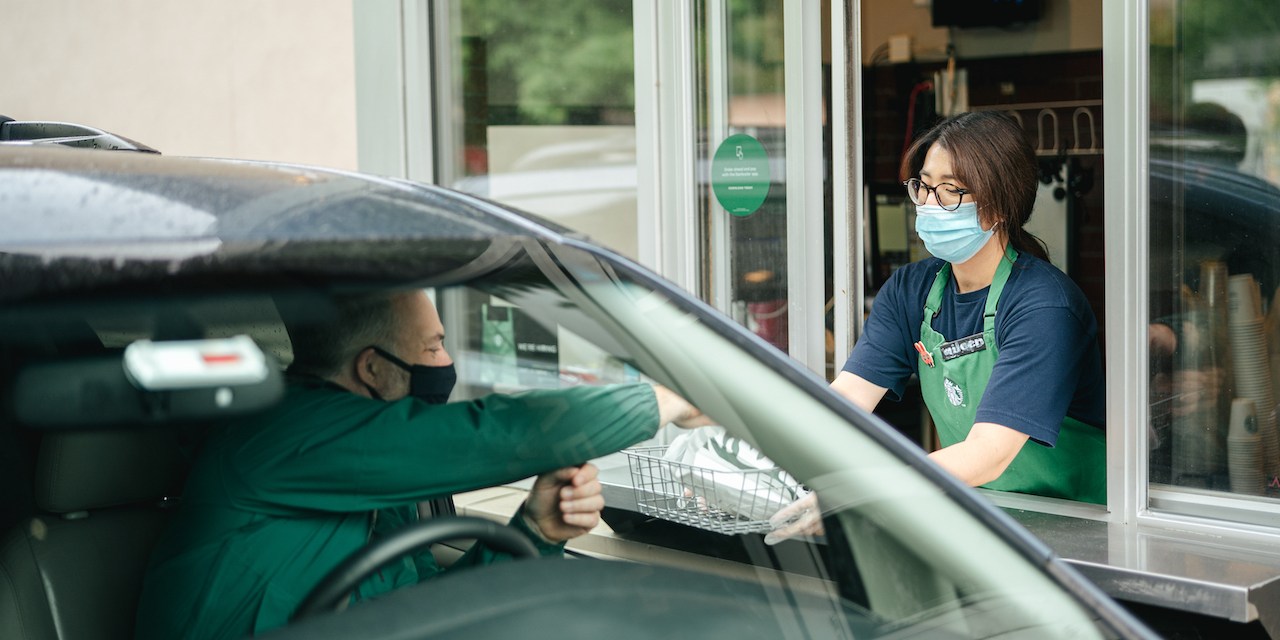 Starbucks' long-time, more laid-back brick-and-mortar atmosphere will look different over the next few years, as the coffee chain sets its sights on becoming faster, more entrenched in the digital space — and more invested in consumers on the go.
Last week, Starbucks announced it will invest $450 million next year to enable "greater efficiency" and "reduced complexity" in its North American stores. The company also plans to add 2,000 new net stores in the U.S. by 2025, boosting its reach across cafes, pick-up, drive-thru and delivery.
"Our partners have come to expect more from us. Our customers have come to expect more from us. And it is clear our physical stores must modernize to meet this moment," John Culver, group president, North America and chief operating officer, said in a press release.
Consumer coffee habits have drastically shifted since 2020, when the coronavirus pandemic triggered stay-at-home orders and prompted stores to close. Today, customers have come to rely on services that don't involve as many person-to-person interactions, such as order ahead, curbside pick-up and delivery. Retail models like Starbucks, which for decades offered large, comfortable settings for people to work and socialize, are having to rethink how to organize and market their stores. As such, the Starbucks retail concept of being a "third place" — or a middle ground between the office and home — is becoming less applicable to the café business model.
"I think you're seeing a lot of shifts from both Starbucks and beyond, places like Chipotle, Burger King, all enhancing the technology that powers that QSR experience to make it more convenient for the customer," Kassi Socha, director analyst at Gartner, told Modern Retail.
During its third-quarter earnings in August, Starbucks reported revenue of $8.2 billion, a nearly 9% increase compared to the same period a year prior. In North America in particular, the company saw an 8% increase in average ticket. The company also reported a net income of $913 million. Last week, Starbucks raised its long-term financial forecast, with an expectation of a 10% to 12% rise in global revenue annually, from fiscal 2023 to fiscal 2025. The company attributes this, in part, to increased partner engagement, digital programs and product innovation.
Big operational changes
Today, Starbucks is reorganizing its workspace to make it easier and faster to prepare drinks — especially cold ones, which make up 80% of customers' orders during the summer months. Starbucks' new "Siren System" positions ingredients like milk and ice on the counter, instead of below it, so baristas can prepare drinks without bending down. The system also uses ovens that can heat food in batches, rather than individually, to cut down on prep time. Starbucks' new "Cold Pressed Cold Brew" technology delivers beverages in a few seconds, eliminating the need to steep ingredients for up to 20 hours.
"In order to continue to have positive double-digit year-over-year comp sales in stores, this is a smart strategy," Rebekah Kondrat, a retail consultant who works with DTC brands, told Modern Retail. Kondrat worked at Starbucks from 2004 to 2009, first as a barista and later as a supervisor and manager. "If you look at what is working, where are your margins, the highest-margin items are these specialty drinks… that take a lot longer to make."
"Putting in place efficiencies and technology to make those things faster makes a ton of sense from a sheer time, cost, return-to-the-shareholders standpoint," she added.
Starbucks, like its counterparts in the restaurant industry, knows that wait time can impact revenue and wants to speed up its operations to cater to as many customers as possible. A recent study by SeeLevel HX found that an extra 30-second wait in a drive-thru could cause one restaurant location to lose up to $32,091.33 over the course of 12 months.
On the digital side, Starbucks is enhancing mobile ordering and extending the service to more locations at airports and grocery stores. It's offering an extension of its rewards program that relies on Web3 technology. And, it's partnering with DoorDash to increase its delivery footprint across the U.S.
A new retail model
The changes signal a significant shift in Starbucks' retail strategy. For decades, Starbucks has been an example of the "third place," a term coined by the sociologist Ray Oldenburg to describe places where people spend time between work and home. Now, Starbucks says, it is "expanding the third place experience beyond the physical store" in an effort to "meet customers wherever they are." 
In this new environment, Starbucks is becoming "more guest-centric," Barry Thomas, global commerce expert at Kantar, told Modern Retail. "They're very centered on consumer centricity, and a lot of that is off-premise. I'm coming to Starbucks to get my drink, picking it up, digital drive-thru, delivery and I'm leaving. Off-premise is one of the fastest-growing areas for restaurants."
"If you look at what retailers and restaurants are doing with their physical store, the primary purpose… is becoming a distribution mode, or a fulfillment center," he added.
Starbucks has been moving in this direction for some time. In 2020, it announced it would "increase convenience-led formats" in the U.S., including drive-thru and curbside pick-up, over the following 18 months.
More coffee concepts are using what can be called an "ambient coffee" model, Thomas pointed out. Blank Street Coffee, which began in New York and recently expanded to London, says its spaces are half the size of the average New York coffee shop. About Time, also in New York, says it offers everything from "intuitive ordering, to customization options, to expedited pickup," with a "mobile-first generation in mind." Coca-Cola's Costa Coffee is building completely autonomous coffee vending machines. 
"If you look around in the coffee world, everyone's moving down this path for coffee to go," Thomas explained.
Similarly, in Starbucks' case, "efficiency is the experience — instead of the ambiance," Kondrat said. "I think there is actually a world where Starbucks kind of taps into a whole new customer. And that's the one that doesn't care about the environment. They care about, can I get my coffee? Can I get it fast? Is it already ready when I get there?"
Still, Kondrat doesn't see this as the end of the road for third places. "I do think that there is still going to be a need for a third place, for a fractional office space," she said.
"The pendulum swung really far one way. It's kind of swinging back the other way. I think office culture is forever changed. But I do think there is still a space for this place that is not work and home where I can feel like I can be productive."
Correction: An original version of this article incorrectly addressed Kantar's Barry Thomas.