How the social commerce shopper is remaking e-commerce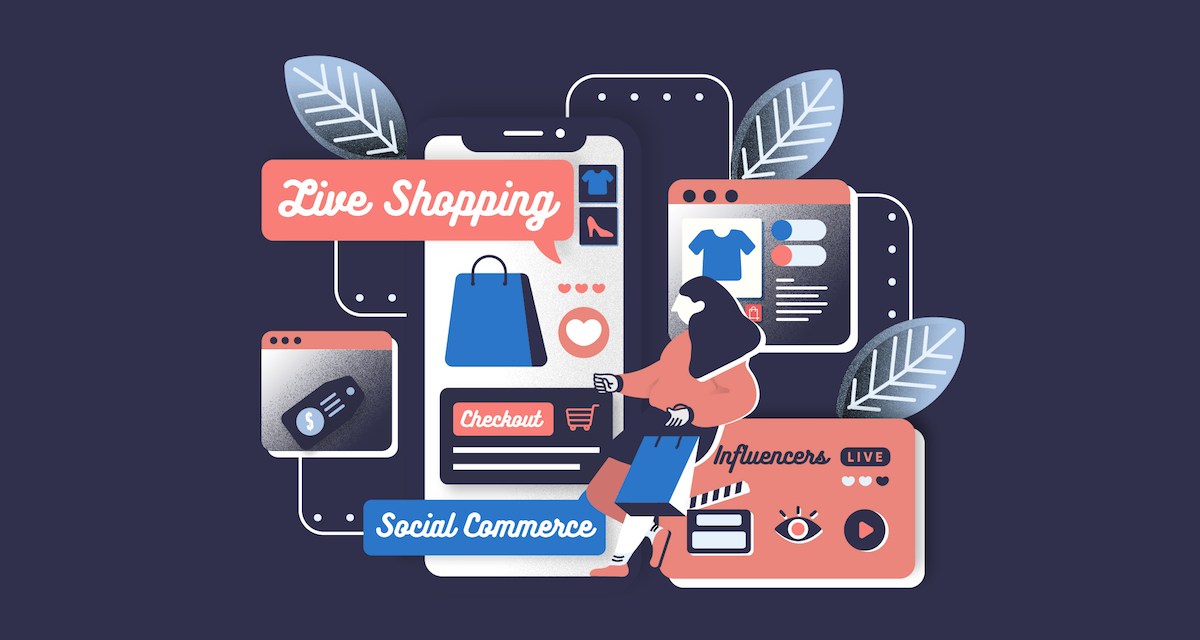 Live shopping isn't new, but it's evolving as content commerce strategies create new and powerful roles for brands and retailers. With shoppable content, advertisers are engaging with consumers across social media in increasingly interactive ways.
Starting in the mid-1980s, with the launch of television shopping networks such as HSN and QVC, consumers have been shopping while products are advertised in real time. Fast forward nearly 40 years, and while HSN and QVC are still around, they're now hardly the only game in town. Live shopping has taken on a new digital role for marketers, moving from "live" to "livestreaming." According to Coresight Research, livestream e-commerce is poised to reach $25 billion in sales in the U.S. by 2023.
Livestream shopping usually features influencers or hosts selling a product in real time on a platform such as Instagram Live. Consumers can interact with the on-screen talent and increasingly they can purchase the product right in the platform. Since 2015, China has been leading the way in terms of livestream shopping within the content commerce space, and now the U.S. and European markets are catching up.
"QVC was only on the air, at nighttime, between seven and midnight, apart from on weekends," said Chris Cooper, planning director at smp, a UK-based marketing agency. "With TV, especially in the '80s, you were just limited to a few channels that they could sell through. I think that, in 2021, people want to shop anywhere, anytime, wherever they are, and the digital aspect of content commerce allows you to have any number of shoppable livestreams running at the same time," allowing influencers and hosts to reach those people in all the ways they are shopping.
Who is the livestream and social commerce shopper?
According to recent research, Generation Z is likely to discover more brands online than older generations.
"Live shopping demographics match the demographics of visual channels like YouTube, Instagram or TikTok and ultimately of the host driving the live shopping event," said Josep Nolla, co-founder and CEO at Tipser. "There is already a large demographic very familiar with online video and social media that can tap into live video shopping easily because there are no technological and knowledge barriers. And depending on the selected channel, you can target a certain audience or tap into a new one."
Social media has become a racetrack for social commerce
One of the reasons behind the emerging popularity of social commerce is that it opens up two-way communication between consumers and brands. The influencer can demonstrate how the product feels, smells, the colors, what shoppers can match it with — and it's interactive; consumers can ask questions. And when it comes to that interactive element, social media has been a perfect platform for the strategy to grow and thrive.
Social media giants have enabled their platforms to become something akin to digital shopping malls, enabling consumers to choose from a wide variety of products and services displayed to consumers based on their search history and content preferences.
"Social media platforms have ramped up their content commerce options," said Chris Carter, CEO at smp. "Instagram livestreams, which spiked in the first wave of the pandemic, offer brands the chance to tag products with a tap-and-buy option. Facebook stores take this a step further by integrating third-party e-commerce platforms. Emerging platforms like Twitch haven't integrated shopping in the way Facebook and Instagram have, but you can be sure that further integration with Amazon's commerce engine via Prime Gaming is in the cards."
How brands and publishers are launching live shopping in 2021 and beyond
To engage with audiences that want livestream shopping and social commerce as part of their consumer journey, brands are building out strategies and partnering with influencers that already have the audiences in order to widen their reach.
"Brands should consider either taking advantage of the social presence that they already have or linking with influencers, maybe ones they've already worked with," said Cooper. "I think that's probably the biggest challenge for brands and the biggest thing they need to start doing."
There are additional steps and questions marketing teams can consider when it comes to livestream shopping and social commerce approaches.
Brands can start by taking advance stock of their audience reach and engagement. Many brands have jumped onto the live shopping bandwagon, spending a lot of time, money and effort into building great experiences — via hosts, products, scripts, tech integrations with live video shopping services, etc. — only to realize that their organic reach to draw an audience is limited.
It is important for brands to avoid tiring out their audience with redundant content like unboxing. Any live event needs to have a specific driving force beyond the commercial drive to sell products.There is a natural cycle for presenting new drops (i.e., the seasons), but other types of experiences need focus and relevance to draw in the audience.
Livestream shopping is an opportunity to cross-promote products and services with other influencers, brands or creators. Brands can have a special guest host a live shopping event featuring a curated collection of their favorite products, or offer a special VIP rate to another brand's fans.
Brands seeking to jump on the e-commerce bandwagon are turning to human-centered approaches that create an experience not dissimilar to the original QVC experience in decades past — a person on a screen simultaneously interacting with a product and an audience. For those that are succeeding at social commerce strategies, engaged audiences immersed in increasingly frictionless purchasing experiences are meeting them in the livestream.