How the new digital customer is shaping the content commerce experience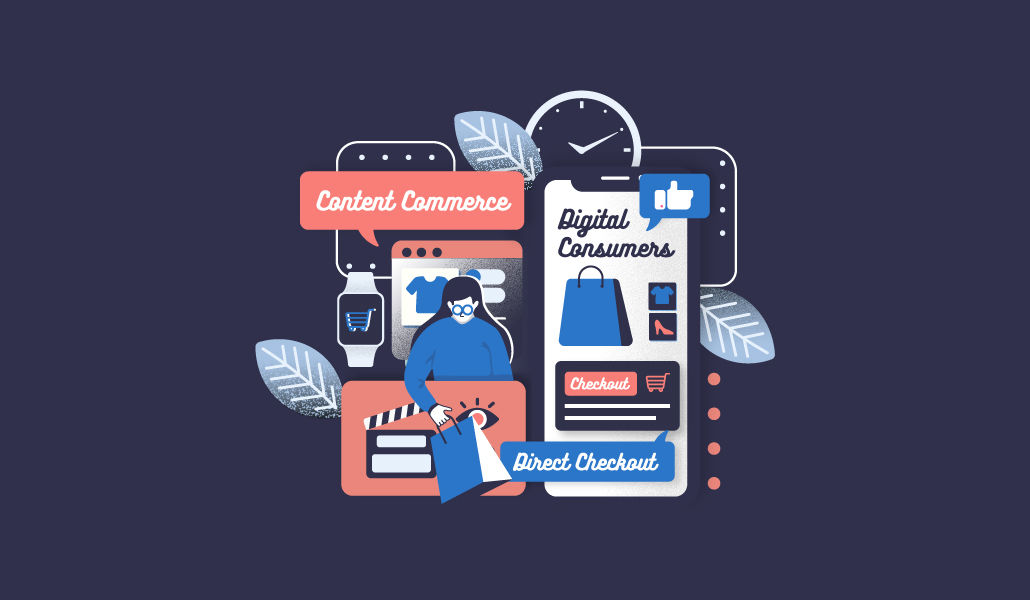 The digital customer, born on the internet and more recently shaped by the pandemic, is here to stay, and their numbers will only grow. There were 256 million digital buyers in the United States in 2020. It's predicted there will be nearly 280 million by 2024.
The digital customer, who cares less about where they shop — and more about the most convenient, safest and quickest ways to do so — spends when inspiration strikes, and they expect a seamless shopping journey. Consumers are also aspirational; with the rise of influencer marketing, consumers follow their favorite Instagram or TikTok personalities and align with the lifestyles those individuals project — and that they want to share. Particularly among younger buyers, consumers have also indicated that they want to be engaged across multiple channels, placing the onus on brands to provide a multichannel experience.
Rob Sellers, executive director of Growth Studio at Engine Creative, a UK-based marketing agency, said this about the modern online consumer: "On a macro level, they expect the very best in choice, price and convenience. In simple terms, they expect nothing less than exactly what they want very quickly at a competitive price. That means by any traditional sense of the customer, people who purchase products online are increasingly demanding."
For marketers, the digital customer has more shoppable online options than ever. To reach them amid all those choices, content commerce is delivering an increasingly seamless buyer journey with minimal friction. The rise of shoppable content is driving conversions. The approach provides shoppers with inspirational, actionable and quick opportunities to purchase at the speed of their multichannel journeys.
The modern digital consumer is shopping on social media
Social media is also a large part of what fuels consumers' desire to explore brands and other shopping opportunities. This is especially the case among millennials and Generation Z. According to online retail publication Chain Storage Age, 43% of consumers ages 18–24 — and 47% of consumers ages 25–34 — say that they look for new brands on social media platforms.
This willingness to explore shouldn't be confused with a willingness to tolerate a less than ideal experience. On-site, consumers often abandon their carts due to multi-step checkout experiences or when shipping is either not free or too expensive in relation to what they're buying. Similarly, shoppers aren't always willing to sign up for accounts on sites if they simply want to purchase an item. Social media's promise for content commerce has been in-feed decision-making without the need to leave the experience already underway.
Content commerce is a crucial way to reach these restless consumers looking to explore. New research from Tipser — surveying 332 consumers in the U.S., U.K. and Germany — shows that when asked if they would be open to purchasing products from Instagram if offered direct checkout, 58 percent said yes. And 35 percent said the idea of shopping via livestream is an appealing prospect. The livestream experience, it turns out, is the other developing front for the new digital consumer.
The content commerce race is accelerating in the livestream
To win the omnichannel attention game, especially on social media, brands are partnering with influencers and creating opportunities in the livestream space.
"One of the best ways to connect with this new digital customer is by partnering with influencers to create that omnichannel digital experience and more human connections," said Adam Whyte, CEO of Edge, a software company that specializes in digital influencer marketing. "Meet your customers where they live because increasingly they are expressing themselves and interacting with others on social media."
Livestream shopping is gaining important ground, too. Currently more popular in China, livestream experiences in which audiences can make a purchase are becoming more important to consumers who wish to see an influencer explore the product they are considering. Making that human connection, even if it is across a digital screen, is crucial in stimulating the consumer imagination as they consider how a particular product or service fits into their lifestyle and identity.
It is an increasingly competitive space, and marketers are taking an increasingly diversified approach.
"The way to win in 2021 is by partnering with micro- and nano-influencers," said Whyte. "These influencers often have less than 100,000 followers, but their engagement rates are much higher than their celebrity counterparts. Brands running effective influencer campaigns will partner with many micro- and nano-influencers across multiple channels, especially now that there are the tools to track an influencer's performance metrics and make optimizations in real-time."
From the fast-forward expectations of the new digital consumer has sprung the speed and convenience of the content commerce marketer. As more and more brands join the race, publishers are joining them, too (Bustle Digital Group recently threw its hat into the shoppable-content ring). On all sides, the demands of the marketplace are creating new conversations around what it means to checkout, and increasingly it means reimagining the point of sale as an anywhere-and-anytime moment in the multichannel flow.