Why Uncommon Goods is getting rid of its winter catalog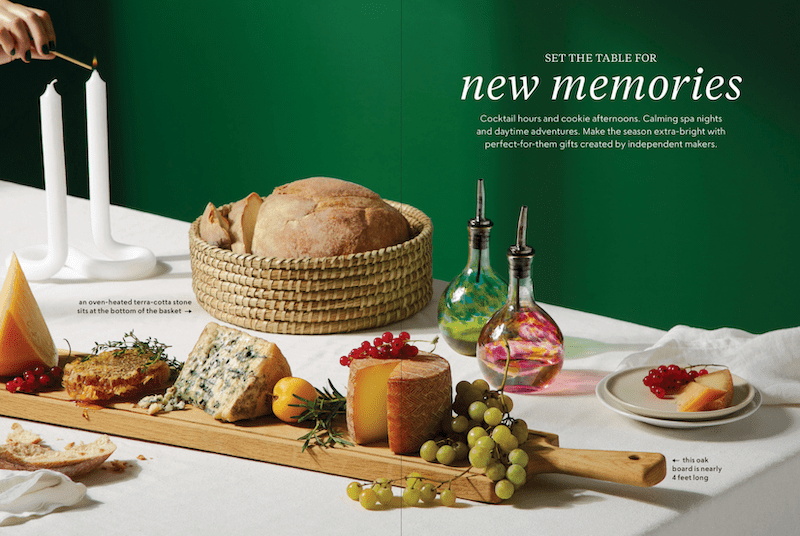 Given the explosion of e-commerce in the past few months, many brands are rethinking their channel mixes. Some that relied on niche channels, such as mail order catalogs, are finally going digital. 
Since Uncommon Goods launched in 1999, the online marketplace for crafters and makers relied heavily on its direct mail catalog orders for revenue. Due to logistical delays on print and delivery lead time, the company decided to scale back its monthly print catalog operation in the spring. Instead, it's adopting a bevy of digital strategies and completely rethinking the purpose of its home mailings. 
This winter, instead of using its print program as a way to keep core customers engaged, the company adopted a digital approach that's commonplace for most online brands. Uncommon Goods, which has seen an increase in new e-commerce customers and a huge influx of online traffic, is looking toward new digital tools to retain these new customers.
Uncommon Goods' old strategy was a bit of a relic, but the company said it worked. Given its launch over 20 years ago, Brian Hashemi, head of marketing & analytics at Uncommon Goods noted that the company was among the first wave of independent e-commerce marketplaces. While it was always an e-commerce marketplace, it heavily relied on print circulars to market its products, which worked with its core customer base. Naturally, there is an older demographic of customers shopping via catalog, said Hashemi. However, Over the past few years there has been an increase in overlap between the print and online shoppers. The decision to stick with the recurring mailing until this year also had to do with the loyalty of the recipients who opted into it, he explained.
The catalog, he said, was an important billboard for Uncommon Goods' core customers — and made up over half of the company's marketing budget in the fourth quarter of 2019. But in the midst of the pandemic, the retailer began to rethink the purpose of its mailing. This year, the catalog, which will also live on the company's website, is projected to be under 20% during the same period.  
The reallocated marketing budget is going toward emails focused on holiday shopping and retention. Fall and winter is Uncommon Goods' busiest time of year, with artisan-made items being in high demand during the holidays. The marketing team of seven isn't putting all its energy toward designing and mailing out the piece of print media. Instead, it's scaling it back and focusing on automated SMS and email reminders to get customers shopping for gifts early. 
The new digitally-focused strategy was based on early signals from the spring and summer. Hashemi cited email open rates growing 15% year-over-year before the pandemic. Since March, that's increased by 84% year-over-year rate. Coupled with the search for quarantine-friendly cooking and brewing tools, the company has been doubling down on Google search spend to capture that demand. Since last month's big holiday shopping kickoff, thanks to Prime Day, weekly search traffic has been on the rise. According to Hasemi, website visits peaked at a 940% rate year-over-year in the middle of October.
"Being forced to go all digital has been a valuable learning experience for future planning," Hashemi said. The plan for next year is to fold in the newly acquired customers into the circular's subscriber base, resulting in a bigger digital-print customer crossover. 
Which is to say, that the pandemic has made the company rethink the purpose of its marketing materials. When it comes to browsing and discovery, the purpose of a catalog is much more attuned to a magazine subscription than social scrolling, said Christian Selchau-Hansen, CEO of customer engagement firm Formation.ai. The print mailings are also a great way to showcase a brand's entire point of view through an editorial lens. This is especially true for brands that have a sticky subscriber base that skews older. "Print can be a great medium for keeping them engaged throughout the year," explained Selchau-Hansen. 
While Uncommon Goods goes all in on digital, other retailers have been doing the opposite. This year also saw several retailers bring back the holiday catalog, including Target's Toy Book, which hit mailboxes in October. The toy category's growth, courtesy of millions of kids being home during the pandemic, has also pushed Walmart to focus its holiday catalog on toys.
The strategy to adopt a wide suite of formats and channels has also been adopted by other retailers that began as mail order catalogs decades ago. One example is L.L. Bean, which has done a good job in remaining relevant among young consumers while also catering to their longtime customer base, Selchau-Hansen said. 
Of course, old habits die hard. With that, Uncommon Goods isn't abandoning print advertising altogether — but plans to re-strategize the program. "We've acquired new customers that we plan to re-engage via mail when we bring it back next year," Hashemi said.