Why retailers are trying to recruit on TikTok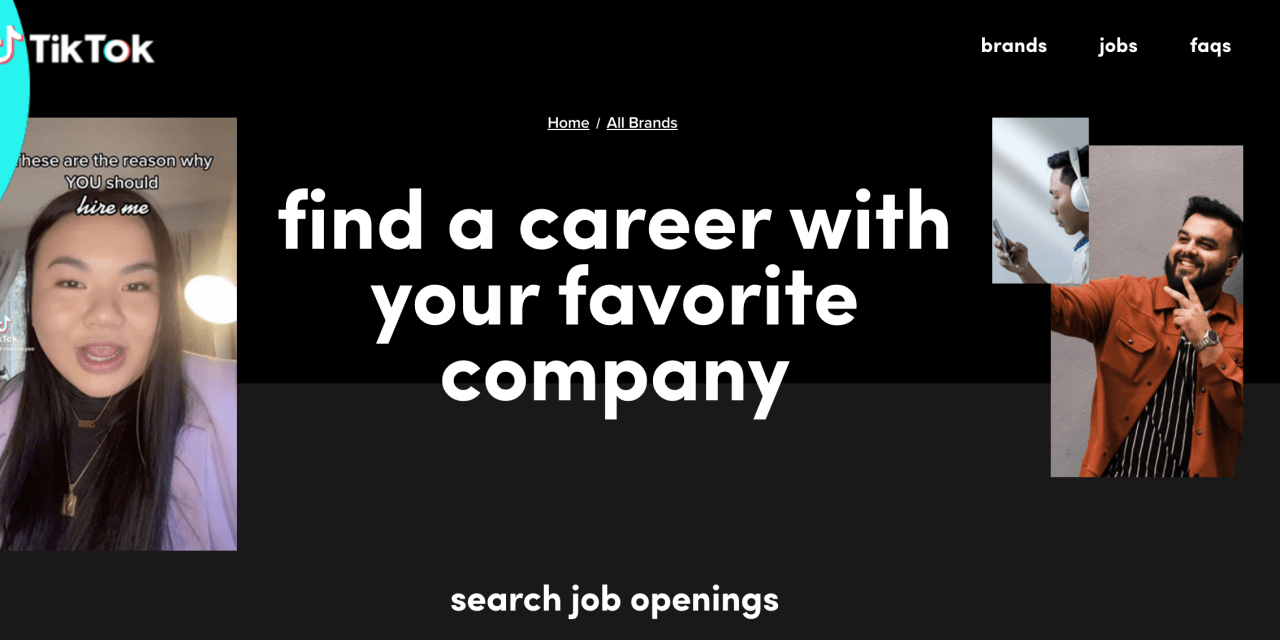 As retailers struggle to recruit workers, they are turning to platforms like TikTok to help.
Earlier this month, TikTok officially rolled out a test of TikTok Resumes, its new in-app job board. To apply for listed gigs, TikTok users only have to submit a "video resume," essentially a TikTok video in which they introduce themselves and talk through their work experience. Once uploaded through TikTok, those video resumes go directly to each employer, along the lines of LinkedIn's "Easy Apply" button.
Among the retailers and retail brands that are hiring directly from TikTok's jobs page are Target, Sweetgreen, Chipotle, Forever 21, Abercrombie & Fitch and Shopify. Some of these companies are hiring for jobs with a clear TikTok tie-in — U Beauty's lone job listing, for instance, is for a social video editor — but others are hoping to use TikTok, and its legion of younger people, to source entry-level talent for their warehouses or their floor staff. The salon Great Clips is hiring hair stylists across the country. And all of Target's five job postings are for entry-level jobs at Target warehouse workers.
The rise of TikTok as a recruitment medium is important given that the retail industry is currently battling a hiring problem. In early July, the federal government estimated that the retail industry had a whopping 965,000 open jobs. As consumer spending surges in the wake of the pandemic, retailers — whose entry-level jobs are generally low-wage and only sometimes offer full-time hours — are having trouble convincing workers to take jobs with them as fast as consumer demand necessitates. Across the sector, hiring is reaching an inflection point: many companies, like Chipotle, are increasing wages and mental health benefits for their workers in order to attract applicants, yet the crunch to hire is also pushing some retailers to look to new platforms like TikTok. For companies hoping to recruit employees quickly, the promise of TikTok is not just that it is home to a stable of younger workers, but also that it might lower the barrier to entry for applying.
"Coming out of the pandemic, a lot of companies both in retail and outside retail have more job openings than they have people to fill them," said Scott Benedict, the director of the Center for Retailing Studies at Texas A&M. "I think it creates a willingness to try new and different things," like TikTok for hiring. But he said that, from his vantage point, TikTok Resumes "probably falls under the heading of test and learn, let's try it, let's experiment on it" and see if it actually brings in new, quality applicants. At this point, he said, it isn't necessarily guaranteed to stick around.
Even before TikTok formally launched its TikTok Resumes program, the app had become a go-to place for young job-seekers looking to learn more about the application process. The New York Times reported in November 2020, for instance, that TikTok had become a hub of recruitment advice. And TikTok itself has hired users based on viral videos, offering a proof of concept for TikTok Resumes before the company had launched the program.
Retailers aren't the only companies testing out hiring on TikTok. The media company Popsugar, for example, is using TikTok to hire for a social media producer. But TikTok's in-app jobs board, if it catches on, seems especially relevant to the retail sector, especially given the fact that TikTok is home to a disproportionate number of younger people — who also make a sizable share of retail workers.
New ways of sourcing talent
Kyra Leigh Sutton, a faculty member at Rutgers who studies HR, said that recruiting jobs through social media makes a lot of sense for companies that are doing high-volume hires. On social platforms, she said, "you can target a bunch of candidates at the same time." Big companies can also quickly calculate whether those platforms are worth it — as hiring becomes more data-driven, "with high-volume strategies, they look at the cost of hiring," she said. "They look at the source of applicant and the source of hire, and they're going to pour more money and time and focus into those sources."
Benedict pointed out that TikTok might offer promise to companies looking to hire a bunch of workers quickly because video resumes are a relatively low-lift way to apply for a job in the first place. "Here you want to reduce the friction of applying for a job. How do you make it easy and put less steps in the process to be a candidate?" said Benedict. That is in contrast to application portals that many major companies use, in which people have to fill out their job experience line by line even after submitting their resume.
Still, it isn't clear that just reducing the friction of applying — even if TikTok proves it can do that much — will eliminate the hiring problems facing many retailers today. While there may well be a segment of people who would be more likely to apply for a job should the application process be smoother, the reason many workers aren't applying to work in retail at the moment has much less to do with the application and much more to do with the job itself. In a hot job market, anecdotal evidence suggests that workers are looking for jobs with better wages and benefits, which is often taking them outside of the retail sector.
To assess whether TikTok will have traction, "I think it depends on how much information is the company giving to incentivize them to submit the video resume," said Sutton. "If they perceive the pay is too low or they're not a good fit for the culture, I don't think that changing the way candidate information is collected is going to result in more candidates," she said. "The company really has to think about it in terms of, what's in it for the candidates?"