Why Dollar General is bringing more logistics capabilities in-house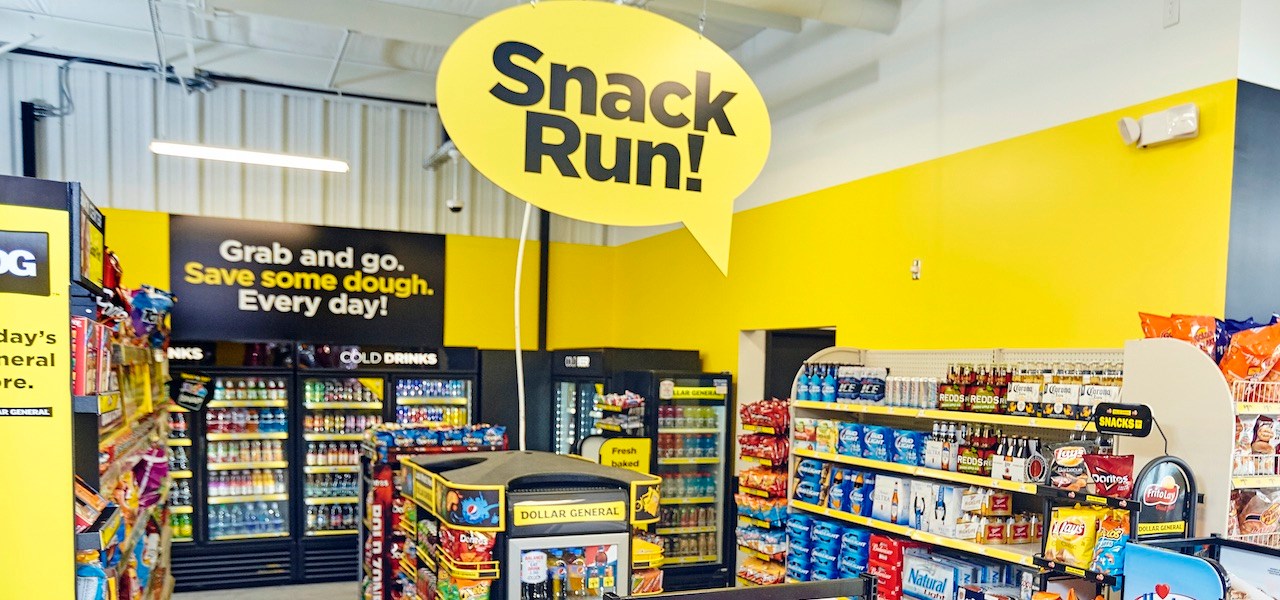 Dollar General
Dollar General is bringing more of its logistics capabilities in-house, seeking more control over its operations as it expands to the fresh and frozen food categories.
In March, the company unveiled two new strategic initiatives that center around logistics: one called DG Fresh, the other called Fast Track. DG Fresh calls for the company to build out is own distribution centers that the company can use to ship and store fresh and frozen food. The company believes that using its own distribute centers to deliver fresh and frozen food to its stores will be more cost-effective in the long-run than doing so through a third-party provider.
Fast Track, meanwhile, was developed to add self-checkout options to more stores, as well as to speed up its stocking process both in stores and at its distribution centers, in an effort to streamline its buy online, pickup in store efforts. The company is also adding 75 vehicles to its fleet of semi-trailer trucks over the next year, up from 200 at the end of 2018, mostly to assist with DG Fresh.
"In addition to the gross margin and in-stock benefits, DG Fresh will eventually allow us to control our own destiny in [fresh and frozen food]," CEO Todd Vasos said during the company's first-quarter earnings call yesterday, citing the ability for Dollar General's own distribution centers to carry a wider variety of national and private brands than other third-party centers.
With its 15,597 stores, Dollar General has one of the largest store footprints in the U.S. According to GlobalData Retail, at the end of last year 75% of the U.S. population was within a five-minute drive of a Dollar General. Neil Saunders, managing director of GlobalData Retail, said that it's even more important for Dollar General to develop a cost-effective in-house logistics network, as it's expanding to new product categories that are logistically intensive. Other retailers, including Walmart, have made similar logistical investments as they add grocery pickup and delivery options to more stores.
"Because Dollar General has so many stores, even small time savings here add up to very big efficiency gains," Saunders said.
Vasos said during Dollar General's earnings call yesterday that the company had opened its first such distribution center, designed to carry fresh and frozen food, in Pottsville, Pennsylvania, and plans to open three more by the end of the year. By the end of 2019, Dollar General said that these distribution centers will be able to serve as many as 5,000 stores. The company is also updating its stores to carry more fresh and frozen food, adding 12,000 coolers to stores in the past quarter.
Seventy-five percent of Dollar General's stores are in towns with 20,000 or fewer people. Its rural tilt helps explains Dollar General's push into serving more fresh and frozen food. It gives Dollar General a unique opportunity to become the only perishable grocer in parts of the country that don't have the option to choose between a Walmart, a Target and a Kroger, meaning the investments in the operations of a fresh-food business should pay off in foot traffic and sales. And, given that Dollar General has one of the most rural-heavy store footprints of any retailer in the U.S, building its own distribution centers will allow it to create a distribution center network that's better suited for its store footprint than any other third-party provider.
While Dollar General's food-focused distribution centers currently only carry frozen food and refrigerated meat and dairy products, Vasos said during today's call that Dollar General's ultimate goal is to carry produce.
Catherine Lang, an analyst with Kanatar Consulting, said that "it takes more money and more man hours and more effort to stock perishable food on the shelf, because there's obviously more turnover and the threat of spoiled food," so it's critical that Dollar General builds as cost-effective of a fresh-food distribution center network as possible before carrying produce.
As part of the Fast Track initiative, Dollar General is developing more of what it calls "shelf-ready packaging," for its products — packaging that will cut down on the time it takes store associates to pack products. At its distribution centers, it's also starting to sort products by locations within the store, so that employees can more easily take products off the trucks and know where it needs to unload them in store.
"Ultimately, Fast Track should help boost on-shelf availability and free up labor hours that we can dedicate to other in-store priorities such as customer experience," Vasos said during the company's Q4 earnings call.