Why Blue Apron's profitability likely won't last beyond the pandemic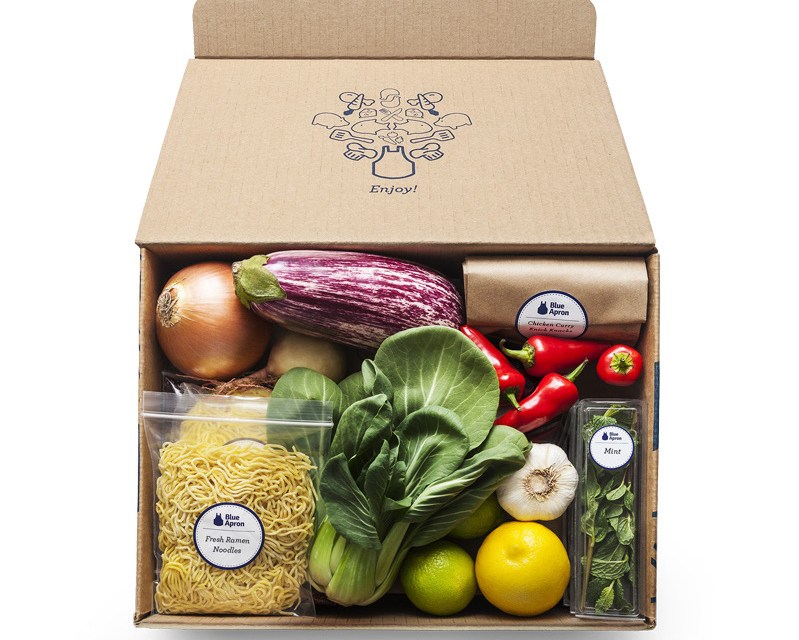 This week, Blue Apron recorded its first-ever profitable quarter since going public in 2017. The meal kit delivery service was one of the benefactors due to the coronavirus-related food stocking in its early days. 
The company recorded $1.1 million in revenue in the past three months, or 8 cents per share, a 10% year over year increase. During the second quarter, Blue Apron said it added 20,000 customers, with the average revenue per customer increasing by 25% year-over-year, to $331 and the per-customer order increasing by 17%. Notably, the average order value hit $61 this quarter, which the company said is the highest it's been since its peak in 2015. The figures reflect the early emergency food purchases during April, when Americans rushed to obtain groceries safely.
"We generated strong adjusted [earnings before interest, taxes, depreciation and amortization] and free cash flow in the second quarter," CEO Linda Findley Kozlowski said, which "adds financial flexibility for Blue Apron to continue executing our strategic growth plan."
Blue Apron warned that its arrival at the long-winding road to profitability will likely be short-lived. For its third quarter outlook, the company plans to ramp up marketing dollars again, in hopes of attracting new customers, after it scaled back ad spending in 2019. This cautious outlook is in contrast with the lofty expectations Blue Apron had during its last earnings in April, when it predicted a quarantine-related bump. That was at the start of the pandemic, when Kozlowskie said that at-home cooking was still strong in countries "ahead of" the U.S. in flattening the curve and have started to reopen.
Like Casper and other money-losing DTC brands that relied on cheap digital ads to grow, Blue Apron can't outpace the high customer acquisition costs — reported to be around $94 per customer as of 2016, when it was still private. Analysts estimated cost-per-customer to be closer to $400 in 2019, based on rising costs of TV and social media ads. And while Covid-19 helped its average order value and conversion rate increase in the past four months, the momentum is not enough to ride out even into the next quarter.
Similar to other booming services, like Instacart and Grubhub, Blue Apron's economics of delivering perishables don't add up. "I don't see them returning into a growth mode, unless they can suddenly figure out how to appeal to new customers," Reid Greenberg, executive VP of digital retail and e-commerce insights at Kantar, told Modern Retail. While meal kits don't use on-demand messengers, shipping fresh ingredients across the country have been known as yet another cost impacting Blue Apron's expensive fulfillment.
The company has been trying to offset this in various ways. Most recently, Blue Apron tried more niche collaborations via exclusive partnerships with Beyond Meat and Weight Watchers, but those haven't proven hugely successful in bringing in new customers. "It's hard to get consumers to stick around," said Greenberg, especially now that they have the option to go back out to restaurants after months of home cooking. The value proposition and convenience drops even further, Greenberg explained, as it's a fairly pricey service for a meal that still needs to be prepared. Blue Apron's boxes start at $60 per week for a six-portion kit, which can be a steep price for many consumers.
Even prior to the pandemic, nothing seemed to get customers to subscribe longer than a few months beyond the free trial, according to Blue Apron's own 2019 full year financial results. The report showed that its overall customer base was already shrinking, despite an increase in its core base's loyalty. 
It may have to do with the volatility of the meal delivery industry. Indeed, consumers have mixed feelings about food delivery, according to the latest Bankrate survey. Nearly half, or 49% of U.S. adults surveyed agreed that having food delivered, including meal kits, stimulates the economy and keeps people employed. However, 26% said they "feel bad" asking frontline workers to put their health at risk for their convenience, and thus felt pressure to over-tip.
It's not all doom and gloom for meal delivery kits. Another competitor, Gobble, has been a pandemic era profitability winner. The company went from spending $1 million a month in digital marketing on customer acquisition to turning around the same sum in profit. But unlike Blue Apron, Gobble found a way to focus on its existing customers by offering exclusive flavor profiles they can't replicate or find anywhere else.
One route for Blue Apron and its competitors would be the sought-after merger and acquisition exit, said Greenberg, which it was considering as recently as February. "I can see a big retailer like Walmart acquiring one of these kits," to fold into their existing grocery service. But even then, unless Blue Apron figures out a new path to sustainability, the impact would likely be short term. Any such move, he said, "won't be enough to generate the necessary EBITDA beyond this initial boom."