Why apparel brand Rails is focusing on international expansion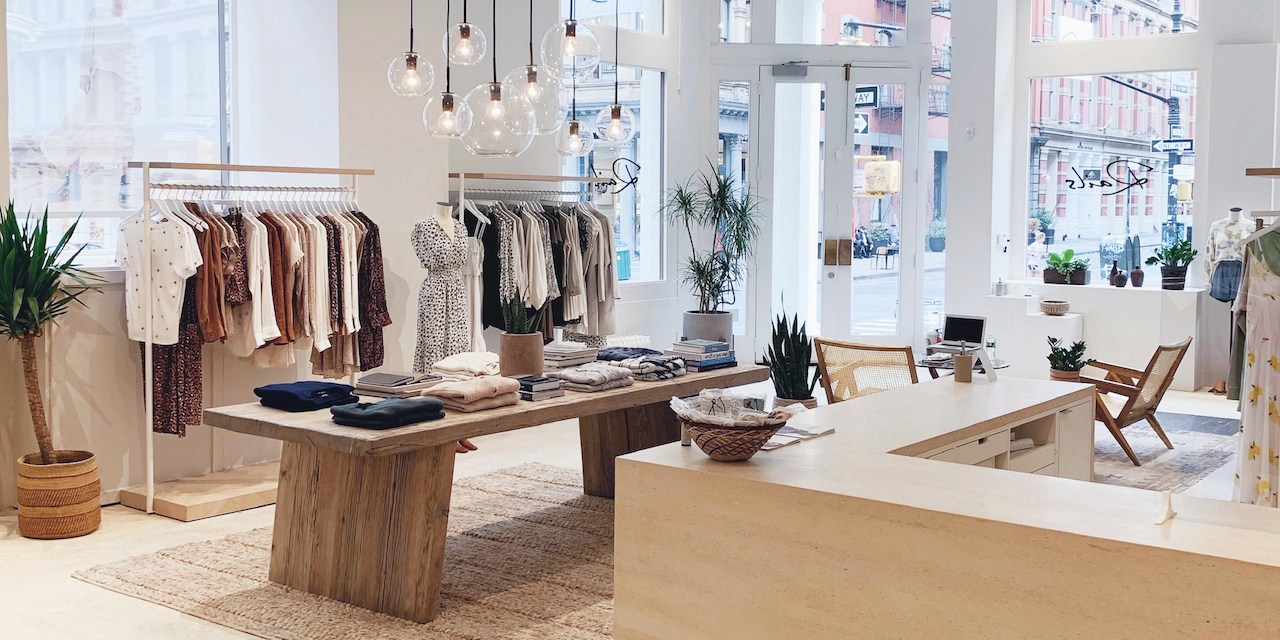 Image via Rails
After relying on wholesale for years, apparel brand Rails is starting to grow globally by opening its own stores abroad.
Rails, which was founded in 2008, opened its first international store in Paris in July. Next, the company is preparing to open two Rails stores in London, with the first location opening this coming winter.
Over the past 10 years, Rails has been testing the international waters via wholesale, including department stores and selling on international e-commerce shops. This taught the brand about where its most loyal international customers lived. Now, it's looking to open more international stores to bring those customers to its direct-to-consumer business.
Catering to a global consumer
The Los Angeles-based clothing company specializes in casual everyday pieces for women and men. Its lines feature tops, denim and outerwear. Rails' mid-market price points place it above fast fashion, but make it more affordable than luxury fashion brands. Women's denim skirts, for example, start at $138 on Rail's website. Founder Jeff Abrams said this position helped it get into high-end department stores and fashion boutiques during the first few years.
Over the last decade, Abrams said the business grew by selling its clothing lines at nearly 1,200 shops and marketplaces across 40 countries. Some of the large retailers include department stores like the U.K.'s Selfridges, South Korea's Shinsegae and Turkey-based Vakko. "This helped establish our California-meets-European styles among global consumers," he said.
More recently, Rails has taken on what Abrams calls a "reverse DTC" strategy to scale internationally. In the past two years, the brand has been investing in its own website, customer order fulfillment and marketing spend, and relying less on its foreign retail store-based sales. 
Now, nearly 40% of Rails' website traffic comes from international visitors. "All of the foundational groundwork was there, and so we wanted to double down on it through a DTC approach," said Abrams. 
For example, Rails decided to open two stores in London after hosting two successful pop-ups at local department stores Harvey Nichols and Harrods over the past couple of years. In the past year, the company also began to open its own stores in major American cities, including a flagship in New York's Soho neighborhood and another in San Francisco. 
Establishing an international retail operation
Abrams said that from early on in its foreign expansion, the company decided to invest in local operations in its international markets. That included setting up a network of sales partners, as well as hiring local marketing and PR agencies to run campaigns and events. "This has helped us more quickly understand market preferences and implement brand-building strategies there," Abrams said.
During the pandemic, the company began improving its website's UX "to make the process more seamless for international shoppers," said Abrams. Some of the updates include foreign currency checkout and free global shipping. This year, Rails also opened a warehouse in the Netherlands to ship out European orders quicker.
These investments helped Rails grow its year-over-year online DTC sales, Abrams explained, with 2021's year-to-date revenue currently growing 200% compared to the year before. In 2020, the company recorded a 123% spike in year-over-year sales. 
"A multi-year investment"
Heading abroad is a costly but effective way to grow a customer base, said Gabriella Santaniello, founder of consulting firm A Line Partners. "As a small brand, you reach a point within the U.S. wholesale scene where there is only so much you can grow via wholesale," Santaniello explained.
At the same time, establishing a global brand is a lengthy process — and entails providing localized trends, relevant cultural marketing and product, said Santaniello. For example, fulfilling orders for Australian and South American retailers requires planning for alternate seasons. "But overseas business also protects them [brands] from relying on the U.S.'s wholesale cycle," Santaniello said. She noted that selling directly to international customers is better for margins than taking hits on department stores' constant markdowns. 
Darren C. Hill, investor and advisor to e-commerce tech startups like StrategyBox and Preflect, said there are also cross-border retailing challenges. To effectively grow a global consumer brand, U.S. companies have to provide "24/7 multi-lingual customer service" as they expand across the world, said Hill. "The hardest parts are shipping, taxes, payments and promotions tied to the U.S.-based holidays and customer service," he said.
For Rails, Abrams said the goal is to grow in international markets "as if they are in our backyard, as opposed to handling remotely from the U.S."