What to know about Deliveroo, the Amazon-backed food delivery company about to go public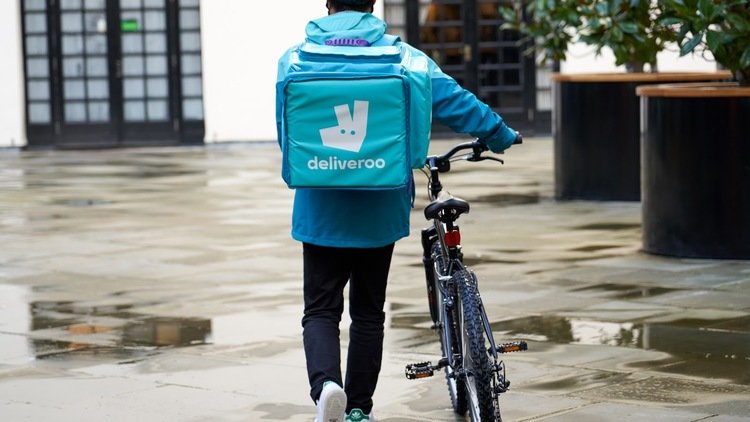 Deliveroo PR
After a rocky year, an Amazon-backed food delivery company is planning to go public.
Early this week, the British startup Deliveroo filed an "Expected Intention To Float" in London, a document that disclosed financial information — including the company's $309 million loss in 2020 — and kickstarted its IPO process.
Though Deliveroo has yet to set a formal date for its debut on the public markets, its IPO is expected to be one of the biggest of the year in London, with a possible valuation as high as $10 billion. And the delivery service's biggest backer — with a seat on the Deliveroo board — is Amazon. In May 2019, Amazon took a 16% stake in Deliveroo, an investment that wasn't cleared by regulators due to competition concerns until this past summer.
Amazon's attachment to Deliveroo remains an intriguing footnote for both companies. While Amazon has done little to tie itself or its services to Deliveroo beyond its initial investment, Amazon's backing suggests that the food delivery market — a sector that Amazon has dabbled in previously, through a series of failed programs like Amazon Restaurants — remains a strong interest for the company.
Why is Deliveroo important?
Deliveroo's claim to fame is that it says it created the concept behind modern ghost kitchens. In 2017, it launched Deliveroo Editions — dark kitchens that were designed around cooking meals exclusively for delivery. The company is planning to double its number of ghost kitchens in 2021, from 32 to 64.
Although Deliveroo operates throughout Europe, plus select other localities like Hong Kong and Australia, its most significant presence remains in Britain. Within the UK food delivery race, Deliveroo is virtually tied with Uber Eats for market share, but both are far below Just Eat, the category leader.
Deliveroo's market share in the UK has steadily climbed over the past year, according to statistics compiled by Edison Trends that were shared with Modern Retail. In March 2020, Deliveroo had 22% of the British market, compared with 25% for Uber Eats and 52% for Just Eat. As of February 2021, Deliveroo's share had jumped to 26%, Uber Eats to 27%, while Just Eat had fallen to 45%, according to Edison Trends. "Deliveroo showed the greatest increase in market share in that period compared to its two competitors," said Hetal Pandya, co-founder of Edison Trends, in an email to Modern Retail.
The top player, Just Eat, has managed to grow so large in part because of acquisitions: it acquired the UK's outpost of Grubhub for $7.3 billion last June, shortly after merging with another major delivery player, Takeaway.com, that spring.
Yet while the pandemic has accelerated Deliveroo's growth, it also revealed longstanding weaknesses in the company. Deliveroo, like many in the food delivery business, has struggled to attain profitability — and when some of its biggest clients, like KFC, shut down during the first lockdown, Deliveroo found itself on the brink of collapse. Deliveroo's savings grace was the infusion of £575m from Amazon in the summer — a sum that Deliveroo said it needed to stay in business. Deliveroo admitted in its filing this week that it lost $309 million in 2020.
Still, that was well below its 2019 losses, which totaled to $440.6 million. The company also pointed out in its filing that the gross value of transactions through its platform was up 64.3% in 2020, and that its subscription-based services — including Deliveroo Plus, which allows customers to get free delivery on orders above a certain value in exchange for monthly payments — are among its "growth businesses." It also highlighted its Deliveroo Editions kitchens as a way to ensure more efficient customer orders, which help fulfill its mission of being "customer obsessed" and outperforming rivals.
Why is Amazon interested?
Amazon has never spelled out why it took a minority stake in Deliveroo, but it isn't the strangest fit for the company. While Amazon currently doesn't facilitate restaurant deliveries in the U.S., it has expressed an interest in the industry in the past. Starting in 2015, it launched Amazon Restaurants, a service available to Prime members in more than 20 U.S. cities that delivered meals from restaurants, before scrapping it in June 2019. In the same period, Amazon also created — then shuttered — a workplace-lunch-delivery offering it called Daily Dish.
In May 2019, right as it was sunsetting both services, Amazon invested in Deliveroo — signaling that while it was exiting the food delivery race for the time being, it had its eye on the market. As Modern Retail previously reported, large tech companies companies tend to invest in startups as a way to sleuth out new markets; often, when a large company like Amazon makes an investment, it hints that it is eager to see under the hood.
Even now, Amazon is not fully out of the delivery game. Last year, in India, Amazon created a restaurant delivery service called Amazon Food. The service was meant to be part of a bigger push by Amazon into the Indian market — and although it has started small, launching only in certain parts of Bangalore, its rollout could potentially balloon in the coming years.
Amazon is also increasingly looking to expand its presence in the U.K., especially in the food sector. It opened its first physical Amazon Fresh store in the U.K. last week, which was also the first such store to open outside of the U.S.
Meanwhile, Edison Trends' Pandya said that the U.K. makes sense as a kind of proving ground for food delivery, especially because there are fewer players there. "The food delivery service competition in the USA is fierce, so starting in a less developed market offers companies like Deliveroo more opportunity to grow," she wrote.
Where Amazon's interest will go is uncertain. Some experts have speculated that Amazon might one day try to build out its own "superapp," a bundle of different services all in a single app, on the model of WeChat. If Amazon were ever to tighten its grip on Deliveroo — and if regulators were to allow it — customers might be able to place restaurant delivery orders, along with other services, within the Amazon app.
"Having a superapp, or an app that has existing eyeballs, and subsuming another service is much easier than trying to build a customer base organically. Could Amazon include Deliveroo in its app?" analyst James Lockyer told CNBC last month. "It would seem a very positive thing to do."