'We're not trying to be the everything store': Why Verizon is launching its Yahoo Shops marketplace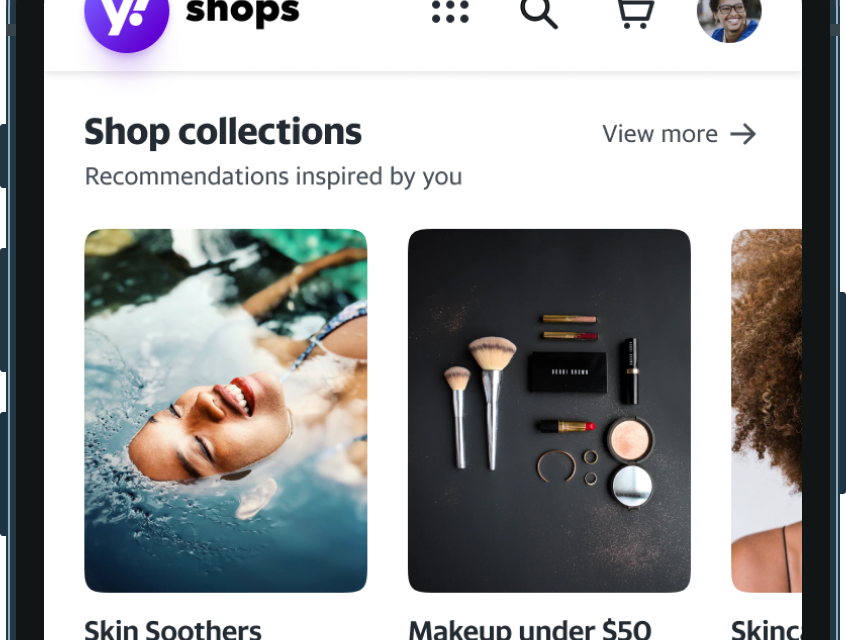 via Verizon Media Group
Yahoo is entering the marketplace wars.
Last week, Verizon Media Group — the Verizon subsidiary that owns Yahoo — announced that it is building out a third-party marketplace called Yahoo Shops, which will launch with roughly 50 sellers later this year and will integrate with Verizon Media brands like Engadget.
This is Verizon Media's biggest, but not its first, step into the e-commerce landscape. Right now, its main property, Yahoo, has a shopping hub similar to Google Shopping, a tab in which thousands of brands can display products, but all of the products it features link off to external brand websites. Verizon also has an integration with Walmart where Yahoo Mail users can order groceries, and see a tailored list of grocery recommendations, within their email accounts. Yet while Yahoo might be helping customers discover products, the company isn't capturing the actual purchases on its own platform. By building a marketplace that funnels those purchases in-house, Verizon can both keep a cut of the commission and refine its own ad targeting.
The race to become an e-commerce hub on the scale of Amazon and Walmart is crowded. Players like Google, TikTok as well as Facebook's family of apps are all building out marketplaces of their own — in part to strengthen their core ad businesses. Brands are increasingly moving their ad dollars to marketplaces like Amazon, given that Amazon's data on what people are actually buying is more attractive than ever — and Yahoo is the latest company trying to catch up to that trend.
"We're not trying to be the everything store," said Andrea Wasserman, head of global commerce at Verizon Media Group, who is overseeing Yahoo Shops. Instead, she said, Yahoo Shops is launching with just around 50 sellers. Although Wasserman said she is recruiting brands of all sizes, most are relatively small, like skincare company Projectwoo.
Wasserman said that by the end of the year, she hopes to expand the total number of sellers on Yahoo Shops to somewhere "in the hundreds," but for now the marketplace will remain small and invite-only. Wasserman said that Yahoo Shops will try to mimic the feeling of a boutique, where "everything is really handpicked" and customers know that "all of these brands really meant something and were there for a reason."
But what sets Yahoo Shops apart is the role that Verizon Media Group's media properties will play. To facilitate commerce, Verizon is utilizing its network of media outlets — which includes pages like Yahoo Finance, as well as publications like Engadget and the site In The Know. Verizon is rolling out a "universal shopping cart" across all sites — meaning that if Engadget features a product that's available on Yahoo Shops, for instance, viewers can add it to their cart on the Engadget site, and still checkout on Yahoo Shops. (Wasserman said that its media properties will still continue to add affiliate links to non-Yahoo shopping sites, as Yahoo Shops will not try to sell every category of product.)
"We're able to offer these brands scale immediately, based on the size and the amount of traffic that our ecosystem gets every single month," Wasserman said. Verizon will also guide sellers in building out their infrastructure on the marketplace, including by helping them develop shoppable videos that can be added to their product details pages. Yahoo Shops sellers may also collaborate with Verizon media brands to get their products featured.
Still, while Verizon's media brands will drive traffic to Yahoo Shops by mentioning certain products in articles or shoppable videos, Wasserman said she wants Yahoo Shops to become a destination unto itself. For now, the company is focusing on building out a mobile web and desktop interface — Yahoo Shops does not have a standalone app planned — and Wasserman said that the company has a marketing campaign to drive traffic to it.
A push to refine the ads business
Yahoo's entrance into the space follows a years-long effort by Google, another search and advertising giant, to become a shopping hub — in part because boosting its commerce offerings also makes its ad business more attractive.
For both companies, "it's a no brainer to look at your web properties and say wow, we have millions of users, they already start shopping here, we should bring the transactions closer to them," said Juozas Kaziukėnas, CEO of the e-commerce marketplace tracker Marketplace Pulse. While Google remains orders of magnitude larger than Yahoo — Google represents 87.6% of the search market, compared to Yahoo's 3.38%, though that doesn't factor in the many other properties both companies own — both represent big chunks of the web. While Verizon, through a company like Yahoo, might be facilitating purchases offsite, "ultimately you're generating a lot of shopping transactions but you're not capturing any of the revenue from that," he said.
Adding a marketplace — and native checkout options — can boost one of Verizon Media's core businesses: advertising. Last quarter, Verizon Media reported its first year-over-year growth since 2017, when the company bought Yahoo. The company noted that "strong advertising trends" fueled that growth. Verizon Media's DSP, for instance, jumped 41% year over year. The company said its ad growth mostly came in both the politics and retail/CPG spaces.
"The more transactional ads can become, I think the better," said Wasserman, who noted that the addition of a marketplace and checkout options within the Verizon ecosystem "will increase the value that VMG [Verizon Media Group] brings to its customers on the business side."
But in practice, building a marketplace that customers want to visit is difficult. While Google, for instance, has added checkout infrastructure in the form of Buy On Google, few sellers have signed up for it. Those that have told Modern Retail that their sales remain low compared to other channels.
Kaziukėnas said that many of the major companies launching marketplaces are actually hurt by their size. Most marketplaces are slow to grow — he said it usually takes "close to a decade" for any successful marketplace to reach meaningful sales volume. That may be a hard reality for some executives to swallow. "Yahoo is a multi-billion-dollar company and it wants whatever it launches to become major players," said Kaziukėnas.
He said that these marketplaces backed by big companies "never reach big enough size to be meaningful to the company." In addition to Google, the grocery chain Albertsons, for instance, recently paused its marketplace after first launching it in 2018. Meanwhile, other retailers that have created marketplaces — like Kroger, Loblaw and others — have yet to achieve real scale. 
Eventually, Kaziukėnas said, Yahoo's corporate parents may lose interest. "I think in a lot of cases, these larger companies don't have enough willpower or enough buy-in to get these [marketplaces] to grow," he said.