'We don't believe so strongly in paid media:' How DTC period brand August is growing a Gen Z audience on TikTok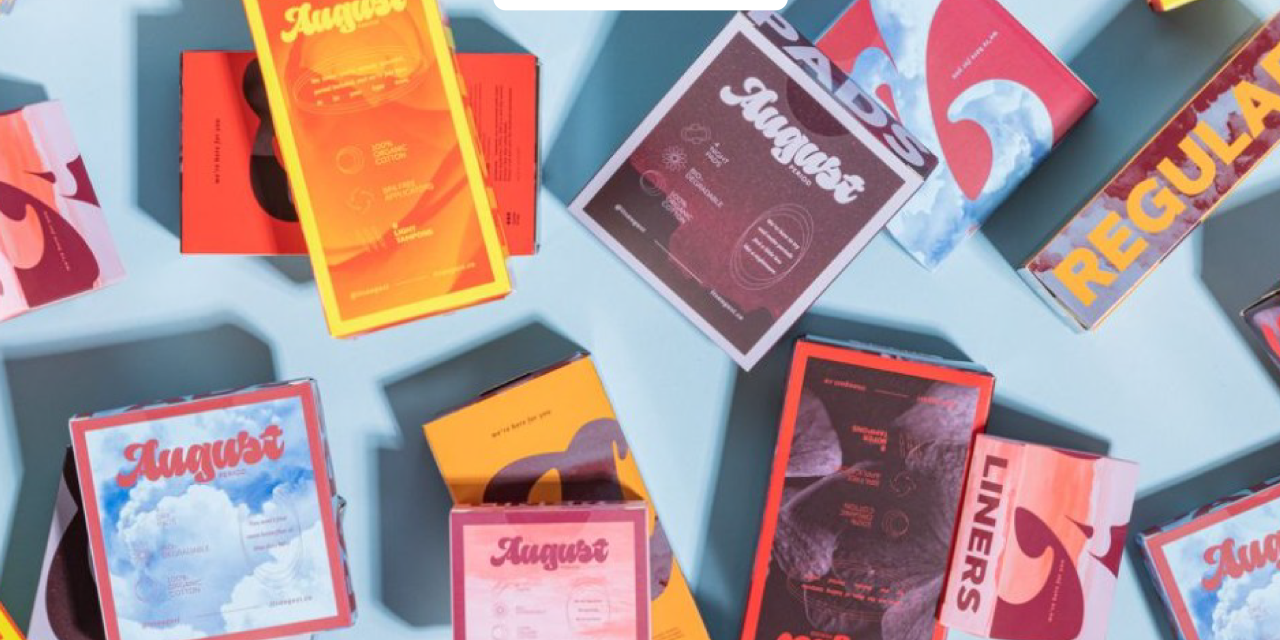 In July, about a month after direct-to-consumer period care brand August launched last year, CEO and co-founder Nadya Okamoto posted a video on TikTok explaining how most pads could take up to 800 years to decompose while August's take only 6-12 months.
The video went "semi-viral," garnering 4.4 million views on the short-form video-sharing app. Since then, Okamoto's followers on her personal account went from a couple of hundred to 2.4 million in just 6 months, with other videos gaining up to 35 million views. The August channel, on the other hand, now has over 143,200 followers. And the company is harnessing both accounts to grow its brand recognition, as well as sales. 
"What we really understood from TikTok is that the algorithm and the way the platform works is completely different from Instagram where you have to be super mindful of how many times a day you're posting," Okamoto said. "On TikTok, we just kind of threw away those rules."
August sells pads, tampons, liners and customizable subscription boxes. So far, August has over 6,500 subscribers and an email list of over 100,000 people. The brand has raised nearly $2 million in seed funding last year from investors like Refinery29 president Amy Emmerich, and former Glossier executives among others.     
TikTok has become an indispensable tool for product discovery, especially for brands like August that target Gen Z consumers. Viral products on the app have famously boosted brands' sales in recent years such as the heart-shaped bag from Kate Spade and Ocean Spray's Cran-Raspberry.
The TikTok brand playbook has mostly relied on tapping zeitgeist-y talent that promotes products. Okamoto, however, said growing her personal account — essentially, making herself the influencer — has proven to be a better strategy for August. On her TikTok, she frequently answers questions from consumers directly and shows samples of her products without the limitations of a business account.
The separation between Okamoto and August is an important facet for growing awareness. According to Okamoto, business accounts on TikTok don't always get to use many trending audios as personal accounts due to commercial licensing, which is a common method used to make videos go viral. And by posting up to 50 videos a day, she can answer frequently asked questions about her products and test out different content. 
"I think the beauty of TikTok is that it cross-pollinates to Instagram and YouTube. So as we've grown on TikTok from August, we've also grown to 175,000 followers on Instagram," she said. "It has really affected our overall cost of acquisitions to be super effective, which is great because… we don't believe so strongly in paid media being the answer to everything."
For consumers, influencers often play the role of an expert in a particular space, said Brad Copeland, vice president of sales for North America at Productsup. "If you think about a direct-to-consumer brand that can catch a wave, it can literally be hyper transformative for that brand."
Already, the global influencer marketing space has more than doubled since 2019 to $13.8 billion in 2021, according to Statista. Retailers have seen value in partnering with these influencers. Hollister, for instance, partnered with Dixie and Charli D'Amelio to launch a new brand called Social Tourist last May. "It's through influencers, oftentimes, that [consumers are] introduced to the latest trends," Copeland said.
For Okamoto, a platform like TikTok is also a great place to show how August products work compared to competitors — and it's often more engaging than other platforms. "If we were to be on Instagram and we post like a 500-word caption," nobody will read the whole post, she said. "Versus if we do 50 videos, each of them a different topic, and we put them all out the same day, it's not really going to be spamming because of the way that the platform is designed."
When it comes to growing her own audience on TikTok, Okamoto said she plans on maintaining authenticity, which for her meant de-stigmatizing having periods. She said her team stays on top of trends and is continually running trial and errors to see what resonates with their audience. 
"We just really commit ourselves to pivoting. If something's not working, we don't do it anymore. If something's more engaging, we'll do more of that," she said. "For us, being really ready to listen and pivot is really important. I also think it's something that differentiates us from other brands."