Warby Parker turns to suburban brick-and-mortar expansion for sales growth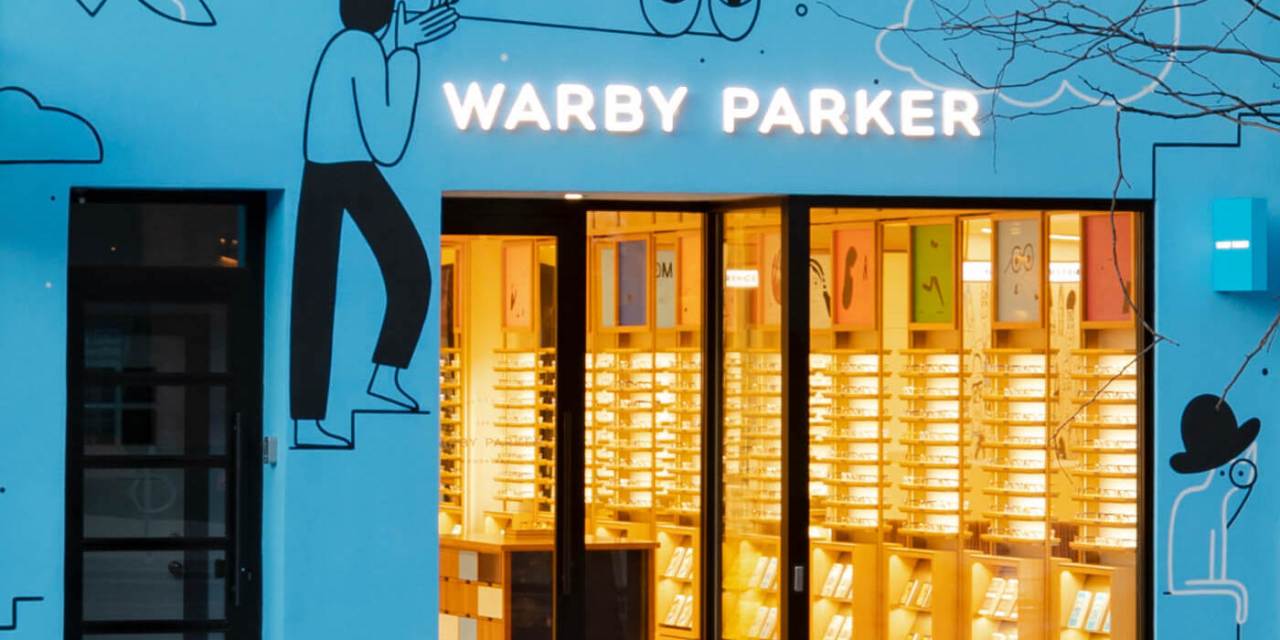 Warby Parker
Direct-to-consumer glasses brand Warby Parker is looking to the suburbs for sales growth.
This morning, Warby Parker reported that first-quarter revenues were up 10.3% year-over-year to $153.2 million. However, losses grew to $34.1 million compared to $1.6 million the year prior, largely due to increased stock-based compensation expenses.
In order to continue to grow its customer base, Warby Parker is moving further away from its digital direct-to-consumer business and, instead, expanding its brick-and-mortar doors. The retailer opened eight stores in the first quarter and plans to open 40 total across 2022, primarily in suburban locations. Warby Parker is just one of many direct-to-consumer brands, ranging from Burrow to Brooklinen, that are turning to new store openings for growth as more people return to shopping in person.
Co-founder and co-CEO Neil Blumenthal said that Warby Parker is focused on meeting "customers where and how they want to shop" through its 169 brick-and-mortar locations. Over the quarter, Blumenthal added that the retailer opened its first Nebraska-based store and expanded its presence in Houston and Tampa.
"As we think about retail productivity not only [are] US consumers are returning to normal habits and visiting shopping centers, but our store fleet has been shifting from urban to suburban," said Blumenthal.
Blumenthal added that suburban stores were eight points more productive than urban stores.
"We expect that to continue to narrow," said Blumenthal. "But even if it doesn't, we now have more suburban locations than we did a year ago."
On top of this suburban expansion, Warby Parker also has committed to updating its store fleet to accommodate eye exams. In less restrictive states, the retailer has simply hired on-site optometrists to give exams in stores. In states with more restrictive medical practices, the retailer has begun converting stores to primary care locations to meet state standards.
In turn, Warby Parker is committed to changing 40 stores in its store fleet to meet these standards and drive incremental revenue from exams. In the first quarter, the retailer converted 17 of these 40 stores.
"We continue to see increasing sales coming out of our exam rooms," said Blumenthal. "At the end of [the first quarter], 115 of our 169 stores offer exams."
Chris Jones, co-founder of digital marketing strategy firm Markacy, said that Warby Parker's brick-and-mortar strategy was an important way for the brand to connect with its consumers and gain new data about their preferences.
"What got them on the map was how they were able to connect with the customer and win through DTC," said Jones. "I think retail has always been a natural extension for them to be able to engage with the customer in person, [and] get real-time feedback."
Jones added that the brand's move from urban hubs to a more suburban play also made sense. While many direct-to-consumer, digitally-native brands start in cities like New York or San Francisco, they spread to more suburban locations as they grow.
"Innovation isn't just happening amongst younger demographics and isn't just happening in the big cities, it's now happening across the board," said Jones. "I think what you're seeing Warby take advantage of is people who are not just of living in the cities. There's a lot of sort of folks that are interested in products like Warby Parker, that are living in suburban markets… because they can work from home."
Indeed, amid the "Great Migration" of workers out of major cities to suburbs and smaller cities, many retailers are shifting their strategies to the suburbs.
Amazon last month announced a new store format to target suburban shoppers called Amazon Go, for example. Meanwhile, companies like Dollar General, Wayfair and Madison Reed, too, are investing in new locations in suburban outskirts.
However, Jones warns that Warby Parker needs to be careful not to expand too quickly, particularly amid an inflationary environment.
"[Warby] is doing relatively well from a revenue perspective, but facing a lot of the cost pressures that most consumer brands are right now which is in part driven by supply-side restriction and in part driven by inflation," Jones said. They're also a, relatively speaking, early stage company investing a lot in retail and in different forms of R&D."