Earnings
// August 17, 2021 ■ 3 min read
Walmart's e-commerce business is set to hit $75B in sales this year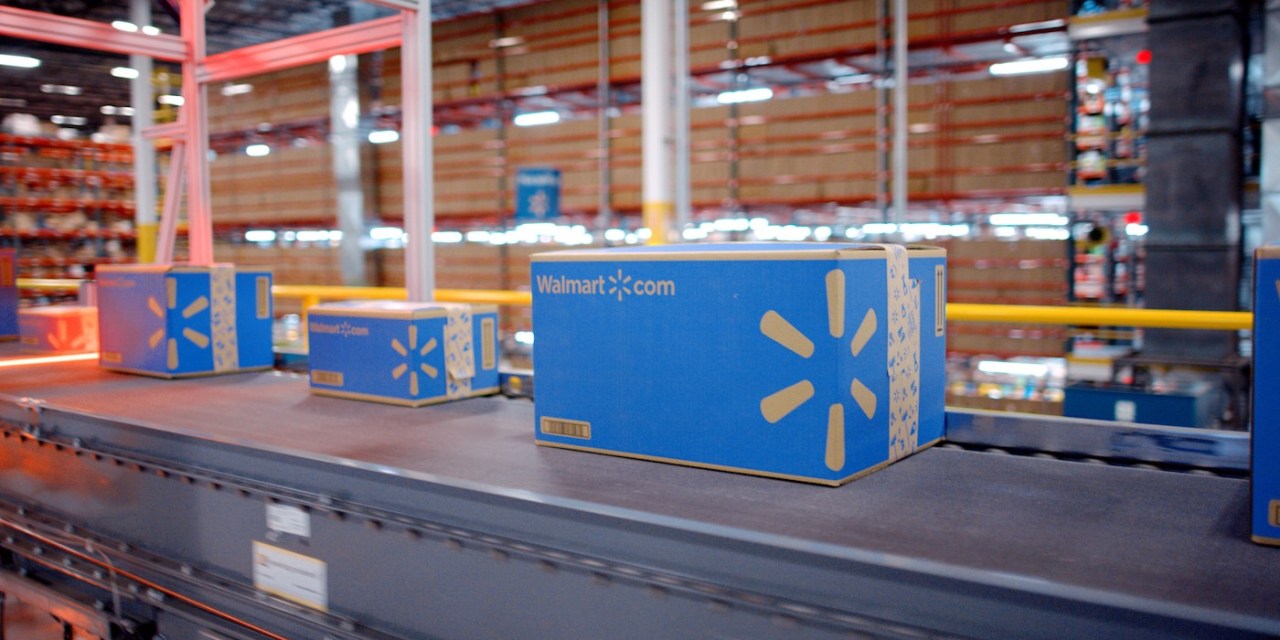 Image via Walmart
Walmart's long-running e-commerce efforts are bearing fruit. 
"Our global e-commerce sales are on track to reach $75 billion by the end of the year, further strengthening our position as a leader in omnichannel," Walmart president and CEO Doug McMillon said during the retailer's fiscal 2022 second-quarter earnings conference call. 
During the second quarter the retailer's e-commerce sales grew 6% and 103% on a two-year stack, the company reported, with growth being higher last year due to more people shopping online during the height of the coronavirus pandemic. McMillon noted on the call that "customer behaviors changed during the quarter, as people were shopping with us more in stores than online," compared to last year. 
While in-store traffic is picking up, McMillon made note of all the ways Walmart's digital business still has room to grow. McMillon said that Walmart "added thousands of new sellers" to its marketplace this quarter, and added that, "we're finding innovative ways to commercialize our data and build technology."
While its quarterly gains weren't as strong as 2020's, several factors impacted Walmart's sales during this past quarter. With the recent shifts — such as a post-vaccine summer and the early back-to-school season —  Walmart gained market share in the grocery category and other essentials, according to the company's statement. The Covid-19 Delta variant is also causing another wave of essentials shopping among U.S. shoppers.
While online orders slowed, the retailer fell back on its stores for traffic and accompanying sales. "Even as e-commerce growth slowed we layered on top of tremendous growth last year," McMillon said. "The good news for us is that we can serve them [shoppers] either way."
A growing e-commerce giant
During the last quarter, online sales contributed 0.2% to Walmart's U.S. comparable sales gain, compared with 6% the same period in 2020. Walmart's online sales are still a relatively small portion of its overall annual sales, which average about $520 billion. 
Still, the projected $75 billion figure is no small feat. For context, that's about the same as Target's overall annual sales prior to its pandemic gains; Target's total 2018 revenue was $75.36 billion, while its fiscal year 2019 brought in $78.11 billion; the retailer hit $93.56 in 2020.
Neil Saunders, managing director of GlobalData, noted that Walmart's online U.S. sales were only up by 6% compared to the prior year — a modest increase that's "well-below" competitor Amazon's growth. This week the e-commerce giant officially overtook Walmart as the biggest retailer outside of China. To stay competitive, Walmart's investment in its online presence is vital in keeping its relevance among convenience-driven consumers.
Walmart still has an "appeal" problem among some consumers, Saunders said. "Walmart needs to move its online appeal well beyond its core customers, so that it can access higher levels of spending from younger and more affluent groups," he said. 
Analyst Richard Dvorak of DailyFX.com said that Walmart's online sales growth is finally warranting more attention. The past year and a half helped boost Walmart's overall e-commerce business, because consumers generally were buying more goods online during the pandemic, including groceries and other essentials. But Dvorak also believes the retailer's U.S. e-commerce business was helped by its membership program, Walmart+, a year ago.
"As such, the accelerating growth and increasing profitability of this [e-commerce] segment stand to bode well for Walmart," Dvorak said.
While Walmart has worked hard to improve its e-commerce business over the past few years, "there is still a lot more work to do," Saunders said. He pointed to aspects of Walmart's online shopping experience that can use improvement. "The Walmart website can be hard to use, and it also lacks inspiration," he said.